Attended a pigroast @ Toon's yesterday, and ended up spending about 8 hours of my Saturday here. Great day all around, The north side is lucky to have a bar like Toon's. Some of the ususal LTH characters were arond for the fun: Da Beef, mamacupcake, dansch, & Ronnie and his wife. Couldnt have asked for a nicer spring afternoon, and there was no place I would have rather been yesterday.
When I was told last week about the pig roast on the La Caja Chinese box I made sure this event was on my schedule. Partially because I am using a La Caja for a pigroast I am doing this summer and wanted to get some tips and see it in action first hand, and partially because Toons is always a good time.
The pig, an 85 pound one was awesome. Porky, juicy, and just popping with flavor. Danny wanted to crisp the back skin up a little more, but folks were getting hungry so it was time to pull that hog. I especially enjoyed knawing on a few of the rib bones, but everything was great.
Pineapple infused vodka, and shots of tequila flowed making for a great day.
Of course I had to start off with a cup of the smoked turkey gumbo, great as always and pretty much a staple of any visit to Toons for me.
gumbo: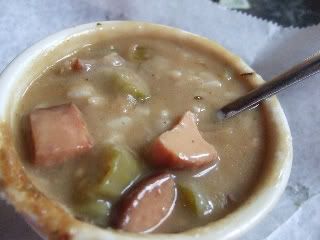 la caja in action: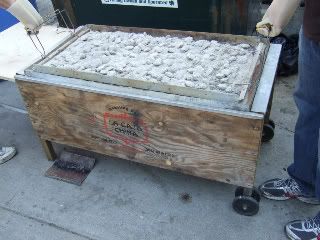 about to be fliped:
flipped & scored:
done: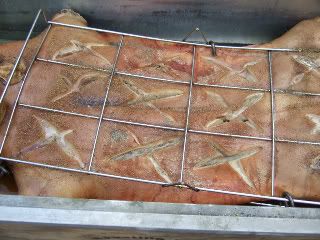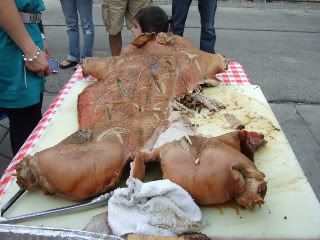 Great day, great pig, great bar.