I know that everyone has their favorite pizza. I've been a Chicagoan long enuff to know that once one proclaims one pizza as "The Best," then there will be ppl who agree, and ppl who don't. I know that a lot of pizza joints around town are garbage, but there are plenty who put out a decent product. I'd like to tell you about one that puts out a decent product, and I'd also like to tell you that I think it kicks VIlla Nova's butt. Sure, those are strong words, but imo, I like this place's pie much more than Villa Nova, and it's only a few blocks away from VN. Maybe someone else'll give it a try if they are in the area.
So, I've had pies from Salerno's (on Grove in Berwyn) twice before. I didn't care for them that much. Crust too thick and bready, and kinda pricey. I tried it a second time just to make sure the place wasn't having an off night. Fast forward a few years, and I wound up there with a few friends for a red sauce dinner. The table next to us had a pizza on their table that had a noticeably thinner crust, and looked simply awesome. The six top was absolutely gushing about their pizza, and our table kept glancing over, and commenting on how good it looked. I took a closer peek at the menu, and I saw in small print "Thin crust available on request." I knew I had to have one. Soon. Real soon.
I'm not an every day pizza eater, more like once every few months or so. I might not have a sophisticated pizza palate, but I do know what I like. I like crunchy crust, tangy sauce, good sausage, and real mozzarella with a nicely browned top at the bare minimum. This was the Chicago Thin Crust pizza I grew up with. Seems like finding this pizza has become harder and harder. Well, I sure as sh*t found a place that delivers the goods here, and although the price tag skews high, I think I'll call this place
"my pizza joint"
from here on out.
I like it more than Villa Nova. Villa Nova is, imo, consistently far more salty, and Salerno's crust is imo, perfectly crunchy. Salerno's has also, without me asking for it, presented these pies perfectly cooked, wheras Villa Nova is a crap shoot unless you ask for it to be "browned." Salerno's sausage is great, has a tiny little kick to it, and they use real cheese. This is noticeably premium pie, and I guess you gotta pay for that in these times. I remember getting pies like this for 9.95 back in the day, but I'm thinking I'm turning into an old coot with stories like that. So anyway, I had some visitors from outta town staying over for a few nights, and of course, pizza was on the list of must eats. I order three pies. Sausage and spinach, bacon and sausage, and mushroom and spinach, although what I got was mushroom and sausage. There were no complaints from the veggie requestors. No complaints at ALL. ZERO. They weren't vegetarians, they were just wanting something lighter.
My flagship pie: Spinach and Sausage "Thin Crust"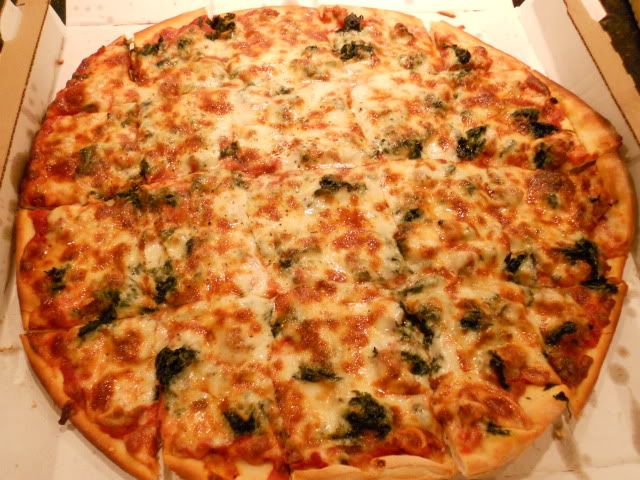 Crust:
Mushroom and Snausage Thin Crust:
Different View:
Crust: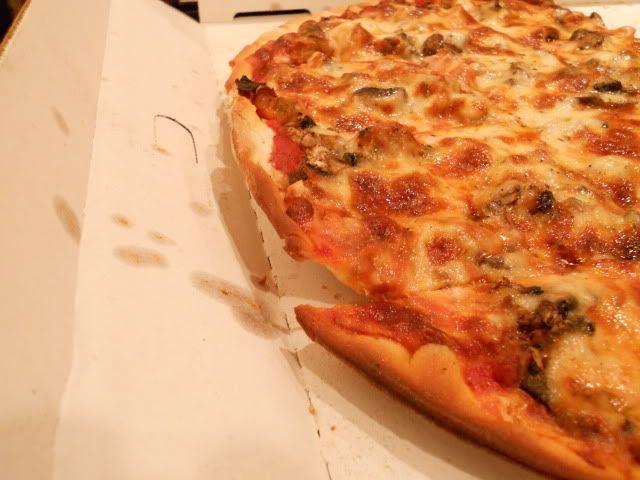 Bacon / Sausage Thin Crust: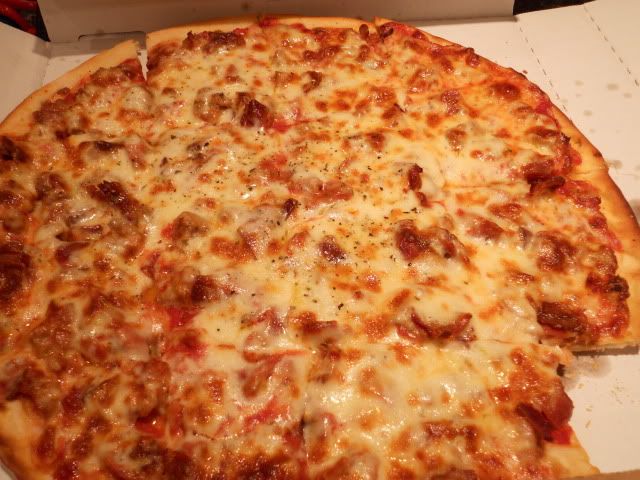 Crust:
So, I can tell you how great I think these are, but it doesn't matter unless you give em a try. With all the Villa NOva love that's been doled out recently, I thought a shout out is deserved for this place that is only a few blocks away, and I think is better. To each is own, of course, but this place has me craving pizza like I used to when I was a kid. To me, THIS is what Chicago Thin Crust is. It ain't no Neapolitan, New Haven, or New York Style. This is super crunchy thin crust, awesome sausage, too much cheese (but it's REAL cheese, so it's ok,) gut bustin Chicago goodness, and I will probably meet you there if you give me a heads up. Just remember, if you give em a try, you have to ask for thin crust, or you will get the doughy stuff by default.
Salerno's PIzza On Grove
3248 S. Grove
Berwyn, Il.
Full bar, full red sauce menu. The mussels are frozen. Don't believe them when they tell you they are fresh. Grrrr.
We cannot be friends if you do not know the difference between Mayo and Miracle Whip.