Jan and I went to 2nd Street Bistro tonight. Overall, it's pretty good but, as Milz noted, there's some room for improvement.
We started with the local herb marinated olives. These were really good and not at all salty. It was also a nice portion for $5.
For our first courses, we ordered the truffled cauliflower soup with spicy croutons and the corn and shrimp fritters. The fritters were really good, crispy but with a soft center of whole kernel corn. They were served with three nice sauces - a sweet, raspberry flavored sauce, a creamy white sauce and a tomato-based looking spicy sauce.
The truffled cauliflower soup was a disappointment. Jan called it bland, but I found that the truffle overcame the cauliflower. I think they need to ratchet the truffle back and get the cauliflower popping more.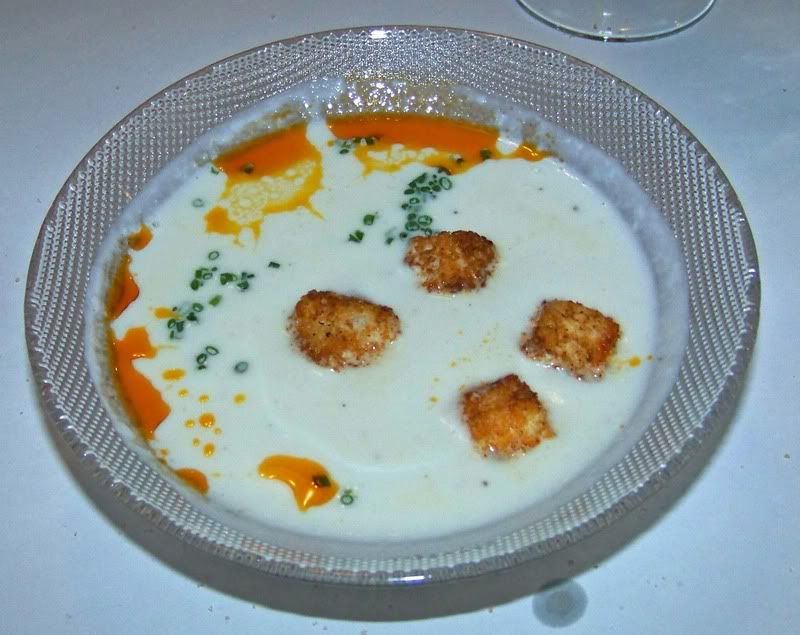 The maitre d'hotel told us that the chef, Michael Gottlieb, cooks many of the main course primary ingredients (salmon, steak, etc) by sous vide, including the steak dishes on the menu. I had the "Thick skirt steak", which is a skirt steak cut in thirds and then stacked and held together by a "protein binder", which wasn't further explained. It did make the steak come off as a single thick piece of meat, however it had an unusual consistency from the sous vide. The smashed garlic yukon potatoes and the shallot marmalade was very nice.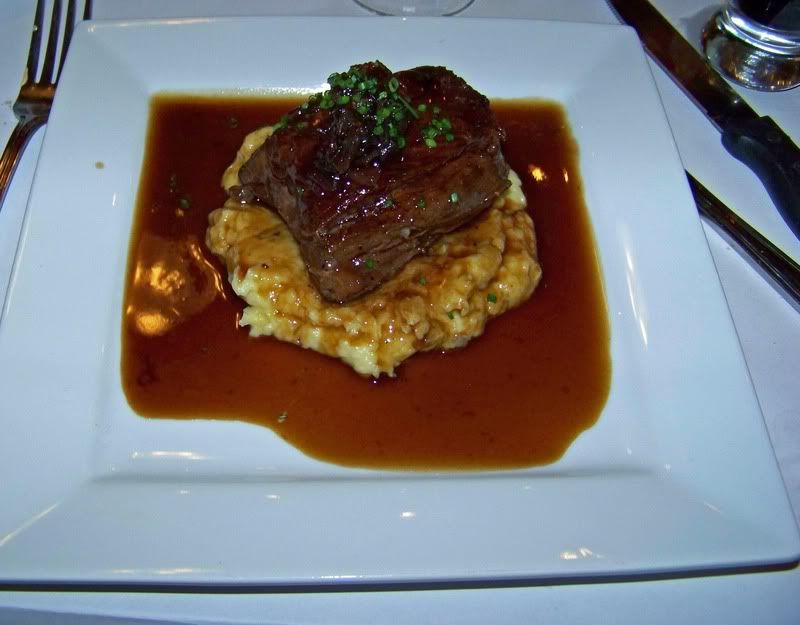 Jan had the special, the "bistro steak au poivre with frites". This was also a skirt steak, but a single thickness, served with a lightly peppered sauce and crispy frites that were about a quarter-inch thick. The steak was really good, as were the frites. The sauce had a slight barbeque flavor.
Overall, the food was pretty good and we would definitely go back. While there are things to improve on, they've got a good basis to work from.
A couple of other thoughts not related to the food. First, the "wine glasses" are pretty awful. I had called asking if I should bring stemware, which I do quite often with BYOBs. They told me that they had good general purpose glasses. The only purpose these have is for martinis. I brought my own flutes for the champagne, but next time I'll bring all my own glasses.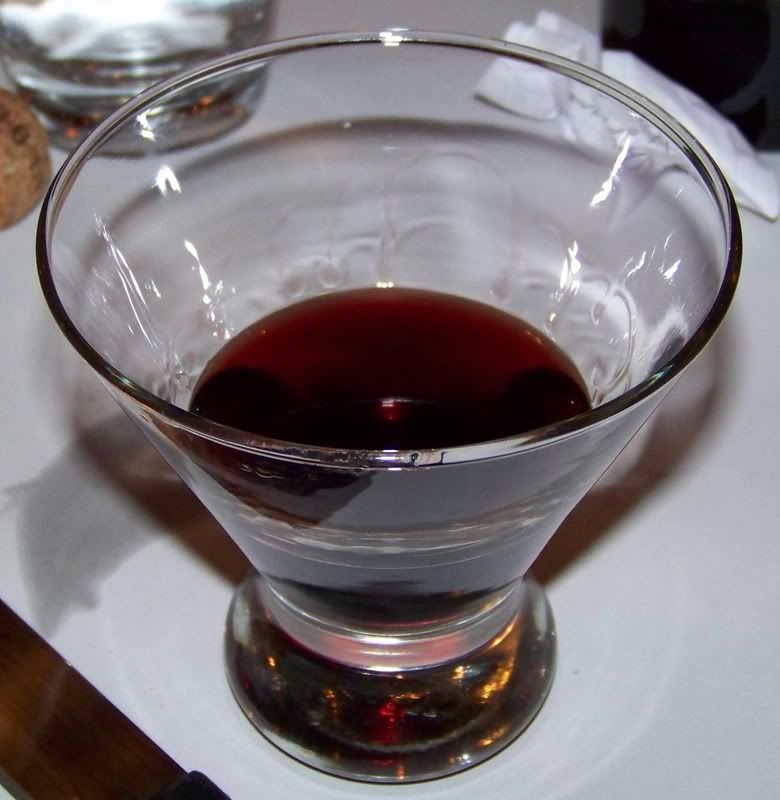 Lastly, this place is related to Stash's next door and is connected to them by an open doorway. Frankly, I think they should close that door off. It pulls this place down somewhat by having a clear opening to what looks like a super casual fast-food kind of place with kids running around making noise. I think they need the opening because the kitchen is in the other space, but it's detrimental to the look of the place.