After I found out that Real Urban (Vernon Hills) was pretty close to my new office digs in Banockburn, I bee-lined it on Monday for lunch. I probably built it up too much, but I tried to temper my expectations. I was the guinea pig for the office (as is generally always the case) so I perused the online menu, and decided that the 3 meat combo meal which comes with 2 sides would give me the best value for tasting. After I found the joint, I walked in, and was immediately brought back to the Texas Que joint set up (well, really, a suburban mall attempt at it.) The SMELL is what made my synapses start firing off with memories of Texas q. The place smelled GREAT.
Cafeteria style lineup and the smell of real q had me thinking I was gonna be in for a treat. The first stop was meats. The gentleman before me asked for burnt ends, and got them, so I knew I was gettin some as well. My choices for 3 meats were brisket, burnt ends and pulled pork. The guy behind the counter grabbed a brisket out of a warmer, and started slicing it up for me and another memory synapse fired off. The brisket looked kinda jiggly, and juices leaked as he sliced - synapses again. Then he grabbed and handful of burnt ends chopped in pretty big one inch-ish cubes. Then a handful of pulled pork. It all went in a handy, dandy cardboard container. It looks small, but I made two decent meals out of it. The 18.49 price tag (tax included) was a little high for the portion, imo, but as I keep telling myself up in these fancy burbs, I ain't in Kansas anymore. It all looked good, and it just smelled like the real deal. The sides on the line looked like sides. The mac and cheese tho - looked like high school cafeteria fare. I opted for creamed spinach, and the corn bake which I saw someone gave a good nod to in one of these threads.
I wish everyone could just go there and smell the place.
Anyway: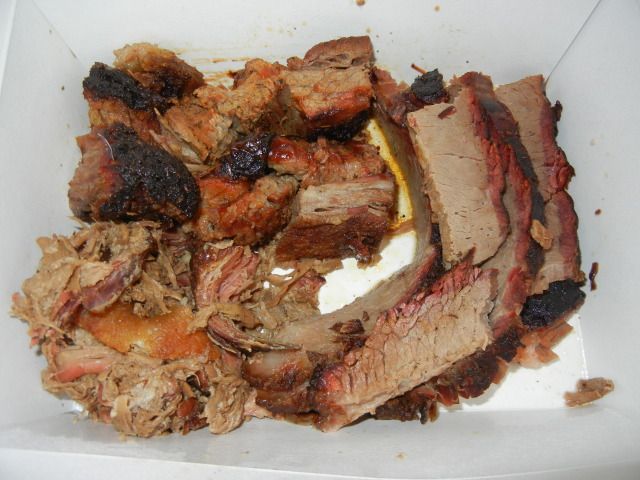 Brisket: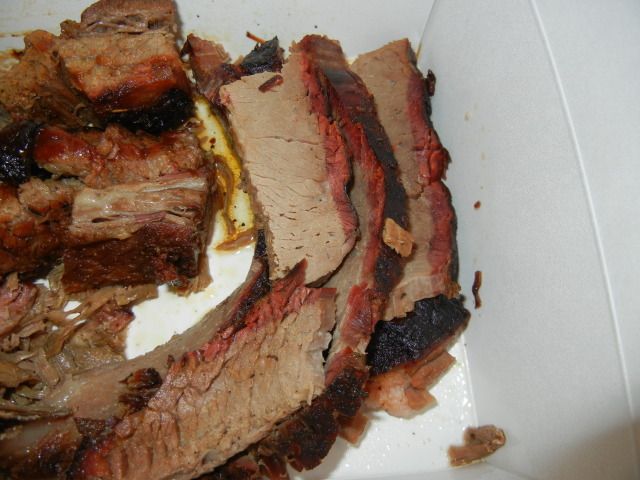 The lean portions were a tad dry, but the fatty portions were cooked pretty darn well.
NO SMOKE FLAVOR.
Pulled Pork:
Cooked very nicely. Got a nice chunk of skin, too.
NO SMOKE FLAVOR
Burnt Ends:
The tallest midget. I liked these a lot. Juicy, fatty, good flavor.
NO SMOKE FLAVOR.
Creamed Spinach (it's
creamed spinach
, I'm not gonna rotate the picture, I'm in a hurry:)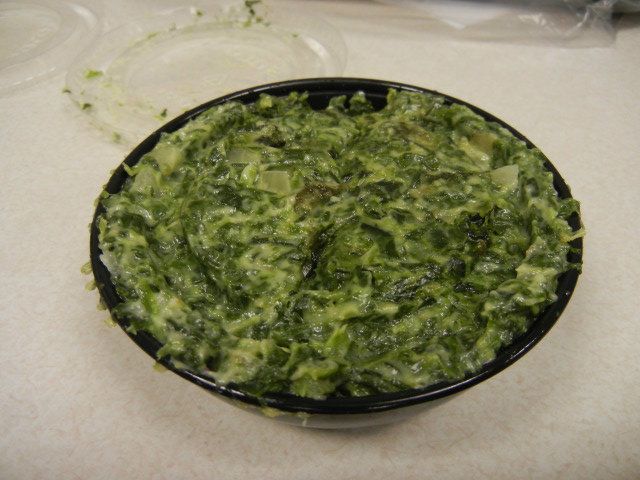 If this came from Boston Market, I would not be surprised. Salty. Not BAD or anything, Just processed tasting.
Corn Bake:
This should be a dessert. It was like Jiffy corn muffin mix with twice as much sugar, and condensed milk as the binder, with fresh corn nibblets aded. It was good, but it was SWEET. REALLY SWEET. It reminded me of a drier than normal Malt O Meal with lots of sugar, and some kind of dairy richness. I liked it, but it was REALLY SWEET. I'm guessing if you don't have a sweet tooth, this will shock you. I like sweets, and this was REALLY SWEET.
All in all, the price tag does not merit me going there often at all. If there was some smoke flavor going on, I could justify going there, easily. But the prices they are charging make me think they should be smokin stuff with care. They are
COOKING
stuff with care, but not using enuff smoke for me at all. I'm very happy I went, and I'll probably pop in once in a while for burnt ends. But if I was in that area, I think I'd head to Roti before Real Urban. It's the kind of bbq that makes you want better bbq afterwards. I'd just cut out the middleman.