LTH,
Was trapped in a no mans food zone for longer than expected, only choice for lunch were KFC, Dunkin Donuts or 31 Flavors. I was going to pass on lunch, but did not have breakfast and was not going to get the chance to eat until much later Opted for KFC. Reason its in this thread is the under $5 lunch seems a good deal, choice of leg/thigh or breast/wing I asked for and received with no problem, two extra crispy thighs, side, biscuit and soda.
I'm a once a year fan of KFC extra crispy, love chicken thighs, should have been a good, if not very healthy lunch. Skin was crisp as a could be, a little salty, but not over the top, unfortunately lurking beneath the glass rod crunch was a slick of oil that would embarrass BP. Chicken had large untrimmed pockets of fat and bird flesh was flavorless mush. I ate one crispy thigh, just could not handle the grease, and left the other, biscuit was ok, fast food biscuit king is still Popeye's, and the slaw was actually tasty.
KFC $4.99 special, includes soda
(cell phone picture)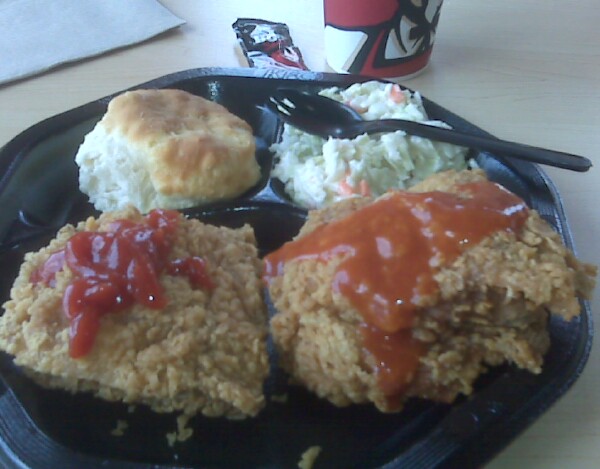 Enjoy,
Gary
Sauce on the side, always, implied, axiomatic..........never a doubt, BBQ sauce without.
Low & Slow