LTH,
Hit the Harlem Ave Italian trail a couple of days ago as Mike G's wing-man while he picked up ingredients for lasagna.
First stop Caputo's, Mike had a list, I window shopped, which for me means I picked up just a few items, fresh fennel bulb, very nice basil, mediocre tomatoes and a, just could not resist, flat of fresh figs.
The figs were expensive, $15.99 for 20, and not greatest looking, but, even a pretty good fig is still wonderful. Both my wife and I love figs with prosciutto and a chunk of pecorino or parmesan.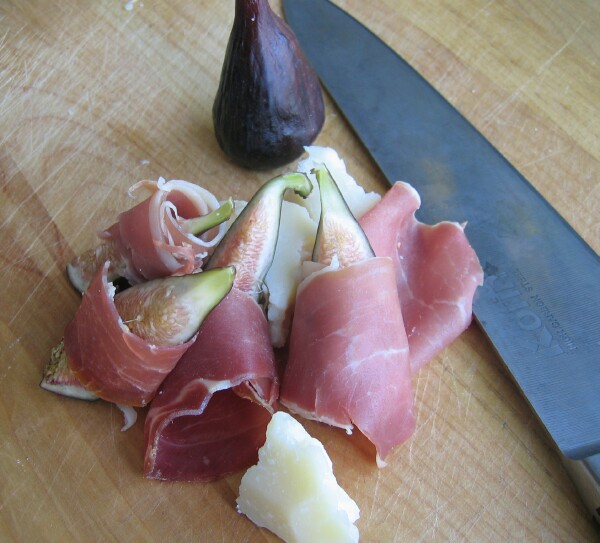 Next up Riviera where, feeling a bit peckish, we decided to have lunch, a couple of
Will Specials
to be exact.
Will (YourPalWill) Special at Riviera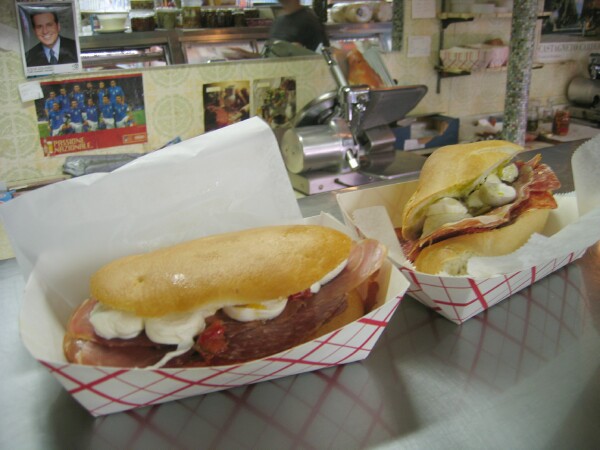 Mike and I enjoyed our Will Specials at a table Riviera had set up on the sidewalk. Not exactly Florence, but still quite pleasant.
Mike G enjoying his Will Special.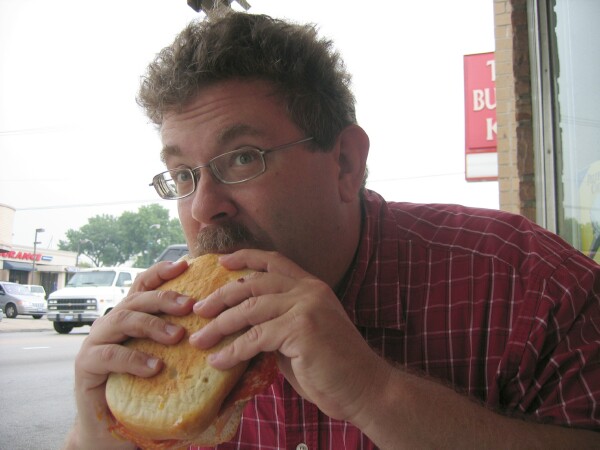 Sandwich ordering procedure at Riviera, as has been mentioned, pick your bread from a bin, hand it to the counter man, that particular day it was Carmelo himself,
Carmelo Pugliese, owner of Riviera. (with
Steve Dolinsky
looking over his shoulder)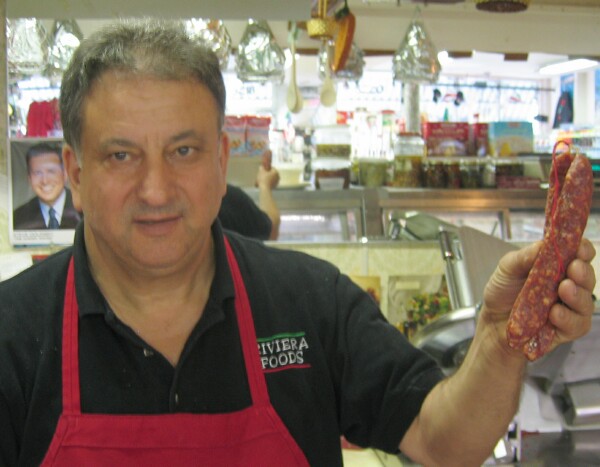 Once can order from the sandwich menu or pick and choose individual combinations.

Riviera's deli meats are tops, especially the house cured Soprassata, Capicola and Cacciatore.
Riviera Soprassata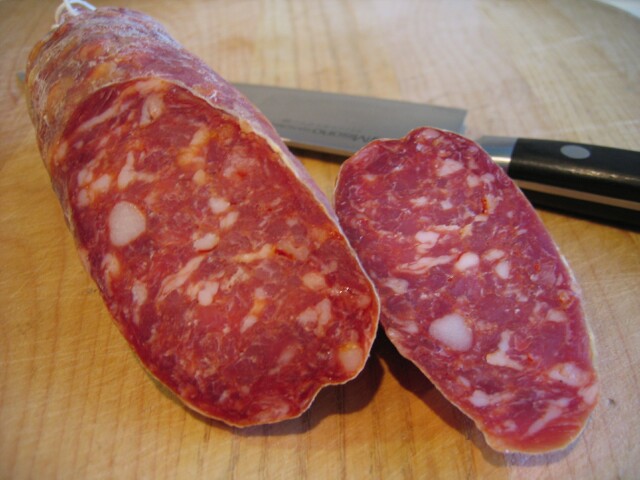 From Riviera we headed to Pasta Fresh where Mike picked up sheets of fresh pasta for lasagna. Pasta Fresh is a very nice source especially as it is connected to Gino's, which is a full service Italian deli with both fresh meats and some grocery items, mainly dry goods.
I had parked in front of a, new to me, Italian coffee house, Euro Cafe, which bills itself as an Italian Bistro. It's a small space which more resembles an upscale bar than coffee house, which is fitting as they had received their liquor license just the day before. They seem to take coffee seriously, though my espresso, a shade on the acidic side, evened out with the addition of a bit of sugar.
All in all a darn nice afternoon on Harlem Ave with Mike G.
I do, however, wish to bring up, which Mike pointed out, there are any number of Italian restaurants on Harlem that have yet to be explored, or at least posted about. I've, over the years, been to most, if not all of the groceries but have barely scratched the surface of the restaurants. I see a couple of possibilities in the offing, a Harlem Avenue Restaurant Crawl and/or a Harlem Ave Italian Grocery/Deli a thon.
Enjoy,
Gary
Caputo's Food Market
2558 N Harlem Ave
Elmwood Park, IL 60707
708-453-0155
Riviera Italian Imported Foods
3220 N Harlem Ave
Chicago, IL 60634
773-637-4252
Pasta Fresh
3418 North Harlem Avenue
Chicago, IL
60634
773-745-5888
Gino's Italian Imports Ltd
3422 N Harlem Ave
Chicago, IL 60634
773-745-8310
Euro Cafe (An Italian Bistro)
3435 N Harlem Ave
Chicago, IL 60634
773-286-8544
_________________
Sauce on the side, always, implied, axiomatic..........never a doubt, BBQ sauce without.
Low & Slow