Before I forget:
http://lavergnes.com/
Ok, that's outta the way.
New joint just opened a week or so ago. Big anticipation among the hood for it. Owners are pedigreed ("...also owns Warren's Ale House in Wheaton and Ellyn's Tap in Glen Ellyn.")
Decent beer list...check.
Decent cocktail list...check.
Service already up to speed and completely knowledgeable...check.
Very interesting menu...check.
PLEASE READ THIS: I LIKED THE PLACE. I LIKED THE FOOD. THE SERVICE WAS GREAT.
OK -
Starters:
Fried Asparagus. Shaved Parm, Aioli, Balsamic.
Get this as a side with your meal. Don't share it. Not breaded and fried. Just plain fried. Major props to whoever came up with this. The spear tops developed a very cool texture. Definitely not overcooked (again, major props for that as well.) The spear tops had a kind of crunchewy texture. Very subtle, very cool. Get this. Do not share. The shaved parm added a great tang, and also made it a little more substantial. The balsamic was a fantastic touch of lightly sweet acid. Aioli didn't add much as far as I could tell.
Italian Beef Egg Roll:
Too subtle for me. I get it, I get it. Gotta appeal to everyone. I've eaten way too many beefs, hot. I make my own giardiniera. I like it hot. Fantastic idea. Fantastic. The giardiniera was mild. Left me needing therapy of a real Chicago beef with real hot guadalajara. Fantastic idea though. Buddy at work told me about a place near Glen Ellyn that had these on the menu a few years ago. I'm gonna guess it was the same place that the Lavergne's folks own. Fantastic idea. Hot giardiniera would make this a hit for me. Mild giardiniera...sure, I get it. Maybe in Milwaukee, or Kansas, but just not my version of Chicago. I get it though...I get it.
Bigger plates -
District Burger: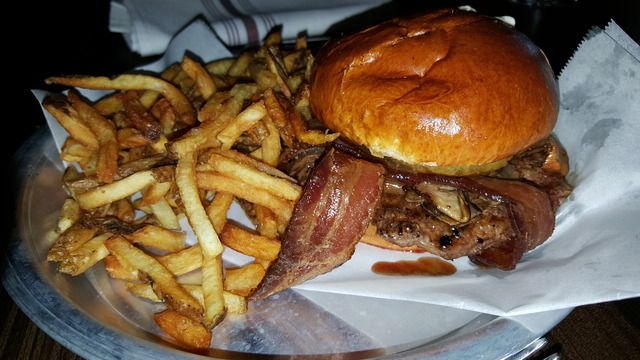 Bacon, mushrooms, blue cheese. Whole lot going on with this one. It was fine. No complaints, little on the salty side, but that would come with the territory of what was on it.
PSA: The fries might be tapping on Big Guys' shoulder for best in town status. Thinner, but not shoestring. The fries are fkn awesome. Pretty much what you want in a non foodservice fry.
Fish Tacos:
They did good work here with everything, except for MY opinion of the salsas. Someone in the kitchen knows what they are doing here - big time. The salsas were over-nice-a-fied. My tongue just might be way off in la-la land, but the salsas just didn't add anything for me. The red salsa that came with the plate was red. It had some salty tang to it, but other than that, it was red. I asked for a side of pico de gallo since I saw it on the menu with something else. The pico de gallo was picture perfect, but the jalapeno had been meticulously deveined and seeded. No heat. None. Props for technique. Meticulously cleaned. I'll get these tacos again. They were good. I'll hope for a better showing of salsa - I'm sure the flavors can be fickle. I was also recently spoiled by the Axcan fish tacos, and octopus tacos with serrano mayo. (That serrano mayo of theirs needs to be on every plate they bring out of the kitchen) so my baseline may have been off.
Not pictured:
Homemade Mac&Cheese. Get it. Their version was a little on the soupy side, but it was an absolutely fantastic example of someone who knows how to cook. Someone here studied. Bursting with cheese flavor, and GOOD cheese. Fantastic texture. Smooth and creamy, but not thinned cheese flavor.
End -
Apple strudel with vanilla bean gelato.
Another, "Get This."
Again, remember what I said about liking this place. I liked it. Service was great. Plenty of potential to want to go back and sample much more. Hopefully this will turn into a special place. The owners know what they are doing, and whoever is in the kitchen definitely has chops. They also do sample 5 oz pours for their tap list. Had a nice, crisp sour, and a raspberry somethingorother.
6546 Windsor Avenue
Berwyn, IL 60402
(708) 956-7405
We cannot be friends if you do not know the difference between Mayo and Miracle Whip.