Santander wrote:
Tio Luis has absolutely delicious carne en su jugo - a brownish broth with that beautiful grilled carne asada (#1 rated in the city according to the Chicago Tribune), firm beans, and wonderful sides - fresh radish, avocado, tiny limes, fresh toasted arbol chiles. It's also ridiculously cheap and made all hours of the day and night daily.
Tio Luis
3856 S. Archer
(west of Western on Archer)
BYOB
I tried the CESJ at Tio Luis with Gwiv last May and, at the time, thought it was hardly worth a retry. As I recall, it was a fairly weak, flat, and overly salty broth with the added ingredients being fairly standard. I felt then that their soup was fairly average compared to the numerous other places I've tried around town. To tell you the truth, I didn't even think it was worth making a post about it after that first try.
However, yesterday's retry was a definite improvement. The broth was still fairly weak but had a respectable balance and flavor to it. The grilled meat quality there was notably better than a recent bowl I had at Tacos Veloz just a few days before.
And apparently much like Taco Veloz, consistency is a major problem when it comes to their soup.
There's no doubt that this was a more enjoyable bowl than my first try but I still wouldn't say that it ranks in the upper echelons of carne en su jugo to be enjoyed around town. And with Los Gallos just a few blocks away, I would find it nearly impossible to ever get motivated to go back for it.
As for its $4.95 price tag, the bowl is about 50% smaller than a normal "small" order one usually gets. So, in terms of it being a great deal relative to other CESJ's in Chicago, I don't believe so. I will admit that this smallish bowl is definitely chock full of steak.
CESJ at Tio Luis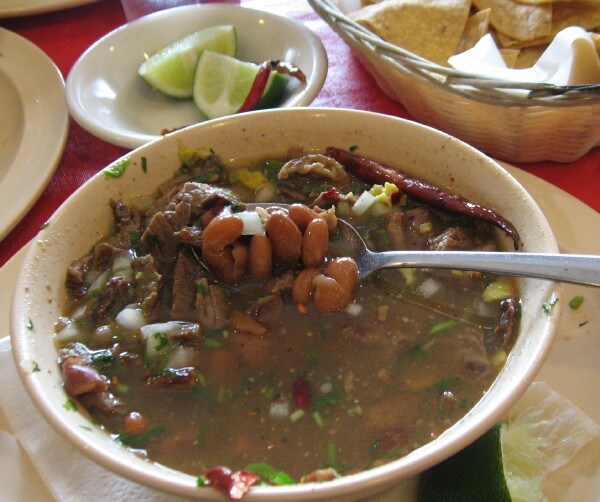 (Photo courtesy of GWiv)