I'm no major afficionado of bakeries, but I've found an absolute work of art involving butter, sugar and flour. This round form of ambrosia hails from The Continental Bakery in Mount Prospect. Coworker brought two of these things in today. It was supposed to be a dessert option for a potluck lunch, but as soon as word got out that the coworker brought them in around 10 am, and then announced that they were
still warm,
all bets were off. I led the charge. Resistance was futile. If you ever get a chance to try one, you'll understand every word written in this post.
It's called "The Edelweis."
Since I was the guest of honor for the luncheon, I was able to score the remains of the second one. What's really funny about this thing is that everyone thinks they can eat the whole thing because it is so f'ng luscious. What happens when reality sets in is that after one decent piece, you're done. For a WHILE. It's like eating a piece of sweet butter that somehow has the texture of a bakery product. This is probably what my father is talking about when he waxes about how food
used
to be made with butter and sugar. One coworker who I trust for food recs said that Dinkels Bakery makes a product that can compare to Continental's, but Continental's would be the clear cut winner of the two.
This coffee cake is stunning. Just stunning. There's nothing light, airy, or flaky about this. This is about butter. And not a pat of butter, either. We're talking about quantity here. Abundance. This is not something you share with your kids. One coworker claimed they needed a cigarette after having a slice. Nobody blinked an eye. Ok, I'll stop yammerin, and hopefully the ol Fuji captured what I'm trying to say here:
Just pure lusciousness: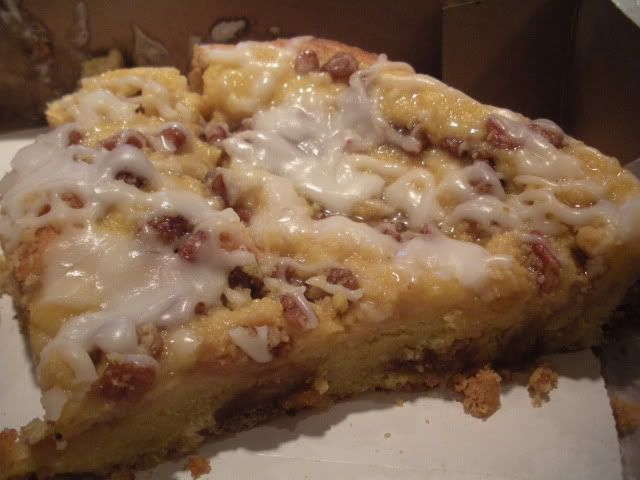 Closeup. It's dense, moist, and simply a vehicle for butter.
I don't know how any of their other stuff is. Don't care. The Edelweis coffee cake gets my title of best thing I've eaten lately. BUtter laden coffee cake base with cinnamon swirl, topped with custard, then with pecans, and buttercrumbs, and lastly drizzled with icing. Continental might have sad renditions of other things, but believe me when I tell you this Edelweis coffee cake is a thing of beauty.