My wife did a little research online, and found a great restaurant on the North side of Chicago to celebrate my birthday. She knows how much I love mole (and she does as well) and learned of Sol de Mexico. The restaurant serves five different types of moles, each from a different region in Mexico. The chef/owner, Carlos Tello, had consulted with the mother of Geno Behena, on the mole recipes. Geno Behena worked in Rick Bayless' restaurant, Frontera Grill, and Topolobampo, before opening his own restaurants in Chicago. So it's all in the family here, with everyone helping out each other's business venture, in a true Mexican family tradition! The customers end up being the lucky ones, tasting all these great recipes shared by the families!
The restaurant is in a store front on a busy section of Cicero Avenue south of Belmont.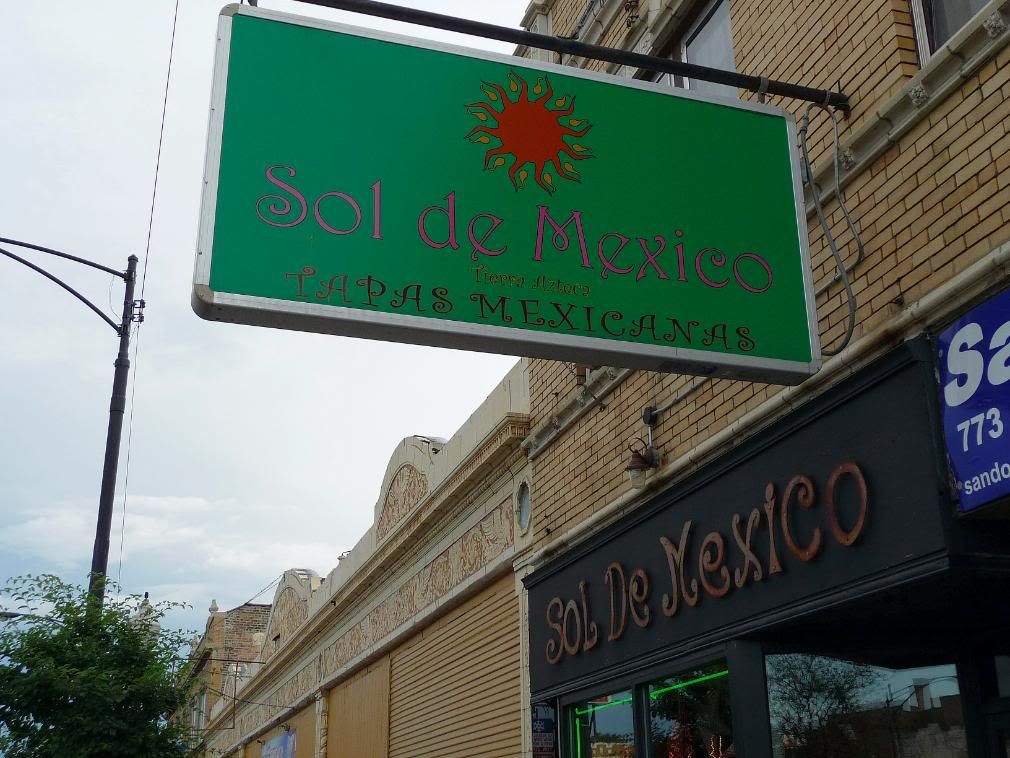 The inside is decorated very warmly with articles from Mexico. We had a nice table in the center of the room, and the seating was comfortable.
The drink list looked great, and each drink was described in detail. Margaritas were made properly, with lime juice, tequila, and Cointreau. I even verified that no mixes were used, and our waiter was passionate about describing how they make their drinks from scratch. The Margaritas were excellent!
When I opened the menu, I felt like a kid in a candy store! The offerings were overwhelming! I wanted everything!! So many diferent regional offerings!! I wished I had taken a photo of the appetizers and soup menu, as the number of dishes presented was large. Our waiter told us of the specials, and one entree stuck out: Cochinita Pibil!! How great was that? Here we had just come from the Yucatan. We told our waiter OUR story, of Tulum and the Mayan Riviera, and he lit up! He described how he visits his family there during the year, and also remembered it when the area was nothing. Don't we all wish we could go back in time to see that?
We shared the Sopa Azteca, with pieces of chicken, and strips of tortillas in the bottom, and crumbled cheese in the center, maybe Cotija?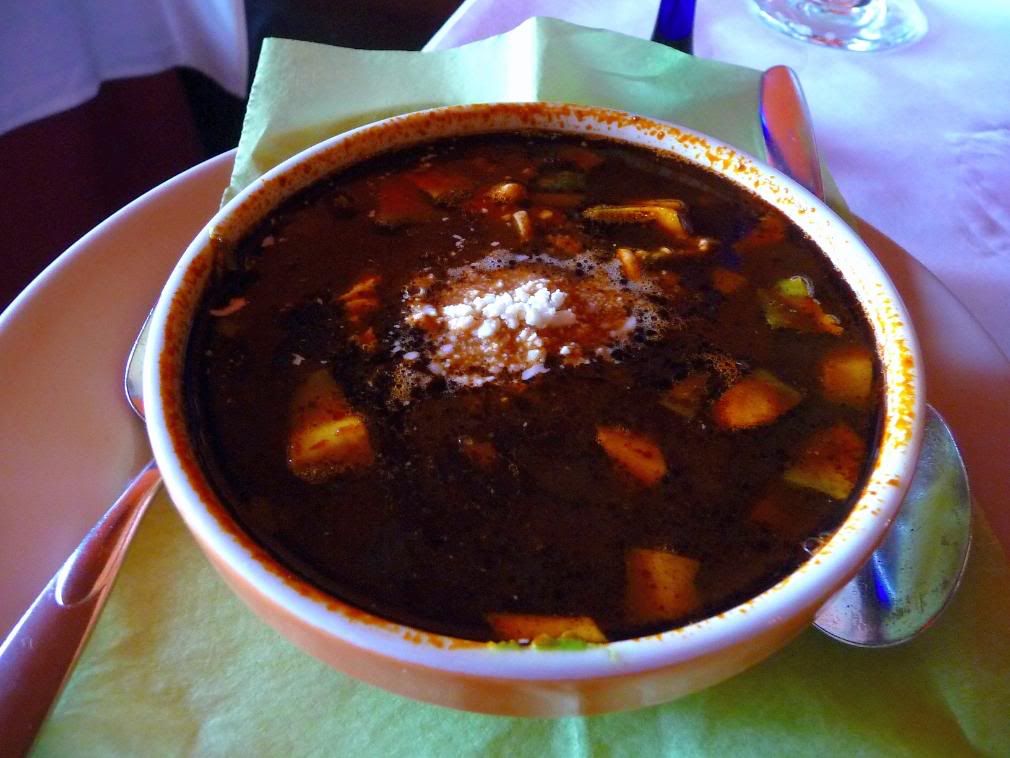 Also, as a special, we tried the shrimp filled flautas, with Mexican vegetables and a tomato broth: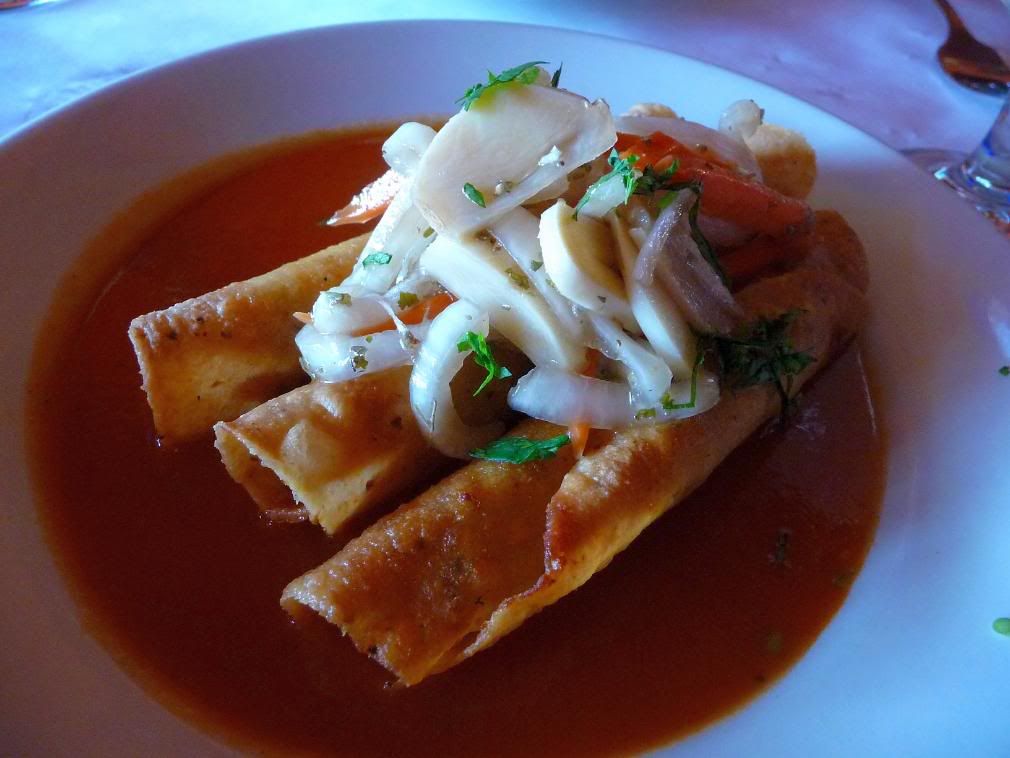 The sopa had a pleasant flavor of maybe chile pasilla pepper. This soup was a little thinner than what I had in Tulum at Cetli, and in Puerto Aventuras. It was still delicious, just thinner than what I thought was typical. The flautas were so good, the shrimp fresh, and the tomato broth made a great accompaniment.
On to the entrees. We still had not selected what we wanted because it was overwhelming, as you can see: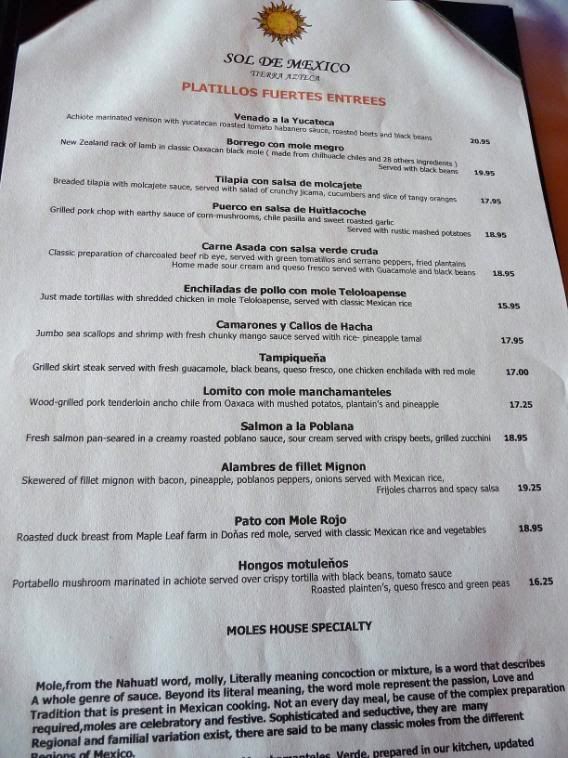 What to eat, what to eat, what to eat?? Help! So we asked our waiter for further descriptions. I decided that, while the cochinita was tempting, I needed to try something differnt. I selected the Borrego Con Mole Negro, which was lamb with a Oaxacan black mole made from chilhaucle chilis and 28 toasted ingredients! Isn't that a killer?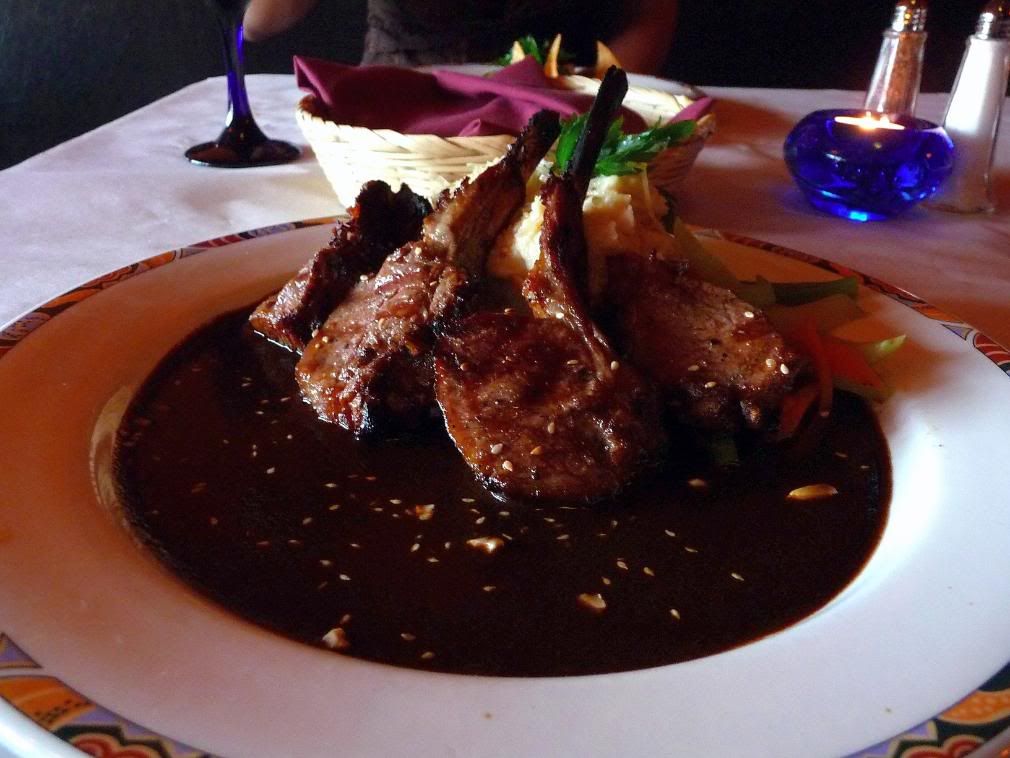 My wife ordered the Lomito con Mole Manchemanteles, which was sliced pork tenderloin in a Oaxacan red mole made from Ancho chilis , slightly sweeter and lighter in color. Delicious!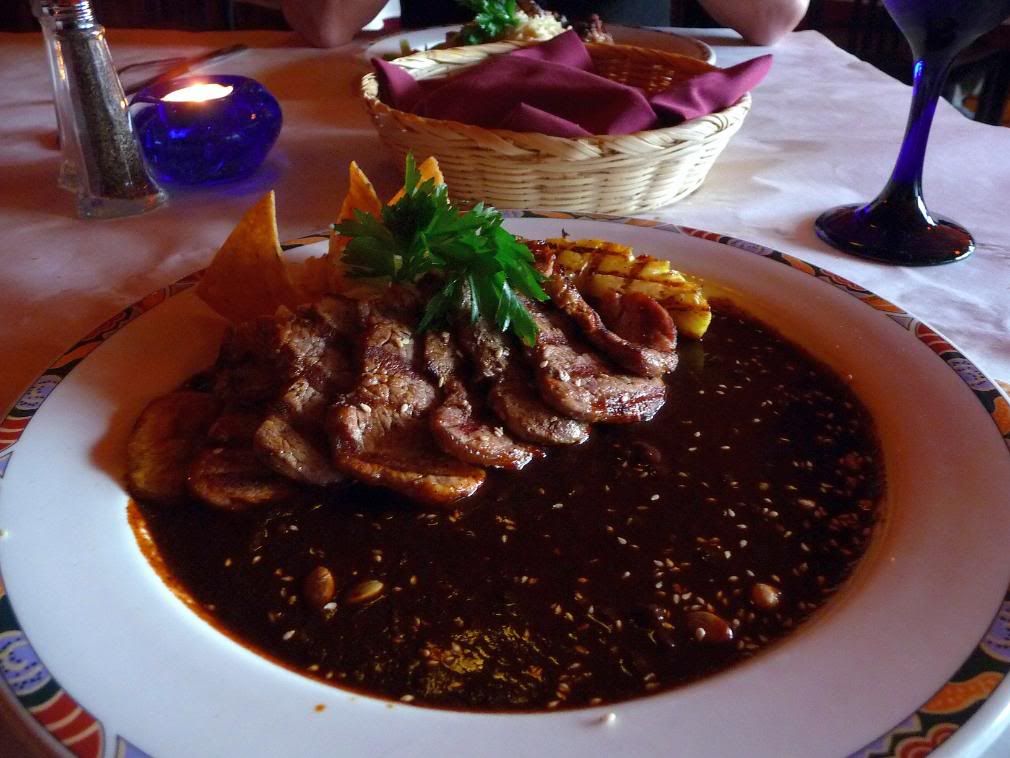 This was all served with hand-made-in-house tortillas, which is perfect for mopping up every drop of that liquid gold. I'm not ashamed to turn in a perfectly clean plate!
Still having room for dessert, we read that the flan here was excellent, so we shared a flan with two Cafe de Olla. The flan was dense, not overly sweet, and accompanied by a perfectly complimentary sauce, clear, but tasting like caramel.
Ever have Cafe de Olla? Cafe de Olla is an earthy mixture of Espresso-roast coffee, cinnamon, aniseeds, and piloncillo (Mexican dark brown sugar), and a little orange peel. This drink is traditionally prepared in a earthenware pots called Ollas. The earthenware lends some of the flavor to this drink. It was excellent here! After dinner, we decide to linger with a few mojitos, prepared from scratch, "with 6 mint leaves", lime, raw sugar and rum. Another excellent concoction here!
We left feeling very satisfied with our selections for the evening!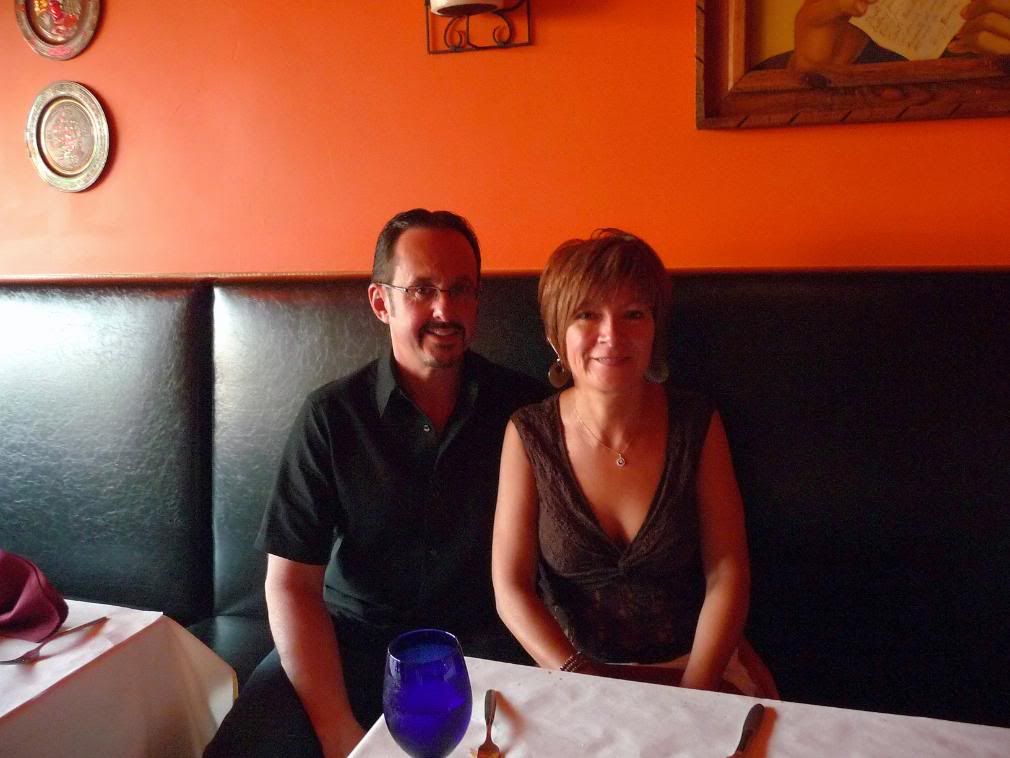 We can't wait for another visit to try more items from their menu! Service here was excellent and they left us without a want.
.
Last edited by
TheWindyCity
on June 23rd, 2008, 5:56 pm, edited 1 time in total.