Hi, I'm seebee, and I'm an Indo-Pak food a holic.
"HI, SEEBEE!"
No, really, for the past few years, I've been gorging on Indian / Pakistani foods.
I even dabble in
creating it at home
, and I do ok. I love going to the Indian markets around the area, and trying new things. ANYTHING. (I still have yet to find my "pickle" ideal, it might just NOT happen, but I keep trying them. I think I have three unopened jars in my pantry right now waiting for me to suck it up and dive in, hoping for the best.) Anyway, the snack aisle has always seemed a little daunting to me. Even if you read the ingredients, really, who knows what you're gonna get? I decided to take the plunge, and start some trials. A few bucks for a a bag of some kind of crisps and whatnot - not too big of a splurge, and with my love of the flavors anyway, hopefully I'll find some great stuff to share with friends. So, this first trial kind of stems from the fact that we had to take a 6+ hour drive up to the Upper Peninsula which we do several times a year. Snacks on a drive this long are absolutely mandatory, so along with the standard bad hershey/nestle twizzler goldfish, I made a stop at Shital Grocery on Dundee in Wheeling (near where I work,) to grab a few bags of probable Indian road trip noshes:
The first trials of what I hope will be many:
MAHEK brand "Chai Masala Puri"
These were fried. Consistency of a slightly more dense RITZ cracker, with a non threatening standard "indian inspired" masala with a nice after touch of hot chile. After about three of these, the chile flavor was well pronounced, you know these are "spicy" after a few of them.I'd use these for a cream cheese dip, perhaps. They were really rich. I ate them plain however, and after, say five or six, the richness of these wore me down. Tasty indeed, but a little heavy.
Haldiram's brand "Mathri"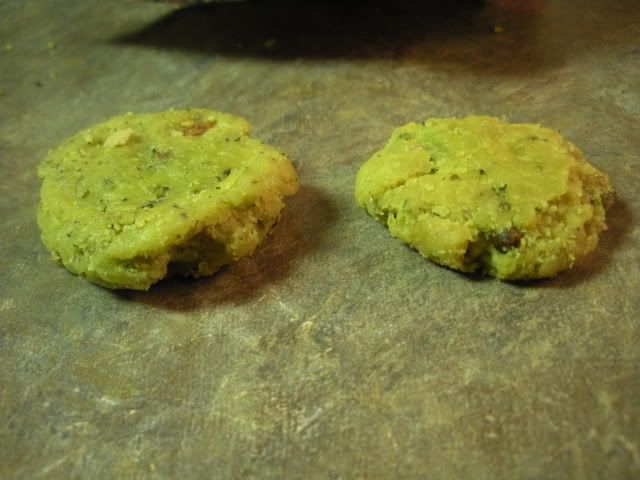 These were, well, not to my liking at all. Consistency: Peanut butter cookie made with veg shortening instead of butter. Flavor: I'm pretty sure these were again, a standard "Indian inspired" masala but their kicker was a heavy, heavy dose of methi (fenugreek.) I opened a corner of the bag while driving, and within a few seconds, the whole car smelled like a fenugreek farm. Too strong for my Western "Butter Chicken and paratha, please!" palate. I have a feeling these are gonna wind up in the garbage unless I can find someone who digs them. Live and learn.
Amma's Kitchen brand "Madras Murukku"
Easily my favorite of the trials. Consistency: Crunchy, crunchy, crunchy! Like corn nuts crunchy.
Flavor: Corn nuts with a little bit of salt, a little bit of a light masala, and a nicely pronounced hit of chile at the end. These were da BOMB! I'll definitely get them again. aside from the light flavor, but strong heat, I really liked that these were not really salt bombs at all. I wish they were a teeny bit smaller so the could be dip material. I think they are two biters, so youd have to dip, bite, chew, and then eat the rest.
I'll post more findings soon. This will be fun, I think. Feel free to share any findings or suggest anything if you know of any good snacky, bagged treats.