So, I've been working on my chops in the realm of Asian eats, and while I still prefer to leave some of the stuff to the restaurants, I can proudly say that with some Indian foods, I'm beginning to see the light. I'm starting to think I can outdo some of my favorite spots for certain dishes. I will put my
Thai Red Coconut Milk Curry
up against anyone's in the city. You name the time and place, seriously. I'm starting to think I'm turning the corner with my Indian attempts, and shortly, I hope to be able to lay down the same challenge with a few of them. Here's a meal I threw together the other night.
Quick side note: I did not learn any of this from Gramma Patel - only by tasting foods in restaurants, and reading through cookbooks and tweaking. If this is not authentic how your gramma does it, that's because I'm not your gramma.
Aloo Gobi.
Junior loves cauliflower. We buy him a head, and puree most of it for him, but I always steal a little of it, and make this for us.
Chicken Curry/Korma/Vindaloo.
I won't specifically label this, you'll see why. It has components of all three. It mostly resembles a Vindaloo.
Saag Paneer.
My first trial at using paneer. Storebought.
A ducks ROW....(get it? Tee hee!)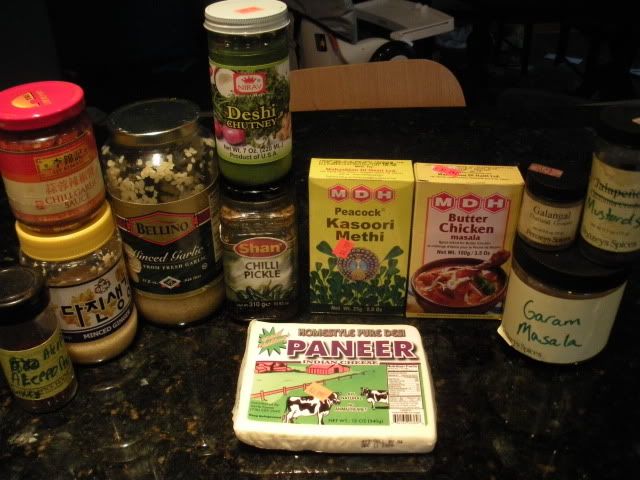 Few more ducks:
So, starting w/ aloo gobi.
Regular old cheap veg. Oil (I don't own ghee, might buy some in the future.) Into the warm oil goes a tossing of black mustard seeds - maybe a little over 1/2 tsp. One cookbook I read says that if you are starting with mustard seeds, toss them into warm oil, and when they begin to "sputter," start building your curry (sauce.) So, when the seeds begin to sputter, I add in a twig of curry leaf (stem and all.)
When the curry leaf sizzles, and you really start to smell it, the diced onion goes in, and heat lowered if needed. Don't wanna brown this onion, just soften it. At this point, any chile (including chili garlic sauce) will be added, and when the onion looks decently softened, in goes the masala to release it's flavors into the whole deal. I'll add some more oil to keep the whole thing pretty loose. Out come the curry leaves and stem, and in go the pototatoes: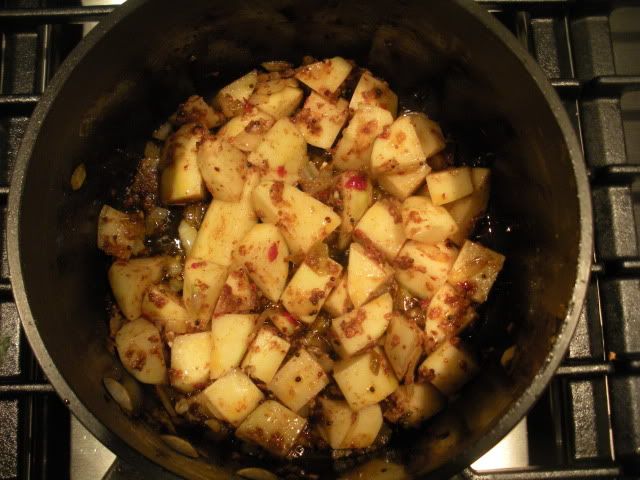 Water to cover.
Once the water is cooked down and the potatoes are about 3/4 done, in goes the cauliflower, and the juice of half of a lime.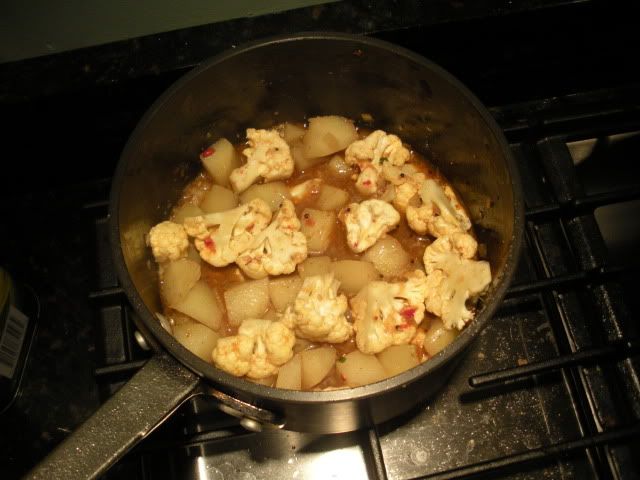 Essentially, it's done. It'll cook for a few more minutes, but, it's done. Salt to taste, and cover, take off of the heat.
Saag Paneer.
I didn't start with mustard seeds for this, but I did use curry leaf. From there, I went with diced onion, let it soften, and then when it was soft, built my base. A healthy dose of garam masala, chili garlic sauce, minced garlic, minced ginger, deshi chutney (cilantro chutney,) one sanaam chile and one dundicut chile. Secret: I am currently out of asefoetida, so I chopped up a bit of chile pickle that was strongly flavored with asofoetida, and thrwew it in.
After a nice sprinkling of fenugreek: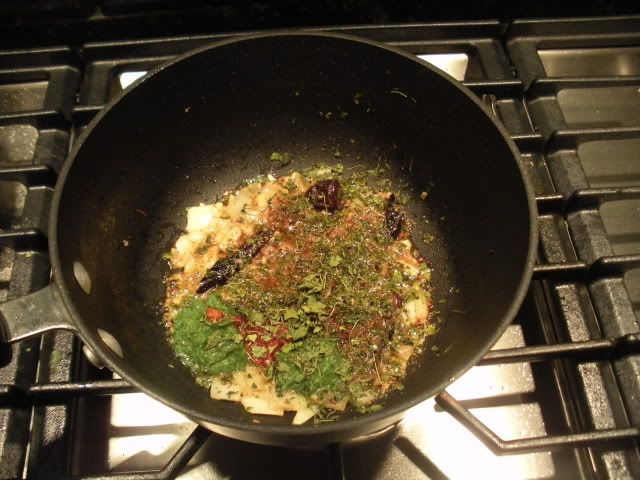 the base is ready to get mixed together and sizzled for a minute or two to let the flavors meld. Then in goes a few handfuls of frozen chopped spinach, (I had been using fresh CSA kale as well, recently) and I just let it cook away while work on other stuff. When it's been simmered for a while, to finish it off, I Cuisinart it. Just straight from the pot into the machine, and let it go to a consistency you prefer. Once it's done, put it back into the pot, salt to taste, and add in your cubed paneer. I'll just let this warm through, and then take it off the heat and cover.
Chicken Curry/Vindaloo.
1. Whip the yogurt. I have about 3/4 of a cup here. A mixture of some Stonyfield Farm cream on top stuff, and some thick Greek stuff. Fage, I think. Whip it until it's smooth. It kinda turns into a liquid.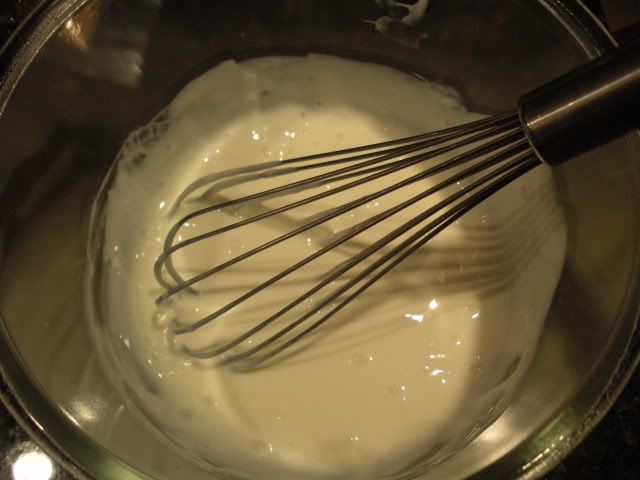 Add in some sort of masala, here I'm using MDH Butter Chicken Masala, about 2 tbs, and cubed chicken thigh - about 1.5 lbs. Let this marinate for a while. Normally, this should be step one after getting your ducks in a row: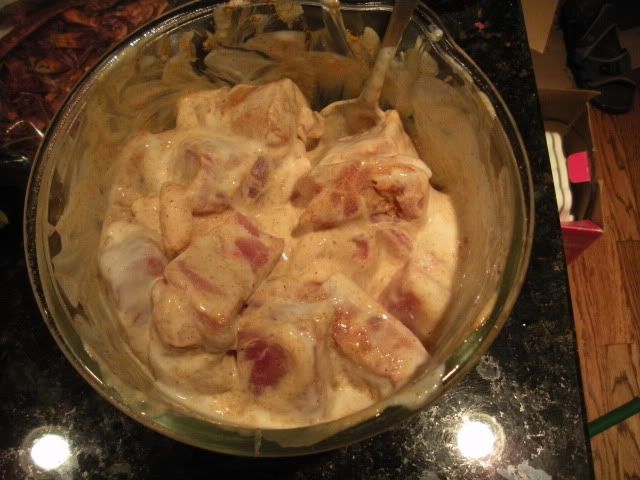 So, chicken parts are marinating, time to build a curry! I'm using a good 3/4 cup of diced onion here, softening, not browning.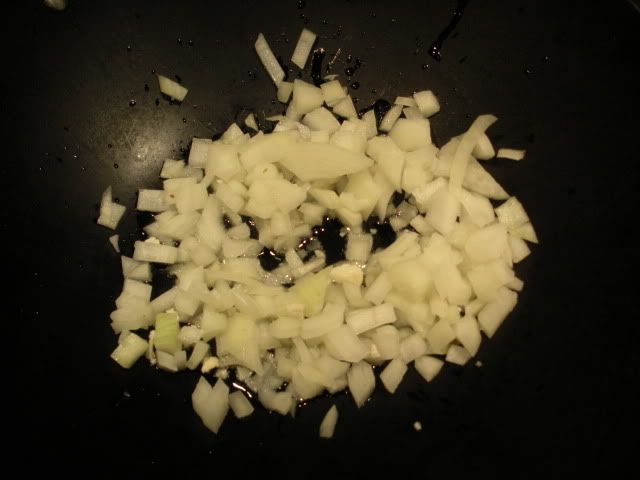 When the onion is nicely soft, in goes the mustard seed, and curry leaf. I started with the onion this time simply because I'm using a LOT more of it.
It's taking much longer to soften. It makes sense to do the onion first, THEN the mustard seed so the mustard seed won't burn. So, after the onion is soft, the mustard seeds sputter, and the curry leaf is sizzling, and smelling fantastic, in goes, diced fresh chile (jalapeno today,) dried red chile, one sanaam, one dundicut, a heaping sponfull of minced garlic/ginger, and a few heaping tbs of that butter chicken masala.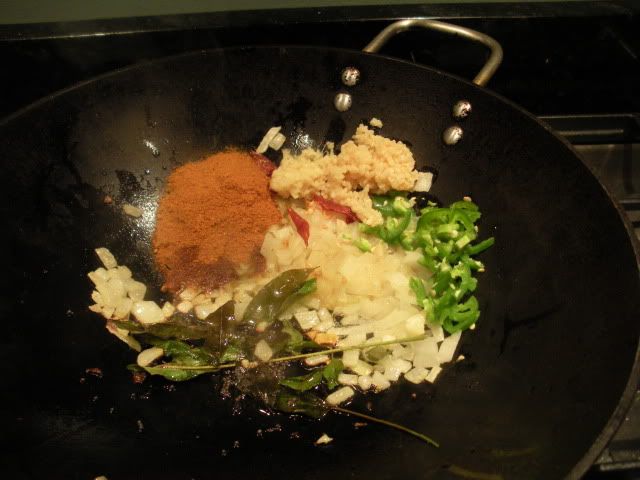 This is all mixed together into one melding brew of fire-breathing heavenly aroma if you like Indian food. Get that Vent Hood GOING!!!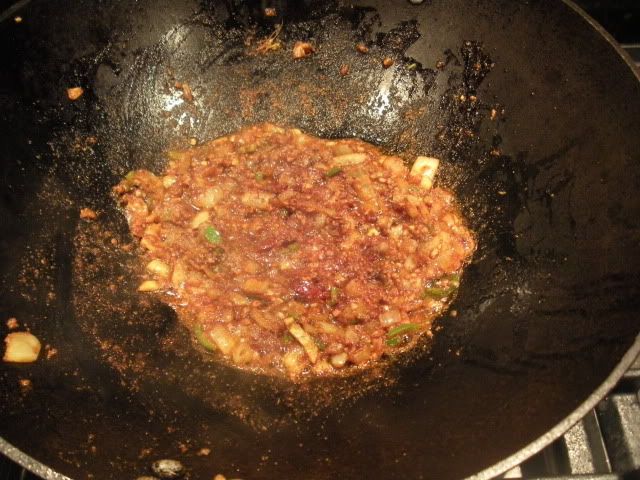 After a few minutes of stirring the base, in goes the marinated chicken, marinade and all. Top it with some water, juice of a lime, and slowly cook at a low simmer.
Raita.
This is the best raita you'll ever have. A scoche of sour cream adds body.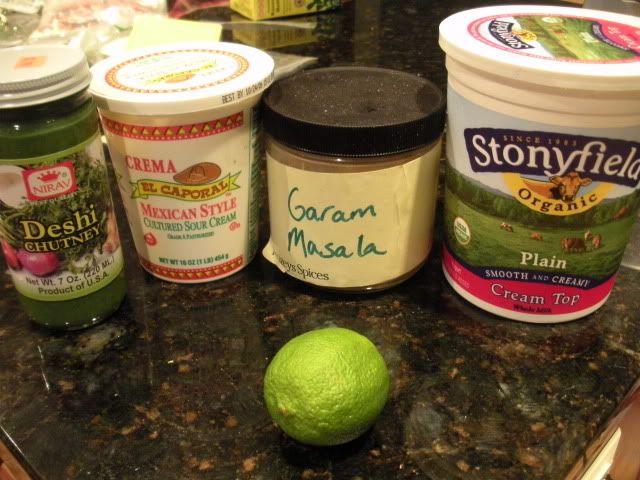 (Also, this deshi chutney, garam masala, hot pepper powder, cilantro, lime juice, and sour cream is the best chip dip I've ever had.)
I'm not saying just this raita is good, I'm saying whenever you wanna hold a "Best Raita contest" just let me know when and where.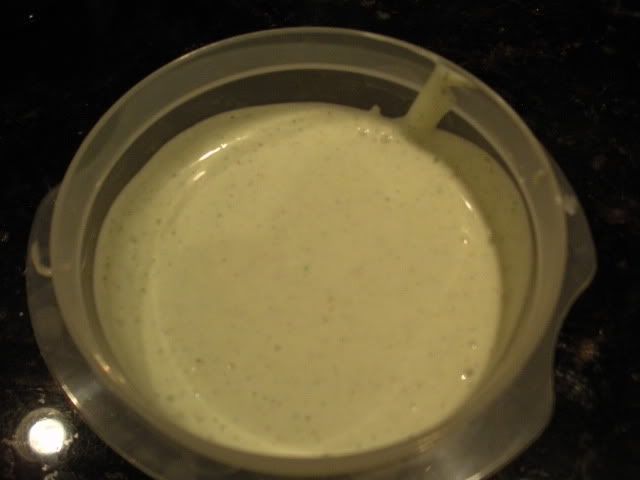 When everything is done, salt to taste, and get ready for the letdown, because it's always better the next day. Stick it in the fridge. See you tomorrow!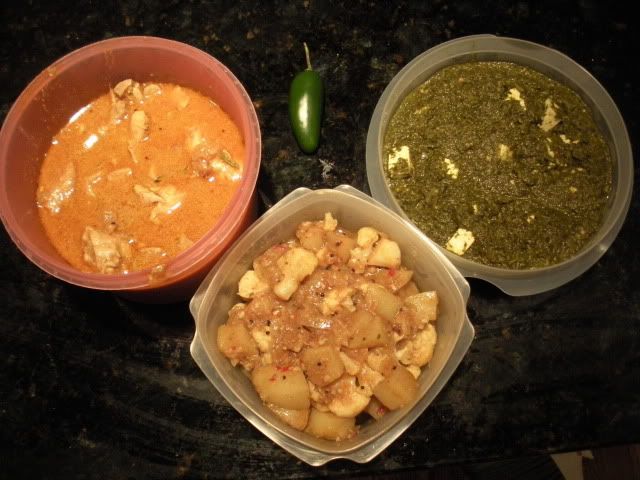 I can barely wait.
Oh well, this dinner made it much easier!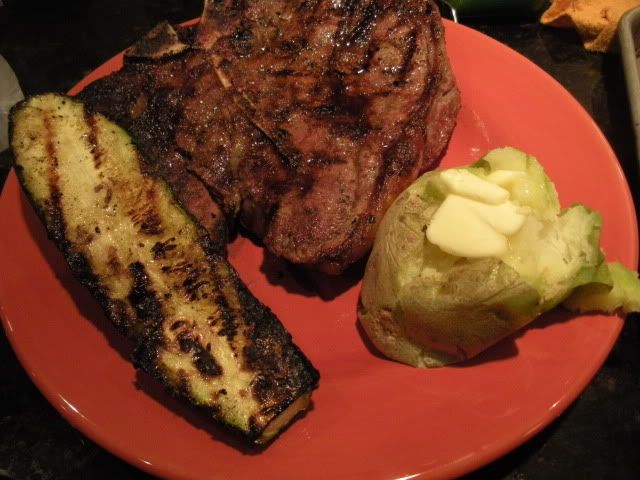 Dinner next night: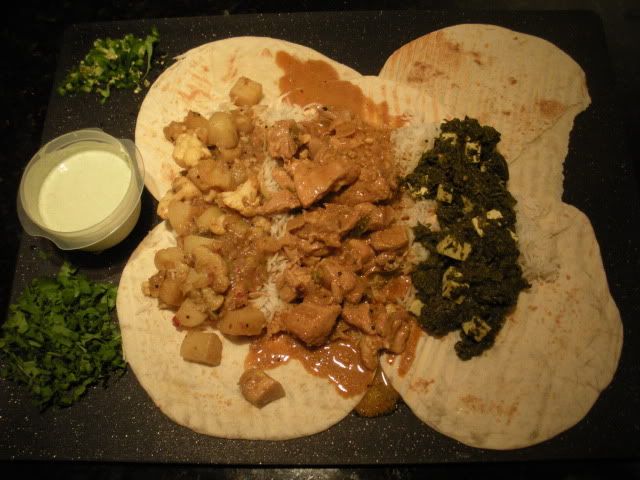 Dirty Little secret:
I like paratha more than naan. El Milagro FAJITA STYLE tortillas CASERAS are a happy, cheaper, medium for me. You'll be quite surprised at how well they work. The CASERAS style. They are thicker, fluffier, and chewier than normal El Milagro flour tortillas, and a pkg of ten is usually somewhere around a buck fitty.
The chicken dish turned out to be a dead ringer for Hema's Vindaloo with a little less curry leaf flavor, and a bit more heat from chile. I'm not saying that's good or bad, just that it's how it turned out this time. Saag paneer was standard, tad on the spicier side, paneer was the cheapest brand in the store, I'll spend the extra dollar next time. The paneer had very little flavor. Aloo Gobi was great. Remined me of Khan's minus the ghee, and the cauliflower still had a nice little crunch.
PEACE!
We cannot be friends if you do not know the difference between Mayo and Miracle Whip.