Up until this point, every Hungarian dish I have detailed starts with the holy trinity of onions, fat, and paprika. This dish, which takes its name after Brasov, a city in Transylvania, incorporates marjoram and garlic as its central flavors. It is usually translated as "Brasov roast" or "Brasov medallions" on English menus. This is a very popular and common dish in Hungary, and it is quite nice especially at the end of a long night of imbibery.
Once you start heading east and into Transylvania (which is in modern-day Romania), you begin to find less of a reliance on paprika, and more use of herbs and spices like marjoram, thyme, tarragon, bay leaves, juniper, and loveage. From my cursory research on this dish, it appears that there is a lot of argument over what belongs and does not belong in brassói aprópecsenye. The common elements appear to be cubed pork, pan-fried usually in bacon fat and onions, seasoned liberally with garlic. Sometimes it is seasoned only with marjoram, other times with only paprika, and sometimes a combination of the two. As I don't want people to get the idea Hungarian cooking is all paprika, and because I suspect given the name and implied provenance of this dish the marjoram version is closer to the original one, I give you this recipe:
The ingredients: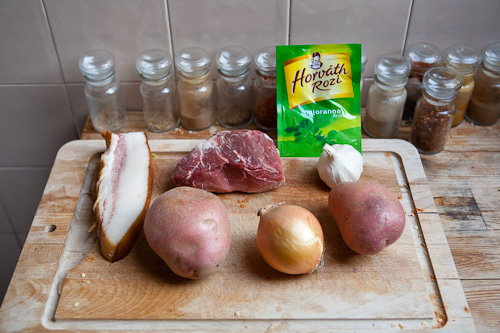 From left, clockwise: Mangalica smoked bacon, 1 pound pork shoulder, marjoram, garlic, 1 yellow onion. two red potateos.
Here is what a cross-section of the Mangalica pork shoulder looks like Observe the wonderful marbling: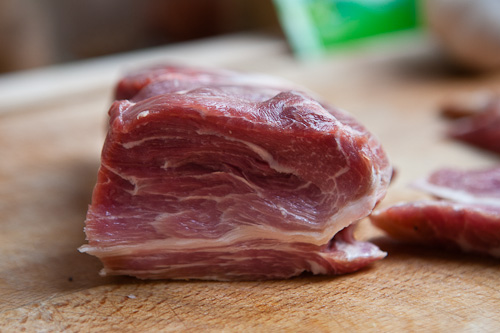 Don't you just want to stick that on the smoker and barbecue it? *drool* Anyhow, you start by frying up a good bit of bacon (I used about half of what was pictured above) and browning a mass of chopped pork shoulder in it: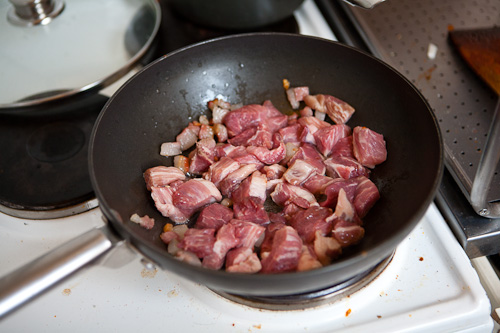 (You probably don't want to crowd the pan like this so you could get better browning. I was in a bit of a hurry so had to do it in one go.) Afterwards, remove the pork shoulder from the pan, and fry up the onions with your bacon: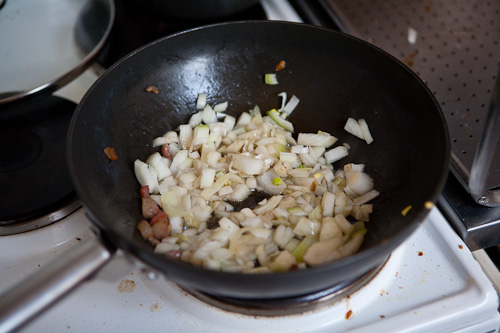 After onions are translucent, add a generous amount of finely chopped garlic (I used 4 cloves for that pound of pork). Let cook for a minute, then reintroduce the meat with marjoram (I used one teaspoon for that amount of meat), salt, and pepper.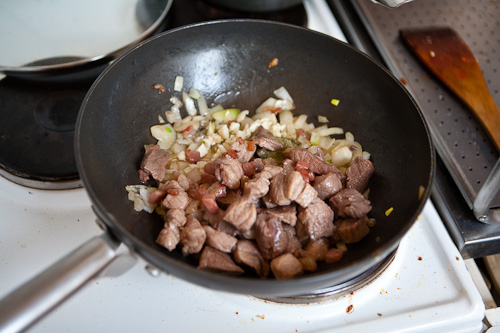 Stir well, and let this fry for a minute. Add about a half cup of water (and if desired, and as I did, add a beef stock cube--shhh, don't tell anyone! It's a common addition), cover, and let braise over low heat for about an hour.
Meanwhile, you're going to fry up some potatoes. Cube your potatoes, and fry them in the fat of your choice. I just used sunflower oil for this, as there's already plenty of bacon going on: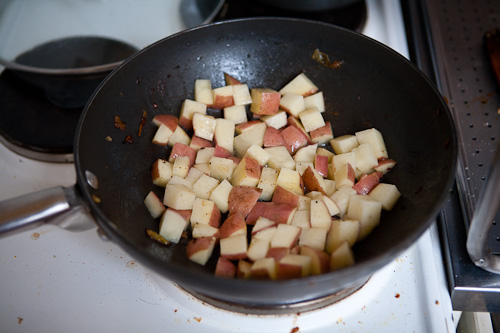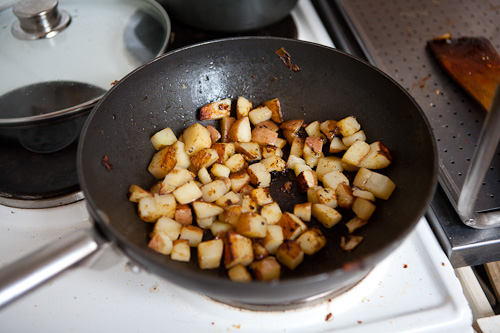 The pork in this dish usually has some bite to it (and often is made with tenderloin instead of shoulder, too), so you don't want to braise it until it begins to fall apart. I find about an hour is good. You should have a bit of natural gravy in your pan from the braised pork. If for some reason you don't, add a little more liquid to the pan. So, about ten minutes before your hour is up, introduce the potatoes back into the meat, mix well, cover, and let cook together. You just want to soften the potatoes up a little bit in this step. Adjust for seasoning (I like to add a good bit of black pepper to mine), plate and serve: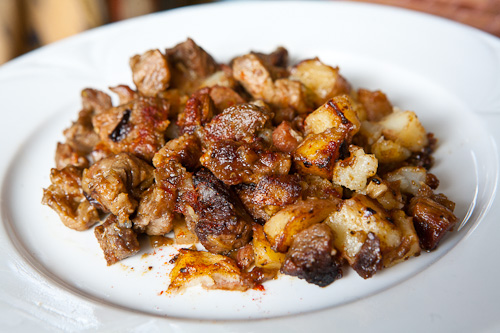 Variations: It's not uncommon to find peas stirred into this dish at the end of cooking time. Also, the addition of marjoram can be supplemented or replaced with an addition of an equal amount of paprika. The meat can be served with mashed potatoes instead of fried potatoes, although the fried potatoes (sometimes simply in the form of french fries) is the serving I'm most familiar with. (Honestly, I've never had it any other way.) I've seen variations that substitute turkey thigh for the pork, but no doubt these would be considered blasphemous in most circles.