If any of you are wondering what White Castle's on Valentine's Day looks like, here ya go.
Pretty in pink: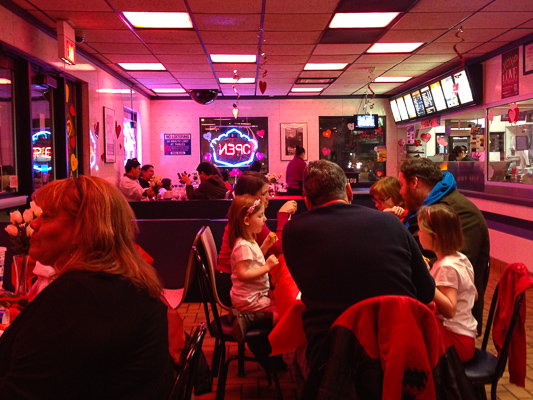 White Castle menu cover: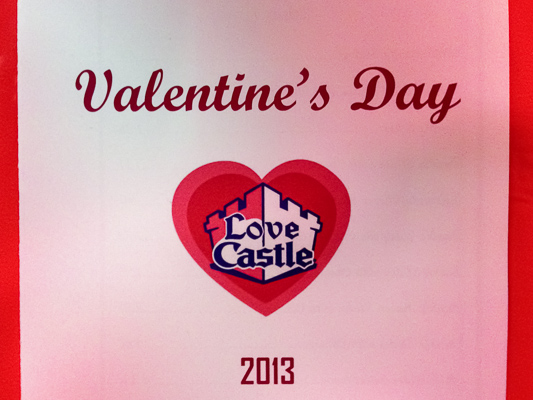 Mrs. Binko with place settings and sliders: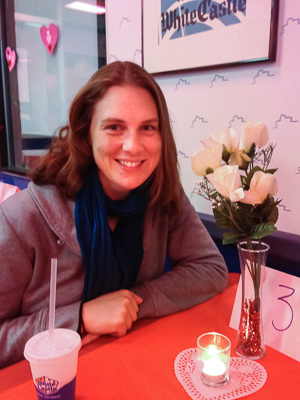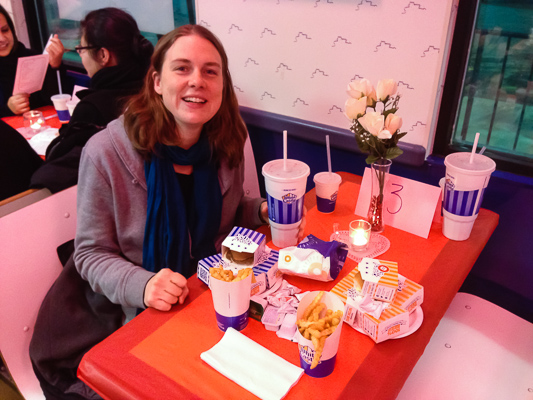 All-in-all, it was a non-ironic crowd at the White Castle on 47th and Archer. That doesn't surprise me, as Brighton Park doesn't really do up irony (which I appreciate.) The crowd consisted of mostly families with kids, although there were several couples, and one table of high schoolers. The atmosphere was festive and relaxed, with all the lighting fixtures covered with pink lighting gels, and the tables done up with red table covers, paper hearts, a tea light candle, and a vase of artificial roses. Staff came around dressed in red button-down shirts to take your order. We went for the #2 $10 special (5xjalapeno sliders, 5xoriginal sliders, 2x fries), a small order of chicken rings with the Buffalo powder, and a couple of large pops. At the end of the night, we even got a couple of complimentary heart-shaped chocolates and homemade ginger snaps. Plus we got our picture taken, too! All for the low, low price of $17 and some change.
Food was great, as usual (if WC is your thing), except for those chicken rings with the Buffalo powder. How in the hell did those pass any sort of focus group? I just don't understand.
But, anyhow, a very cute idea, and I have to give White Castle kudos for having fun with a Hallmark holiday. Now it's time to hit the bar for a few Old Styles. (Somehow, I feel like I did this in the wrong order.)