LTHforum's 12th Annual Potluck Picnic
Our tradition of the best potluck picnic carries on and on and on! We're all friends and yet there is a bit of a competitive spirit in wishing to offer your best. We're all looking forward to whatever you wish to share from a favorite dish to something you always wanted to try, we know we'll love it all!
If you need a few ideas, why not consider preparing a dish you learned about on LTH. A dish you never thought to make until someone posting their experience made it come alive and jump high on your must do list. Of course, everyone will be thrilled to eat what you know best.
Some offerings are collaborative such as the Little Tiki Hut, 2015 (Image by Ronnie Suburban)
Though individual efforts like Josephine's Maryland stuffed ham are welcome, too!
(Steve Z)
Date:
Sunday, September 24th – Rain or Shine!
Where:
Labagh Woods
, Grove 1
Shelter in grove 1 (image by Steve Z)
Driving:
From the north
:
Take 94 to the Foster Avenue Exit, then turn right (west) until the stoplight at Cicero Avenue. Turn right (north) onto Cicero Avenue for a few hundred yards. Turn left (east) at the LaBagh Woods Forest Preserve sign. Follow the road over US 94 and keep to the left to reach the lot.
Or
From the north, take the Edens (I-94) to the Cicero exit. Go 3 1/2 blocks south on Cicero to the Labagh Woods entrance on the left, then follow the road over the expressway and keep to the left to enter our grove 1.
From the south
:
Exit from the Edens Expressway/I-94 at Foster Avenue. Turn west toward Cicero Avenue, then turn north (right) onto Cicero Avenue staying in the right lane. There is an entrance to Labagh Woods on the right. Follow the road over the expressway and kept to the left to enter our grove 1.
Follow the red arrow (image by Ramon)
Time:
- 9 AM (or earlier by arrangement): I will arrive to reconfirm our picnic permit. Smokers and grillers may arrive to begin their cooks.
- 10:30 AM: Help with tidying up, arranging tables and supplies.
- 11:00 AM: Appetizers/Lunch/Desserts Food will be coming out in waves as they are cooked or as people arrive. It is truly a miraculous vision: Food shows up and people eat it!
(
If you want to try everything, come early and stay late ... don't begin to kvetch if it is gone when you show up fashionably late!
)
- 2:00 pm - Pinata breaking (children must bring their parents)
- 5:00ish - Begin tidying up - please note this is everyone's effort.
- 6:30 PM: Sunset - party over followed by the Park District chaining the driveway.
Fee:
Free!
This is a true do-it-ourselves event where we bring food to share, help set up and clean up. Please advise if you can come early or help later with tidying up. This picnic will leave pleasant memories for all of us when we share the load.
Reserve:
By replying on this thread. Your information will be maintained on
this reservations list
, which can always be checked. Please alert us to any errors. From time to time, we will post a recap on this thread.
Everyone joining in this event is expected to contribute in food and/or supplies, keeping the event orderly and tidy up as you go.
Shelter interior with food laden tables (image by Steve Z)
(Steve Z)
BBQ smokers and Grills:
Please arrange your equipment in the front area, just off the main walk into the shelter. Sure a blast of wind from the wrong direction might send smoke into the shelter. Consider it a shared experience.
Crazy C's smuggled on the hoof Jamon, 2010 (image by G Wiv)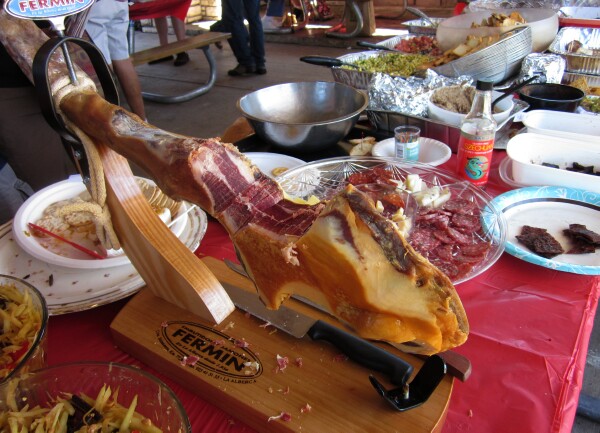 BYOT & BYOC
: Seating is at a premium with only 10 picnic tables provided with the shelter. These will be filled with all kinds of food. If you want to guarantee a seat, bring your own. Ditto for tables. There are lovely grounds for sitting on a blanket. You might consider setting up your seating behind the walls of the shelter.
Whatever food you choose to bring, please make sure to keep
hot food hot
and
cold food cold
If you are better at ordering take-out, then consider bringing the following:
- Tables and chairs (we might get as many as 10 benches from the park district)
- Bring take out!
- Beverages*
- Cheese or salamis
- Water and Ice is always nice!*
*If you commit and later find you cannot attend, please give advance warning. People may want to keep a stash of water in case there are shortages (like a few years ago).
Supplies from last year were used at irisarbor's Mardi Gras party last February and via Laikom's series of lakefront picnics and grill parties. We found life was made easier for everyone by simply using supplies for ongoing community events.
We will need
paper plates, paper napkins, plastic cups and some baby wipes. Check the list to find out what is still needed or send a PM to Cathy2 with any questions.
If you can bring a bag to collect recyclables to bring home and dispose, that would be terrific.
Picnic Permit Rules and Regulations

wrote:…

3. The Forest Preserve District is closed to all visitors after SUNSET. Night picnics are not permitted. Glass beverage containers are not permitted on the Forest Preserve District property.

…

5. The sale of alcoholic beverages in any form is prohibited.

6. Before leaving, you must extinguish all fires; collect all your paper debris, bottles and trash and deposit them in the appropriate containers.

…

10. All ordinances and regulations in effect of the Forest Preserve District must be observed and the instructions of its representatives obeyed.

Please note that the consumption of alcohol upon or within 50 feet of any roadway, parking area or entranceway is prohibit.

No admission fees or charges may be levied.

…
Alcohol consumption is allowed in this grove
. As stated above, you cannot bring any glass bottles. BYOB (in original plastic) is otherwise a-ok.
Tents sized no more than 10x10 are allowed. Anything larger will require a permit.
From talking to the Cook County Forest Preserve Police, the consequences of a violation are: At a minimum two tickets with fines and mandatory court appearances will be issued: to the violator and the person named on the permit. Let's end the day feeling happy.
Please reserve by posting below with what you plan to bring to the picnic, where it fits into the meal and how many are attending:
Appetizer
Bread
Cheese/Sausage (to be sliced)
Side Dishes
Salads
Main course
Snacks
Desserts
Alcohol and non-alcoholic beverages
Please advise if your food needs heating, grilling or smoking. Plan to bring your own equipment unless you have arranged to share grill space. If you have a tabletop grill, then be prepared to have it sit on the ground.
We have a special spot in our hearts for unique and weird food. Things you never thought you'd have an opportunity to eat.
Let's do this again, because it works so well: If you have small bites to easily pick up, consider walking through the crowd offering tastes to people.
***
Adjacent to our picnic area is a large field for games, advise if you can organize a game or two.
There will be a pinata filled with candy whimsies organized by glennpan and paid by LTHforum's owners.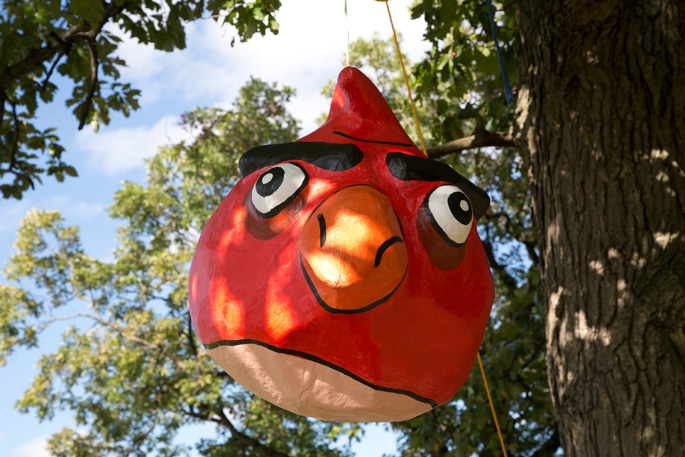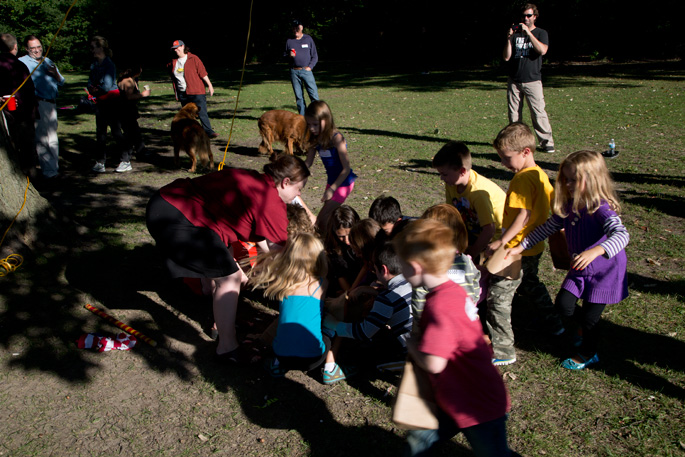 (Images by Steve Z)
Mom and Dad: Keep an eye on the kids. If someone else keeps an eye on them, you can be assured they are not enjoying themselves as fully as they'd like.
On the grove's premises are portapottys plus brick-and-mortar flush toilets and water to clean your hands.
Waste not, want not: We encourage everyone to bring food storage containers, tupperware, ziplocs or plastic bags. We know there will be food to feed more than will be present, so please take home leftovers to enjoy the party just a wee bit longer the next day.
When you are ready to leave and getting a container to go, please be considerate of those who may still be eating. Take a modest portion of any dish, especially if it just arrived.
We
are not
encouraging people to bring pets. There will be lots of noise, people, fire, food, liquor and kids. Even the best behaved beast may not respond well in these conditions. Promise them a good walk and lots of love when you return home, please.
I am leaving my cat at home, who does not like to be without me. We all understand these sacrifices.
Come with the classic LTHforum open spirit to break bread with friends who share your culinary interests.
Now come out to eat and play!
Regards,
Cathy2