Josephine wrote:
Guys, remember that the bunuelos don't come out until around 8:30 AM.
9:30 they were still staging bunuelos out of the back, hot, crisp, light, with the merest suggestion of cheese, ever so delicous.
Bunuelos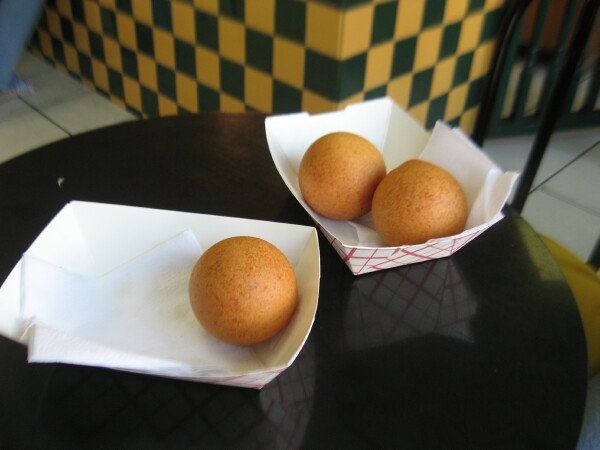 Lightly marinated green figs with cajeta a revelation, smooth sweet toasty caramel perfect foil for tart slightly unripe tang of fig. Alas, I did not get a good picture of the green figs with cajeta, though Cathy has a terrific one up thread and I'm guessing Kate, Terrasini's bride, got a few good ones.
Even though I have been to Mekato's a number of times I thought Sunday was the best, on all counts, I've experienced, food, company, friendly interaction of customers and staff, even the always good cafe con leche tasted somehow better that morning.
Other bites of note were crisp cornmeal crust empanadas, crunchy chicarron served with a wedge of lime, sweet arepas with cheese melted on top and plain served with chorizo and dense, deep flavored blood sausage, which Terrasini spotted tucked away in the back of the hot case.
Blood Sausage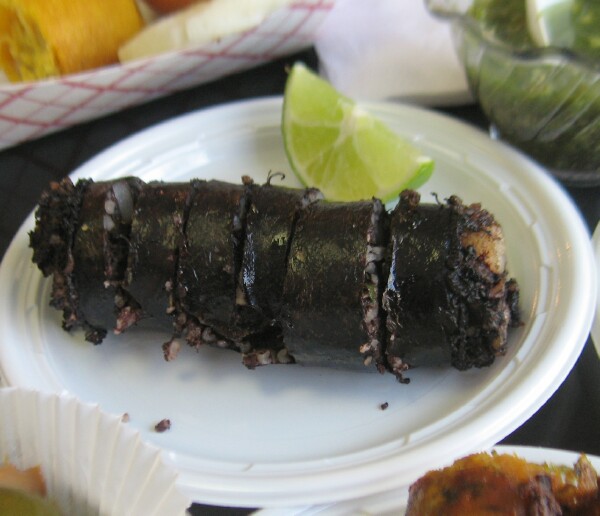 Good call for Sunday breakfast on Dickson's part, gave me a chance to visit Mekato's with LTHers and mightily shore up my support for Mekato's GNR nomination.
Enjoy,
Gary
_________________
Sauce on the side, always, implied, axiomatic..........never a doubt, BBQ sauce without.
Low & Slow