Antonius wrote:
Those of you who know my writing may have noted that I tend to be restrained in my praise but on this occasion, I find restraint hard to achieve.
Antonius,
I have no such problem with restraint, so fasten your seat belts as I am about to go into full-on hyperbole drive.
From the moment we walked in the door and were greeted with a heartfelt welcome I started to fall in love with Xni-Pec. I mean how can you not love a place that, when asked why the house-made tortillas are green, answer "because green is festive"
Salsa and house-made chips, as Antonius mentioned, are terrific. Nice hit of habanero, flavorful fresh made chips. They also serve a table sauce made with habanero that brings tears, in all good ways, to ones eyes.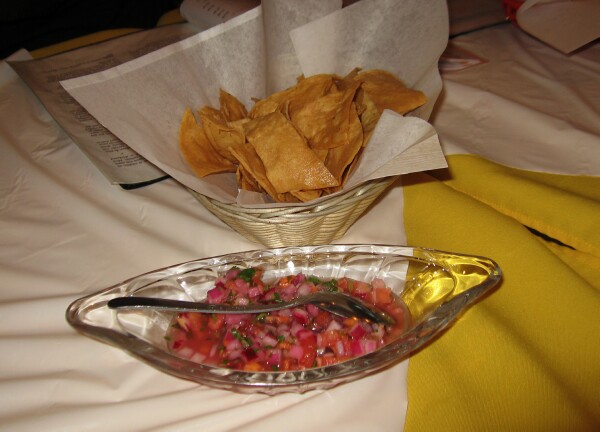 Vaporcitos - Tamal Yucateco (M8 ) was the perfect combination light, yet full flavored masa, tender chicken. Delicious
Tamal Yucateco (M8 )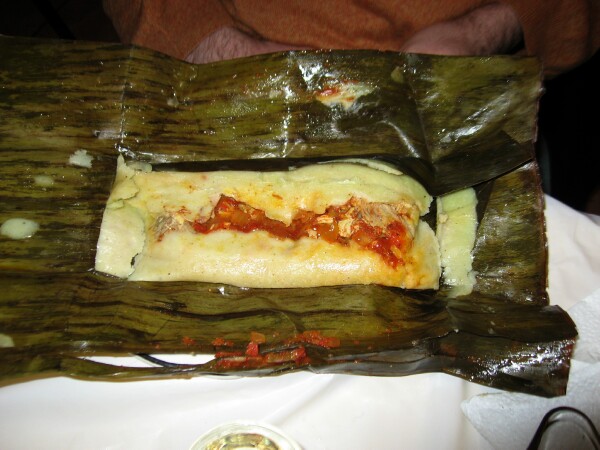 If I had to pick one absolute killer dish of the evening it would be Tacos de Cochinita Pibil, carne de puerco w/pickled red onion (M5). I'm not making comparisons to other versions around town, but Xni-Pec's is the best I've had.
Tacos de Cochinita Pibil, carne de puerco w/pickled red onion (M5)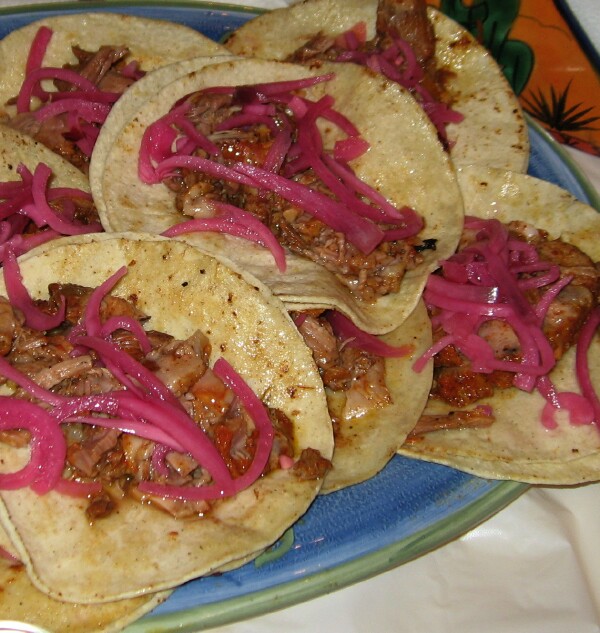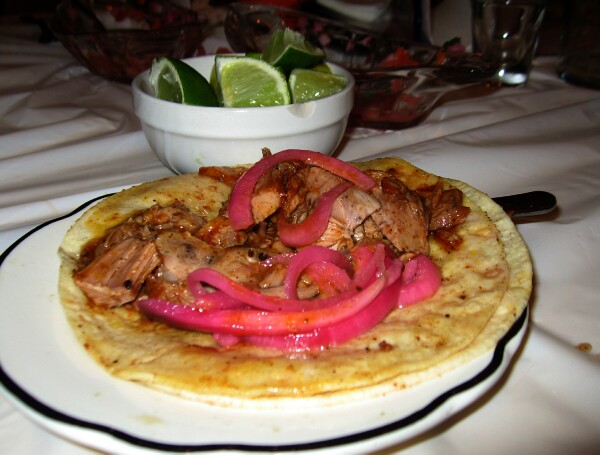 Orden de Panuchos (M7, fried tortilla w/black bean inside, marinated and grilled chicken on top were terrific as well. Crisp masa, black beans adding depth, paring perfectly with grilled chicken and picked red onion.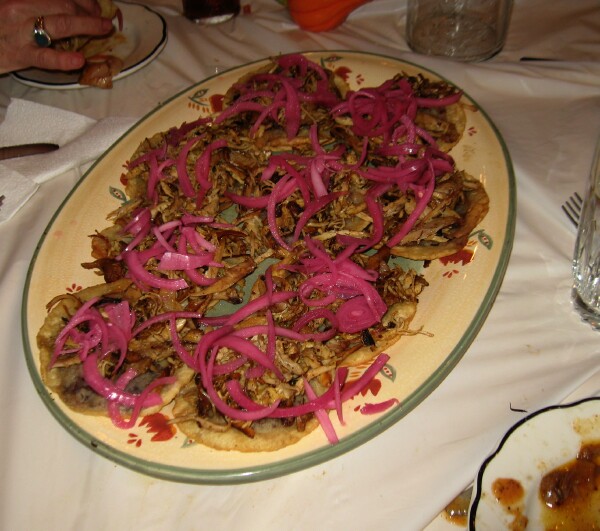 Papadzules (M11, Fried tortilla w/green seed sauce and tomato. Chopped egg inside)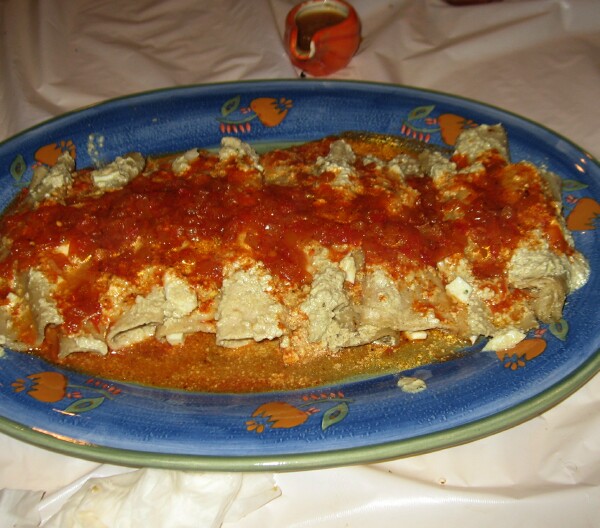 Codzitos (M9, Fried tortilla w/tomato sauce and cheese), a seemingly simple dish elevated by care and preparation.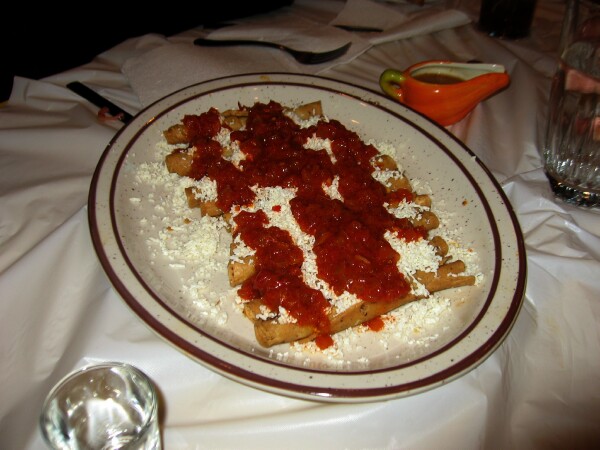 Red snapper was thoroughly enjoyable, though I have to say Xin-Pec has a deft hand with vegies and rice as well.
Pescado Tikin-Xic (P1, Red snapper brushed with achiote sauce, wrapped in banana leaf)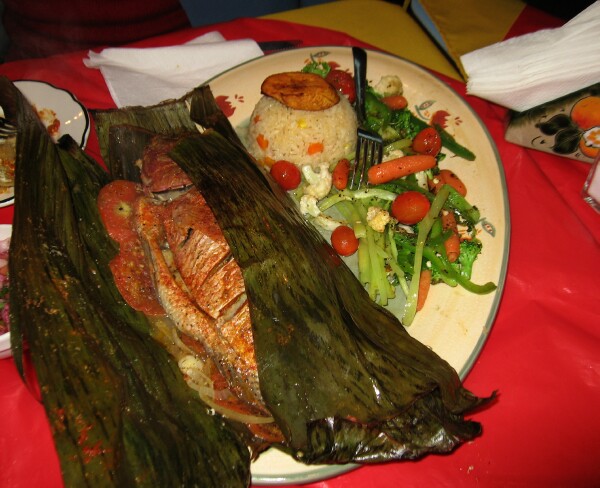 Lightly breaded shrimp made for the perfect mid-course for the shrimp lover in our group.
Tacos de Camaron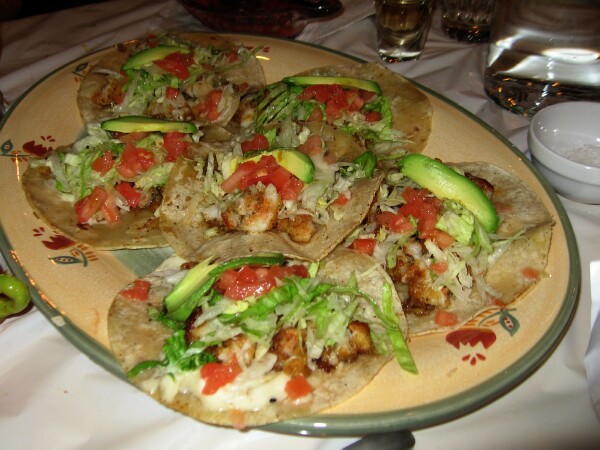 Huevos Motulenos is another seemingly simple dish elevated by care coupled with a deft hand.
Huevos Motulenos (D5, fried eggs w/green peas, ham, tomato and black beans)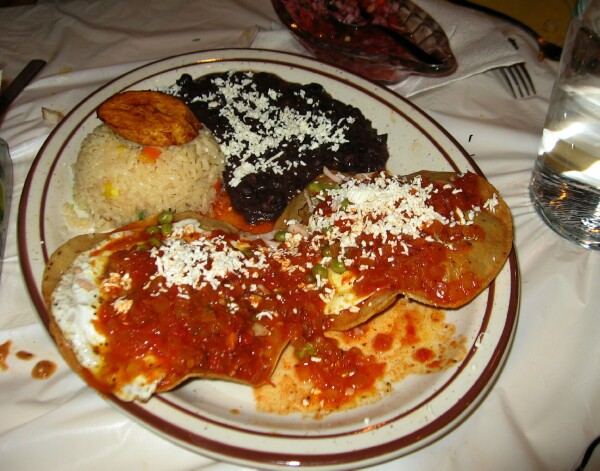 Grilled marinated beef is such a common descriptor and does not do justice to the tender bursting with flavor gems we wrapped in festive green tortillas, anointed with a drizzle of habanero laced house-made sauce and devoured with unbridled gusto.
Poc-Chuc (C4, grilled marinated beef w/rice beans grilled veg)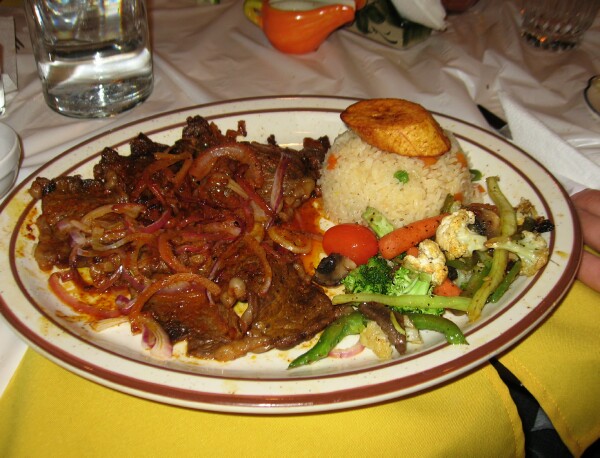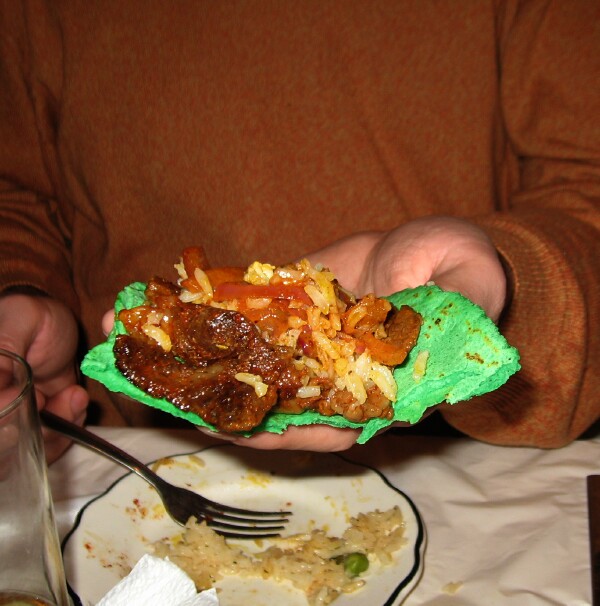 Desserts were terrific, though at this point, especially as we had made a stop at
Fulton's
for oysters first, we were full to bursting. Especially notable was the Arroz con leche with Rompope sauce, a rich mix of rum and egg yoke.
Arroz con leche w/Rompope sauce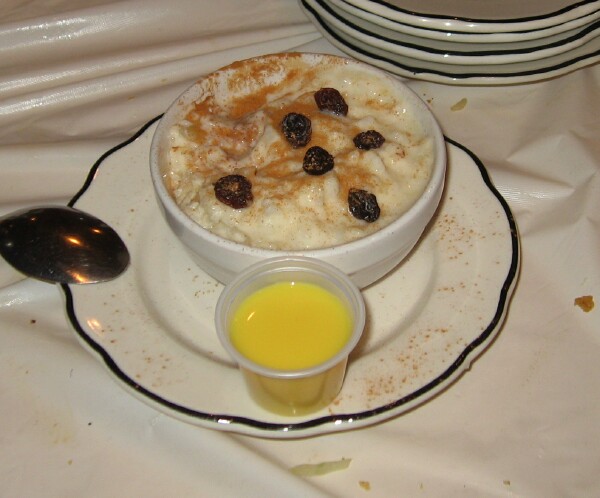 I can't emphasize enough the feeling of warmth we felt, from the spirited interchanges with María Luisa to the sheer joyful enthusiasm shown when we rang the ships bell hanging by the door with the sign, Ring if you enjoyed the food*.
MsWiv (L) María Luisa (R)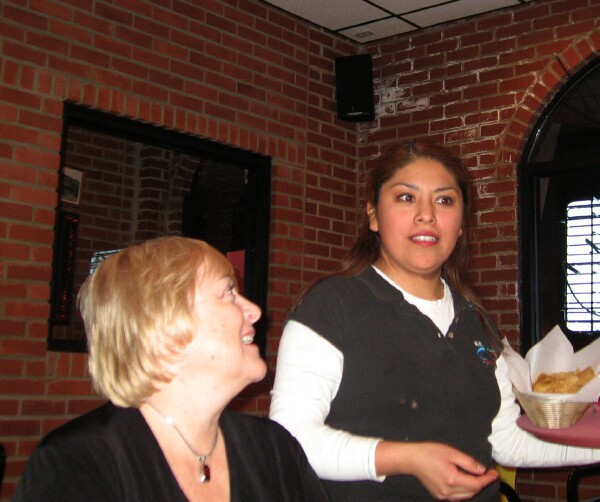 I liked Xni-Pec to such a degree I wanted to go back for dinner again tonight if not for other plans.
Thanks for the heads up Leesh and thank you to Llewellyn and Edeben for the deliciously motivating follow up.
A few additional pictures may be found
here
Enjoy,
Gary
*
paraphrase, I did not take a picture and don't remember exactly
Xni-Pec
5135 W 25th Street
Cicero, IL 60804
708-652-8680