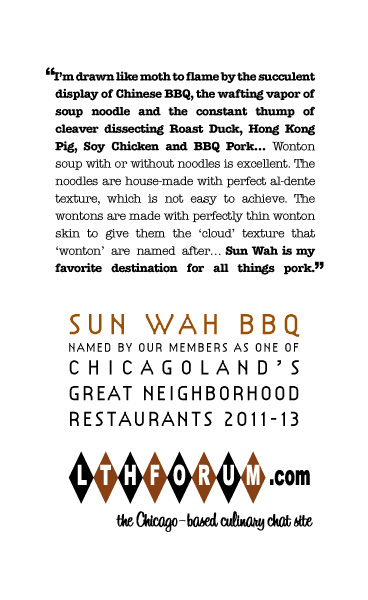 LTH,
Sun Wah has seeped into my very culinary essence, it's one of
those
places I go when I'm not sure where to eat, suggest when nothing springs to mind and, if I don't have a specific Argyle Street destination, where I end up for lunch when in the neighborhood, drawn like moth to flame by the succulent display of Chinese BBQ, wafting vapor of soup noodle and constant
thump
of cleaver dissecting Roast Duck, Hong Kong Pig, Soy Chicken and BBQ Pork.
Physical space is modest, though comfortable, multiple 'lazy susan' tables for groups, solid wooden chairs that don't creak after one indulges in a multi course meal, picture windows looking out onto the ever interesting Argyle street scape, the occasional wall sconce, plant and, best of all, paper dinner plates with daily specials written in both English and Chinese, except for duck tongue that's never translated lest Aunt Hildred from Boulder run screaming from the restaurant.
There are a number of threads singing the praise of Sun Wah's Hong Kong style Roast Pig, Salt Baked Chicken, generous bowls of Shrimp Wonton w/egg noodle soup drizzled with table chili oil, Roast Duck, Steamed Fish Filet with ginger and scallion, crisp noodles, Pea Pods and daily specials such as Lamb Stew and "Warsaw."
EatChicago/Michael Morowitz sings the praises of Sun Wah with a chorus of LTHers
here
. It's also been the site for
short notice
LTH dinners, impressed the hell out of a group of serious (American style) BBQ guys and has a couple of hundred references scattered across the landscape of LTHForum. Some, such as
MrBarolo
I should point out, are not quite as keen on Sun Wah as myself.
It's my pleasure to nominate Sun Wah BBQ for an LTHForum Great Neighborhood Award, thank you in advance for your consideration.
Enjoy,
Gary
Sun Wah BBQ
5041 N. Broadway
773-769-1254
Chicago, Illinois 60640
Closed Thursdays