G Wiv wrote:
I found DeVille in contrast to the other new(ish)
cocktail
bar The Whistler, which seemed starkly serious conveying a Poindexter with cocktail shakers attitude this bourbon drinker found slightly off putting. I should note the three friends I went to The Whistler with, who are more into cocktail culture than myself, had a positive impression.
LTH,
Met friends at the Whistler for a couple of drinks, found it more to my liking this time around. Friendly interactive bartender, chatty interesting fellow bar patrons, still a little too much emphasis on the cocktail-geek factor, at least for me, but I was enjoying hanging out there.
Then the band started playing and out the door for both me and my friends. It might be I am no longer of the age to appreciate loud atonal music in confined spaces, but my friends are a couple of decades younger and they beat me to the skedaddle suggestion.
We headed to Two Way Lounge across the street, a mostly dive bar with pool table, tough, but pretty, bartenderess with a heavy Eastern European accent, one angry screaming match in Spanish and two guys, at opposite ends of the bar, talking to themselves. Cheap drinks and bags of spicy hot popcorn/chips smoothed the rough edges.
Keeping with the theme, we stopped at Two Way Grill for late night burgers. Not the best 24-hour diner in town, but reliable as an Swiss watch for late night burgers, pancakes and eggs.
Two Way Grill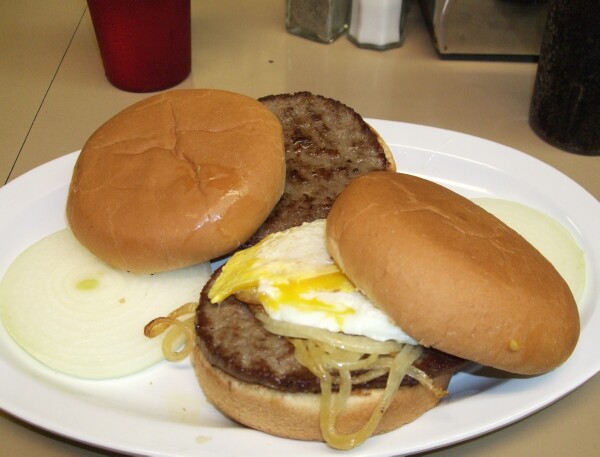 Enjoy,
Gary
The Whistler
2421 N. Milwaukee Ave.
Chicago, IL 60647
773-227-3530
Two Way Grill
4351 N Elston Ave
Chicago, IL 60641
773-545-3881
Two Way Lounge
2928 W Fullerton Ave
Chicago, IL 60647
773-227-5676
_________________
Sauce on the side, always, implied, axiomatic..........never a doubt, BBQ sauce without.
Low & Slow