Geo wrote:I grew up in the Bay Area, I've lived in China, I prefer dives over frou-frou, but I'll go frou-frou if the food is THE most genuine. So where would YOU go?
Geo,
Dives over frou-frou, you are talking my favorite restaurant in Chicago, and namesake of this board, 'Little' Three Happiness (209 W Cermak), not to be confused with the much larger restaurant on the Northwest corner of Wentworth and Cermak, which serves poorly executed tourist Chinese, similar name, different owners. Short on decor, long on flavor, LTH is a perfect example of Calvin Trillin's "Inverse ambiance theory of Chinese restaurants"
I have a number of favorites at LTH, roast duck/BBQ pork with pan-fried rice noodles, blue crab dry fried with ginger, scallion and fresh jalapeno, clams in black bean sauce, crisp shell-on salt and pepper shrimp and crispy skin chicken, served with cliantro, lemon wedges and a Sichuan pepper salt mix for dredging is delicious. To name a few.
Salt and Pepper Shrimp at LTH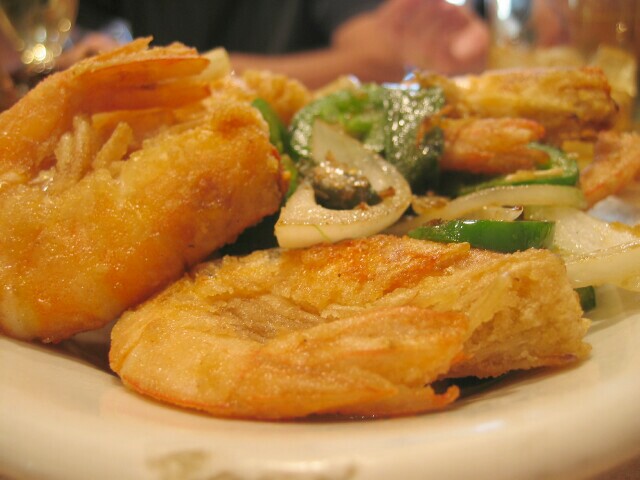 All the seafood is quite good, as are the casseroles, one of my favorites is squid with sour greens, even the American/Cantonese standards are good. Though the only time I ever order what I would call a suburban Chinese dish is when I am there with someone who just can't handle the thought of sea cucumber in his mixed seafood with pan fried rice noodles or even a shiitake mushroom, for that matter.
One caveat, most of the time my favorite dish of pan fried rice noodles, ask for them crisp, are wonderfully crisp and delicious. Be aware there can be a bit of inconsistency to the cooking at LTH due to the long hours they are open and chef shift changes and there have been instances of not-so crisp noodles and/or over saucing. Even though I am a regular I always ask for my noodles extra crisp, light on the sauce. Frankly it never hurts to ask and/or reinforce preference, and not just at LTH.
Plain extra crisp noodle at LTH (Head from crispy skin chicken wanted in on the picture.
)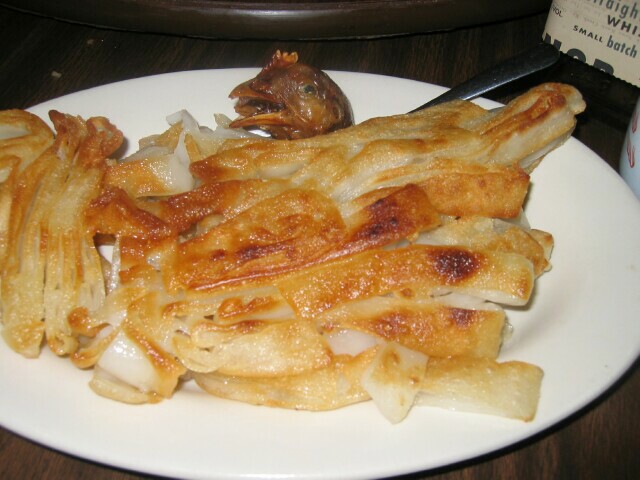 I keep a bottle of 'Gary's Chili Oil' at LTH, I make my own chili oil and they kindly allow me to keep a supply there, feel free to ask for the oil, though they are currently out, I have a quart in my frig to resupply.
Most of the other choices are good as well, and fit within your parameters, Ed's House of Potsticker, Lao Sze Chuan , Spring World, Mandarin Kitchen, though I'd add Shui Wah to the mix as well. Hope you have a wonderful meal and please let us know what you decided and how it went.
Here are a few LTHForum links to restaurants discussed in this thread.
'Little' Three Happiness pictures
'Little' Three Happiness
'Little' Three Happiness
'Little' Three Happiness
Mandarin Kitchen
Mandarin Kitchen
Mandarin Kitchen
Ed's House of Potsticker
Lao Sze Chuan
Enjoy,
Gary
"Little' Three Happiness
209 W Cermak Rd
Chicago, IL 60616
312-842-1964