LTH,
Very much enjoyed time spent at Toon's yesterday, always fun hanging out with LTHers, including Jim, Kenny and Danny, plus our respective brides all made appearances, meeting Mamacupcake was a treat and Da Beef is, for lack of a better word, a hoot. Toon's is a real neighborhood hub, hard drinking regulars, mom, dad with kids in for lunch, sports teams, community events, all anchored by Danny who simply exudes old school hospitality.
Bar food often implies settling for mediocre to fill in the cracks while drinking, Toon's seemingly standard bar menu of burgers, fries, wings, soup, chili is handled with a degree of thought and consideration that elevates beyond the norm. Part of the reason may be owner Danny Beck is a graduate of
Kendall Culinary
and his wife Annie a
CIA
grad, but I'd offer it simply boils down to love of and passion for food, which in Danny's case includes BBQ.
I am passionate about BBQ and, as with any passion, its easy to spot, differentiate, those with a passing interest and the completely committed* five minutes of conversation with Danny and one realizes he is a tried and true BBQ man.
With a large group I got to sample a number of offerings starting with Buffalo Wings, which were as good as advertised, certianly the best version I've had in quite a while. Crisp onion rings with a subtle note of sweetness, I wonder if they use Maui, Vidalia or Texas 1015's.
Toon's Buffalo Wings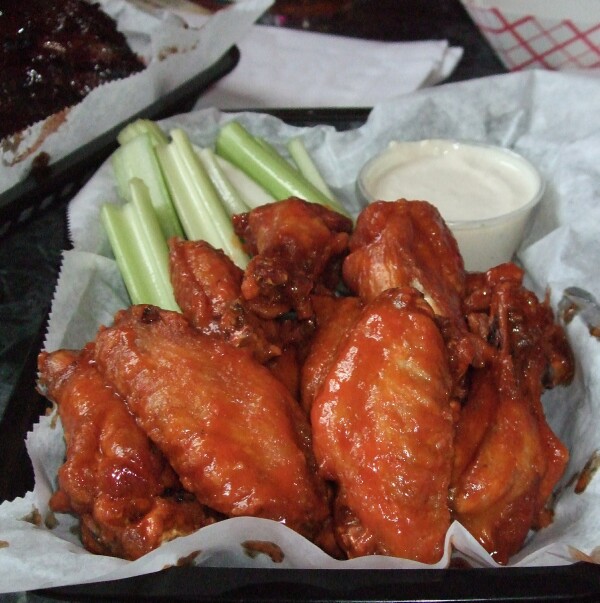 Onion Rings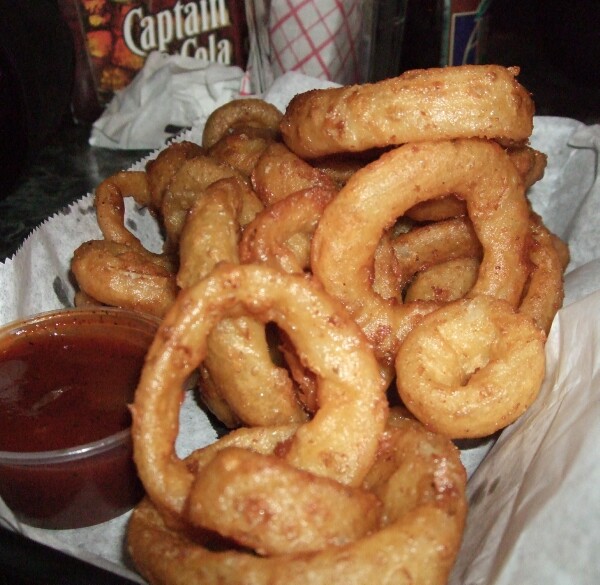 My bride enjoyed her gumbo, rice included this go-around, and I was surprised at how well the busy sounding Jive Turkey sandwich, with pulled turkey, bacon, BBQ sauce, fried onion strips and provolone came together.
I enjoyed the BBQ, in particular the two unsauced ribs Danny brought out later in the afternoon for Da Beef and me to try, smoked turkey breast was moist and tasty, though not much smoke flavor. From my admididly persnickety BBQ viewpoint Danny is starting from a deficit with an electric smoker but, like Barry Sorkin at
Smoque
, though care, consideration and talent he makes the best possible use of the equipment at hand and turns out better BBQ than the majority of dedicated Chicagoland BBQ joints.
Two Toon's BBQ Ribs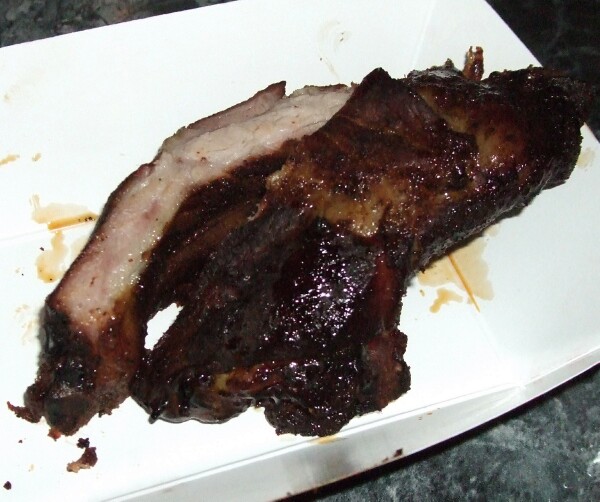 Toon's, count me a fan.
Enjoy,
Gary
*
Reminds me of the chicken/pig breakfast story. The chicken is involved, the pig committed
_________________
Sauce on the side, always, implied, axiomatic..........never a doubt, BBQ sauce without.
Low & Slow