Thaiobsessed, the top floor of this thing houses a Forno Bravo pizza oven, shipped as a modular "kit," which is typical for these kinds of ovens. (BTW, this is the same unit that houses a pig pit.) I use cherry, apple and maple, because that's what's cheap and easy in the area of Michigan where the oven is. I think the fruit woods work exceptionally well. There's a slight flavor that I think the woods impart, but more to the point, the fruit woods tend to have just the right size, shape and ease of lighting and burning.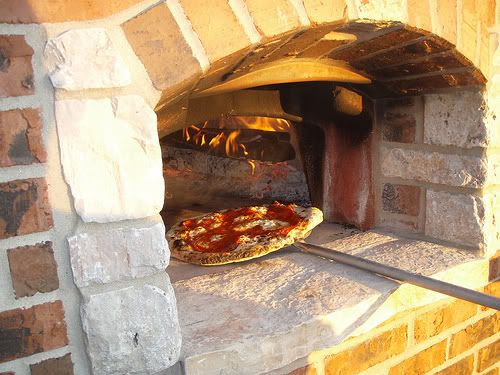 The oven can get up around 1000 degrees without too much effort. However, I find that after I get to 800-plus I get into the attributes that some people don't like/appreciate about the Neapolitan style -- for example, a softer, pale cornice marked with some bubbly black char and limited browning of toppings. I like that style quite a bit. Bill/SFNM's pies are textbook examples. And it's really what you get at Spacca on a good day, but it's not completely "understood" and well-loved by all, including most in my family. Many prefer the supposed "new American" style of pizza now exemplified by Great Lake and Coalfire. At the super-high temps, you also have less time to play around with the pizza; the oven is far less forgiving at that temp to minor mistakes (like taking a sip of beer for a few seconds). I work at around 800 on the floor of the oven, sometimes slightly lower. Instead of taking 90 seconds, it takes a couple of minutes, so we are not talking about a ton of time in any event.
The dough in the pictured pie is a pretty standard 3:1 mix of Caputo 00 purchased at JP Graziano and King Arthur bread flour, respectively. My family enjoys the chew of an even proportion, though. I long followed the proportions, if not the technique, from Jeff Varasano's site. (Frankly, I think some of the manifesto about specific times, mixer settings, etc. to be more voodoo than reality.) And, salt yes, oil no. Now I know how the dough is supposed to look and feel, so I just start with the basic proportions (about 1.5 Kg flour/L water) and add flour. I used good old Red Star as the yeast and did a 24 hr "cold rise," though I don't find same day room temp. rising to be either as tricky or inferior as others (Varasano again). I have used "boutique" yeasts before, and I would like to get my hands on a special starter, but the commercial yeast doesn't keep anyone from enjoying the pies. The toppings here are good Neapolitan canned tomatoes pureed with salt, oregano and olive oil, some provolone, fresh mozz from Belgioso (easy to find and pretty damn good for a mass-produced product), and some Romano. The pie pictured has more flour on the cornice than I'd like, but that pie and 8-10 others were all made outside on a warm and humid day [actually, the pie was "brunch" for the folks helping me with my 4th of July pig roast, thus the good photos (I don't take photos myself much)], so the dough was tacky and uncooperative. I would never use cornmeal, which I hate but is also a disaster in a very hot oven, IMO.
As far as tips, making pizzas is like a lot of simple things that are hard to do well. Repetition is key. Luckily, even expensive flour is pretty cheap. Beyond that, I'd say a lot of the problems I see in pizzas in this thread could be solved by using less (or no) oil in the dough and not working it so much when forming the uncooked pie. If you think of the dough like a mousse being spread out, that's what you want. You want the dough to change its shape but not its texture. Be patient. Once the pie is in the oven, leave it alone as long as you can stand it. Like an egg, a hamburger, or whatever, you need to allow the bottom to firm up before attempting to move it. But once you can move it, you should. Move it about from time to time so it's even and well cooked. And that's one of the things that's tough about using a traditional home oven or a Green Egg. You can't easily access the pie.
When making the dough, I agree 100% with the pros that it needs to be much wetter than you would expect when it is ready. 1/2 way between a cake batter and bread dough. They say pizza bubbles come as much or more from steam as yeast, and that seems right to me. It's not really a problem because you cut the dough to size and flour the ball, creating an outside layer you can work with while retaining the wetter interior. Last, something I do for toppings: use a very thin layer of sturdy cheese below everything else, including the tomatoes. Like a smear of mayo on a hamburger bun, this "waterproofs" the dough and eliminates problems created by wet ingredients and leaving them on the pie longer than optimal before cooking.
Happy to answer any specific questions beyond that...