LTH,
Ellen and I met Cathy2 and her friend Helen at the North Clark branch of LIM yesterday for a simply wonderful lunch of fresh as a daisy seafood at incredibly reasonable prices.
Much is the same as Cicero/Grand LIM, even down to the giant shrimp on the roof, which Mario, the owner, said was imported from Thailand and cost $1200. Well worth it from my perspective.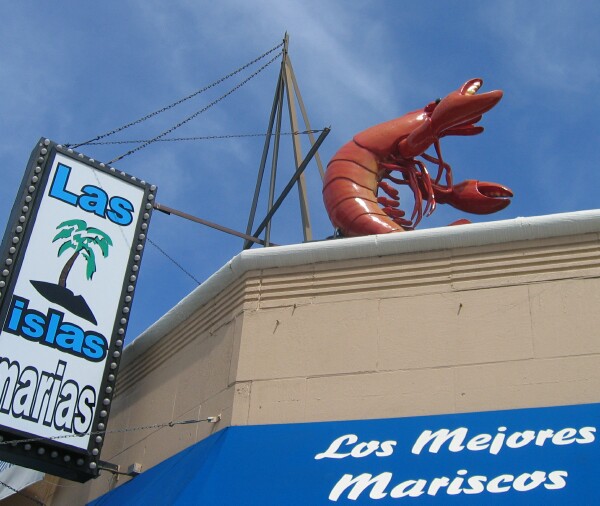 The one difference between Cicero/Grand and Clark street, aside from the fact that Clark is still waiting on both their liquor license and the charcoal fish grill, is the physical space. More spacious, better spacing on the tables, and comfortable seating. This may change as they get, and they will, busier.
We had a typical LTH lunch, just a wee bit too much, but we ate it all and all was delicious.
-Fish ceviche (gratis) served with lime, soda crackers, tostadas. Nice selection of Mexican hot sauces, plus a sizzling green table sauce.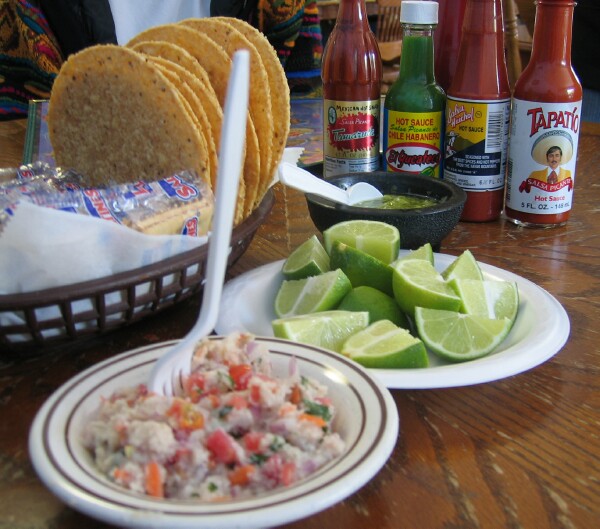 -Michelada. Beer mixed with ice, lime, salsa huichol, pepper, salt and, maybe, El Yucateco. Not sure I've ever had this exact concoction before, but Erik's right, LIM's Michelada does seem to have powers beyond simple beer on ice. I purchased the beer two doors North, LIM does not have a liquor license as of yet
Our very efficient waitress, Rosa, took my quart of Tecate into the kitchen and brought back both the remainder of the bottle and my Michelada.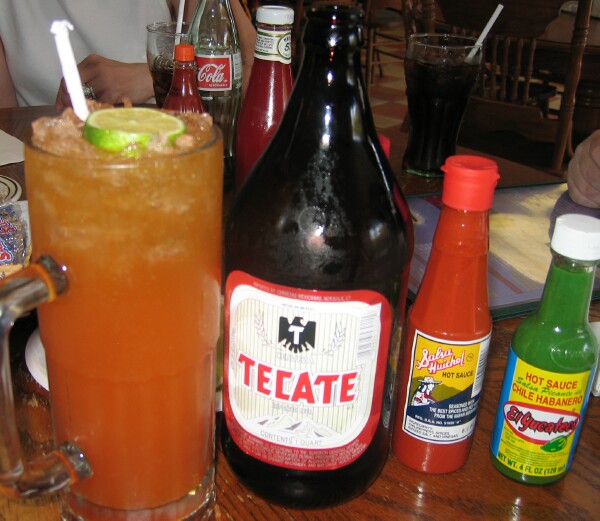 -Camarones Aguachiles (Raw shrimp in lime juice and green sauce) Very much like the raw shrimp marinated with lime, fish sauce, garlic at TAC and Silver Spoon, in a word, delicious.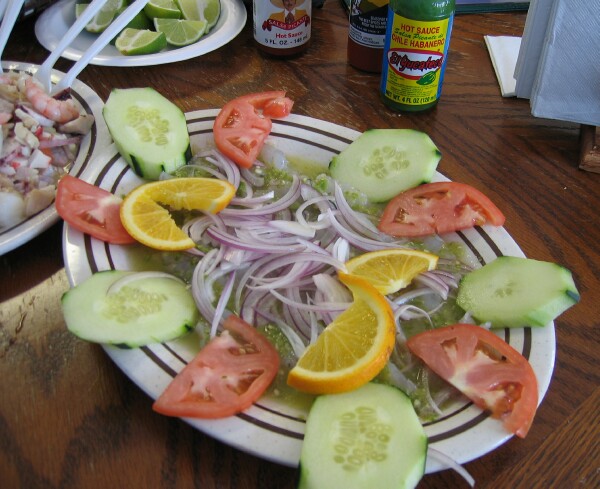 -Botana Playa y Mar (JeffB said he got the raw/marinated shrimp on his, we were served very fresh, lightly cooked shrimp) Was excellent.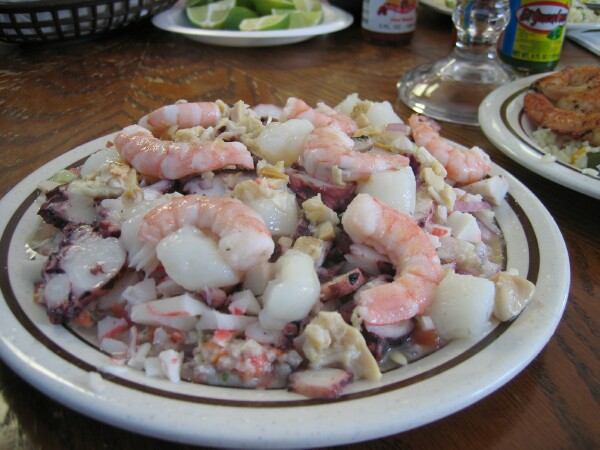 -Camarones a la Plancha (Big Shrimp grilled style) Almost perfect grilled shrimp, nice grill flavor, but with an ever so slightly soft texture.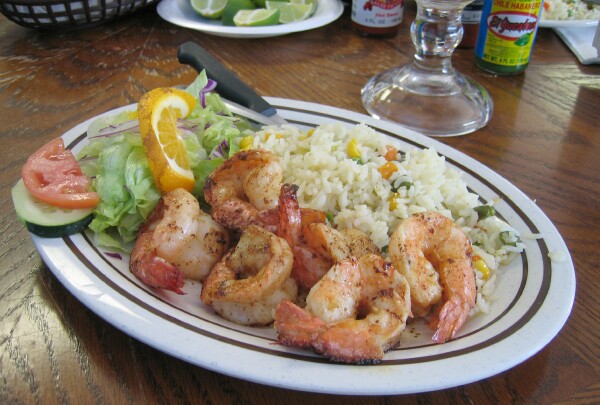 -Vuelve ala Vida (Return to Life) Large cup chock full of avocado, shrimp, octopus, clam meat, scallops, oysters and imitation crab. Why the hell they would include imitation crab in this glass of seafood goodies is beyond me, but overall it was very good.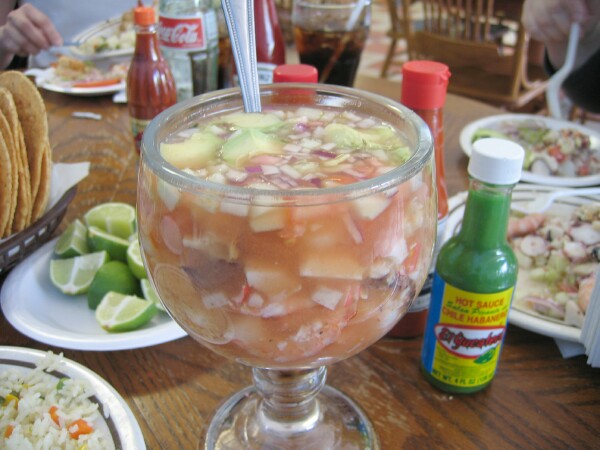 -Camarones al Ajo (Shrimp sauteed in garlic) Perfectly done shrimp, nice garlic flavor, sauteed in butter, which Laoch recommended in his post.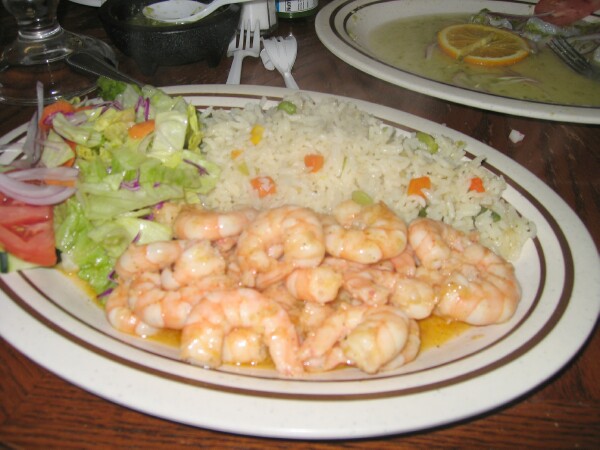 Thanks to Zim for spotting this branch of LIM, and JeffB for listing his favorites, I might not have had their simply incredible Camarones Aguachiles if not for his post.
Enjoy,
Gary
Las Islas Marias
6635 N Clark St
Chicago, Il
773-973-4752
Sauce on the side, always, implied, axiomatic..........never a doubt, BBQ sauce without.
Low & Slow