Last October, purely on a whim, I decided to send an email to el Bulli to see if I could get a reservation in 2009. I requested a table for two, any day in June, July or August. After sending the email, I forgot about the whole thing. About six weeks later, an email arrived in my inbox stating the following:
Quote:
We regret to be late giving you an answer. The demand has been again extraordinary and is difficult to go on with the management. We have found a solution and have an option for you on

Wednesday June 24th of 2009, table for 2 people at 8.30 p.m.

Ferran Adrià will prepare a personalized tasting menu. You will try many different elaborations and it means many different products. It is very important for his confection to know in advance if some problem exists, like allergies or any other product that we could not include for anyone of you.
What?!?! Are you freaking kidding me?!?! I sent an obligatory email to my wife to make sure the date was ok (her reply...OMG!). We then started planning a 10 day trip to Spain built around this dinner (I have other reports from Madrid and Barcelona that I will post in separate threads).
Not wanting to take any chances, we decided to arrive in Roses the day before our reservation. We took a train from Barcelona to Figueres, and then a taxi to our hotel in Roses (about 20 minutes from the train). This gave us a chance to just relax on the beach before dinner and make sure we were in peak condition for our meal.
A taxi picked us up about 30 minutes before our reservation and took us up and down the long, winding mountain road that leads to el Bulli.
Upon arriving at the restaurant and checking in, all guests are taken into the kitchen for a tour (here begin the pictures, which aren't great since my camera doesn't take very good pictures with the flash turned off):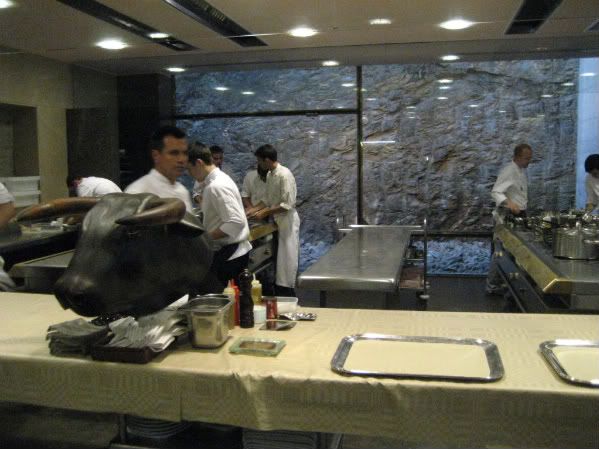 After being shown the kitchen (and getting to take a picture with Ferran Adria) we were shown to our table.
The meal started off with two sugar canes that we were instructed to suck on (not pictured). One tasted like a mojito and the other like a caipirinha. We then moved on to a series of snacks which included the famous spherical olives: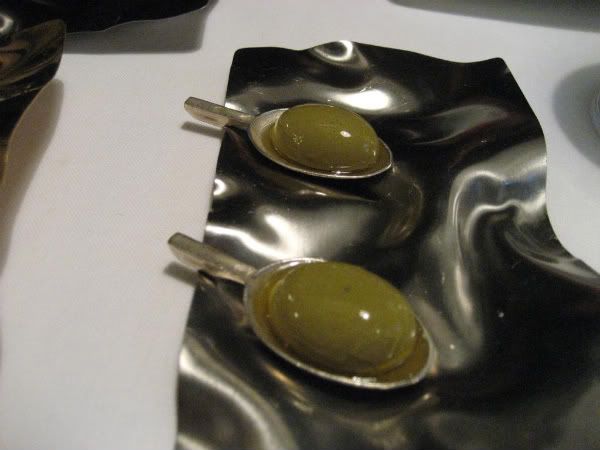 We also had (not pictured) crispy rabbit ears, tomato biscuits, and mimetics peanuts (shaped like peanuts, these had a very delicate shell that broke easily in the mouth and oozed peanut butter).
After the snacks, we started to move through the rest of the meal…
Rose frost – passion fruit ice carved into the shape of a rose. This had a great tartness to it that really captured the essence of passion fruit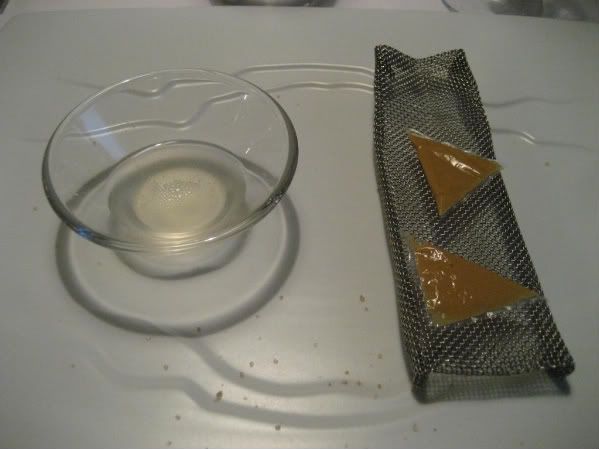 Pinenut shabu-shabu – The little packets of pinenut flavored liquid were picked up and "cooked" in the pine flavored broth in the bowl to the side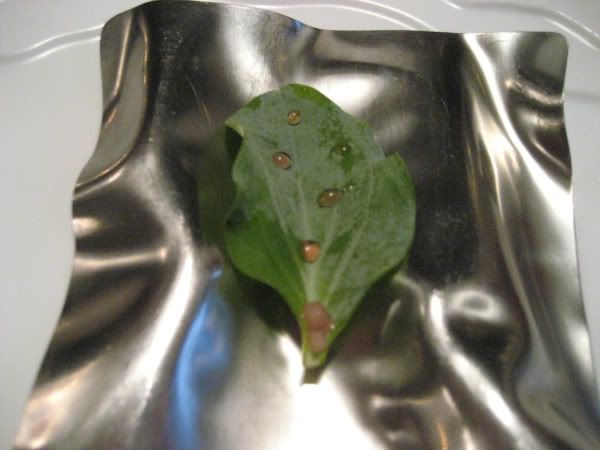 Oyster leaf with dew of vinegar – After placing this dish down, our waiter wanted us to eat it and then guess what it tasted like. After a few seconds, the answer was abundantly clear…it tasted like eating an oyster on the half shell with some red wine vinaigrette. Our waiter told us that the leaf naturally tastes like an oyster; the kitchen just adds the vinegar to enhance the experience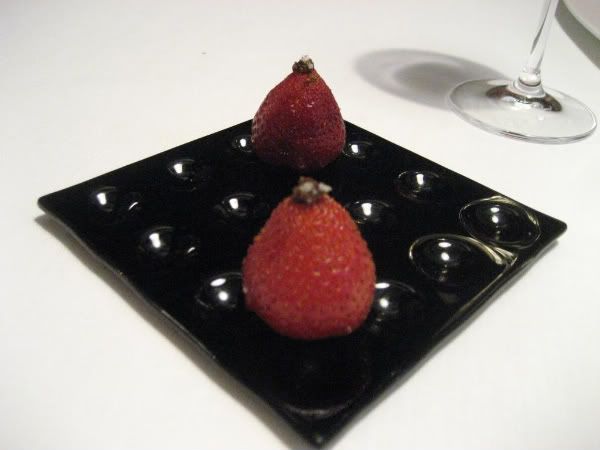 Grilled strawberry – These were served hot along with some gorgonzola moshi (served cold) that had to be eaten right away so they aren't pictured. They were an excellent follow up to the moshi, in that the sweetness complemented the moshi and heat of the strawberry contrasted the coolness of the moshi.
Cuttlefish with pesto ravioli – In my opinion, one of the few misses of the night. The cuttlefish had a very strong taste, and I just didn't "get" the combination with the pesto ravioli
Parmesan frozen-air with muesli – Following one of the night's misses, this dish was a hit. The box was opened to reveal the "frozen air". We were instructed to sprinkle on a bit of the dried fruit and nut muesli a little bit at a time.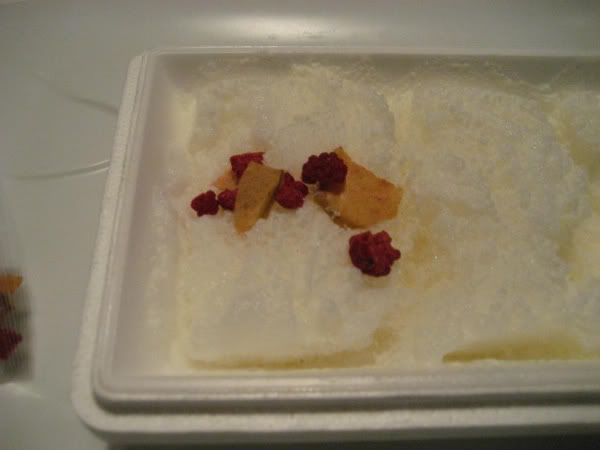 Frozen-air with muesli added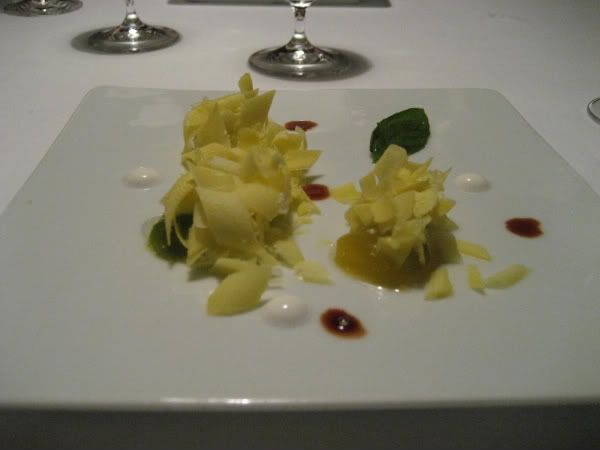 Lulo – Lulo is a very tart tropical fruit. Here, gelee of lulo was topped with shavings of foie gras fat. Basically, this was a super amped up version of the traditional fruit/foie pairing.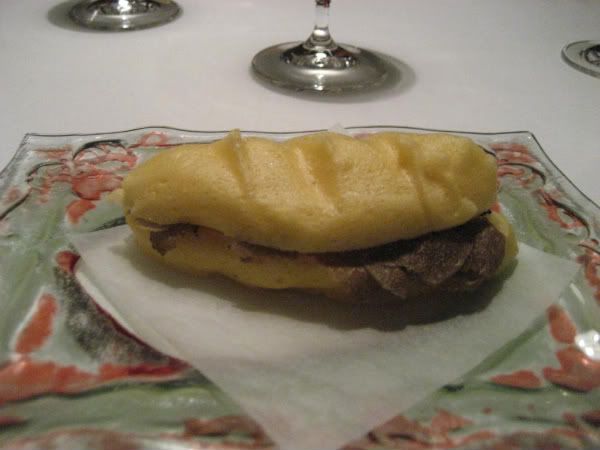 Pumpkin and almond sandwich – The "baguette" for the sandwich was light and crispy and I believe made from pumpkin. The meat in the sandwich was pretty healthy quantity of shaved truffles (which actually didn't add as much flavor as I thought they would).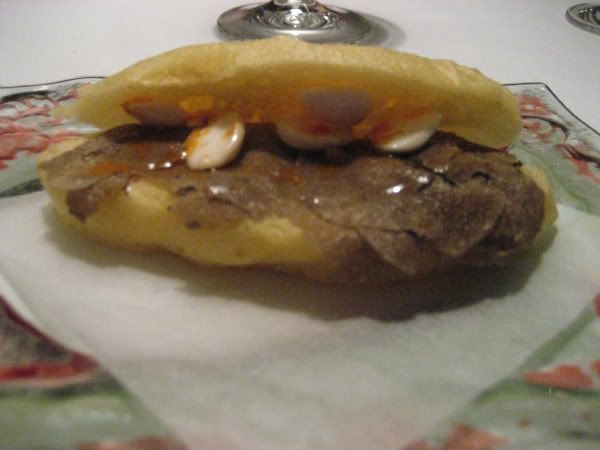 Interior of pumpkin and almond sandwich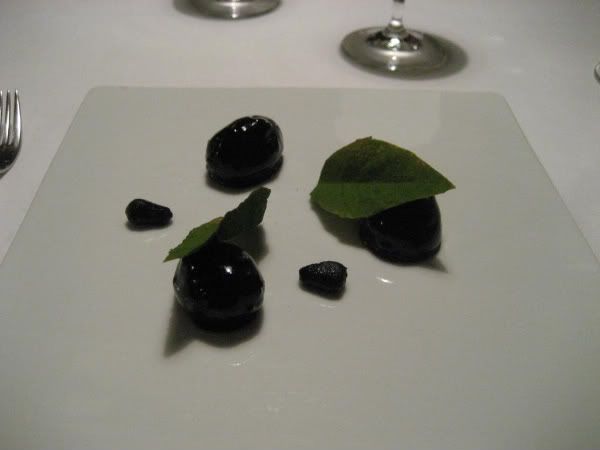 Tomato-basil – Absolutely delicious, sweet tomatoes coated in something (maybe a black olive sauce? I know black olives figured in this dish somewhere). Served along with the tomatoes were crispy basil leafs that had been dusted with mango.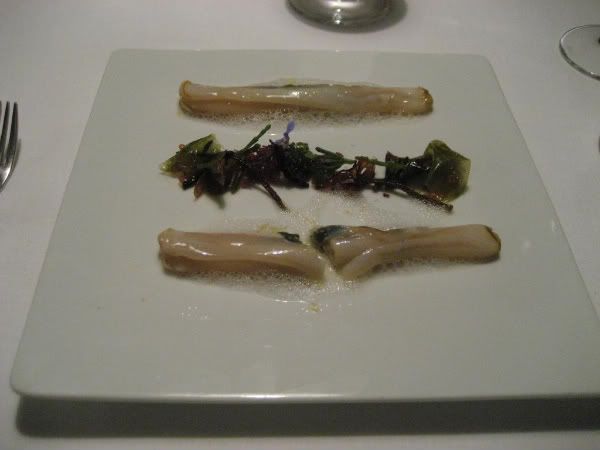 Razor clam with seaweed – One of the most interesting things about this meal was that while there were certainly plenty of "molecular gastronomy" touches, there were also several courses which focused almost exclusively on the ingredient and not the technique. This was one of those courses. Two plump razor clams (fresh as could be) served alongside a seaweed salad made from three different types of seaweed. Delicious.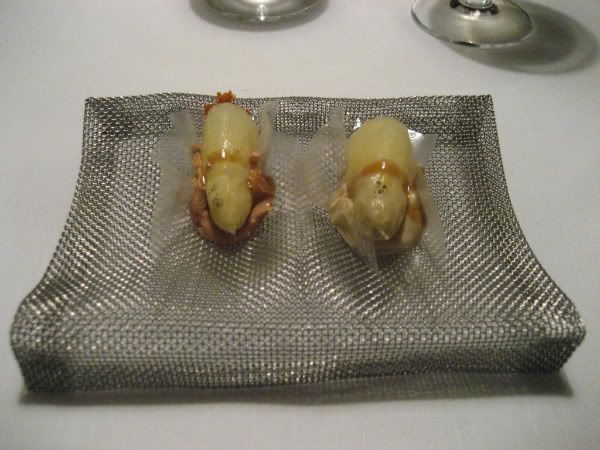 Asparagus with miso – Freakishly large asparagus from Navarra that was the sweetest asparagus I've ever tasted. The miso provided a nice, salty note to the dish.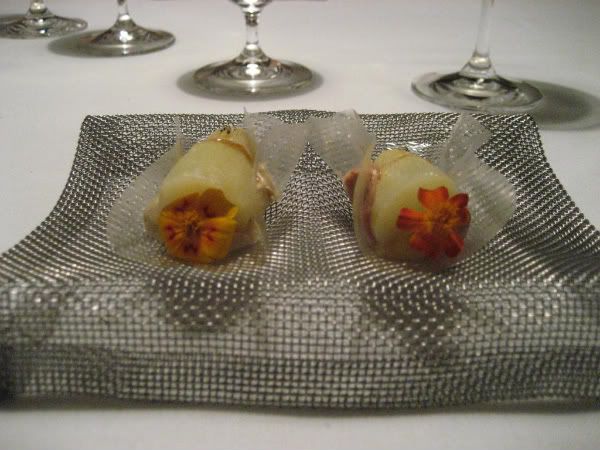 Asparagus with miso (reverse angle)
Abalone – The abalone had been sliced down to cubes, and were alternated with similar-sized cubes of ham fat. Both were served on a bed on mushrooms. Probably one of the richer dishes of the night, but very satisfying (and chock full of umami).
Sea cucumber with mentaiko and rhubarb – This was one of my favorite dishes of the night. I've never had sea cucumber before, but the taste and texture of this preparation really blew me away. The cucumber was both meaty and tasted of the sea (in a good way). The rhubarb provided the perfect amount of sweet balance to the dish.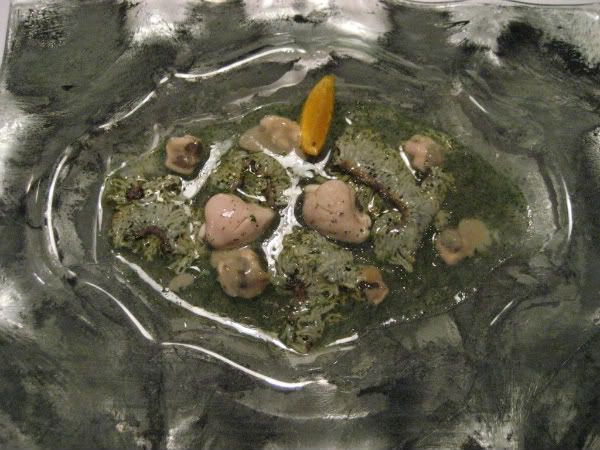 Sea anemone 2008 – Without a doubt, the most "challenging" dish of the night. The anemone was served with rabbit brains and an oyster sauce. Eating this dish was like swimming out into the middle of the ocean, going under water, and opening your mouth. Not my favorite, but I'm glad we ate it.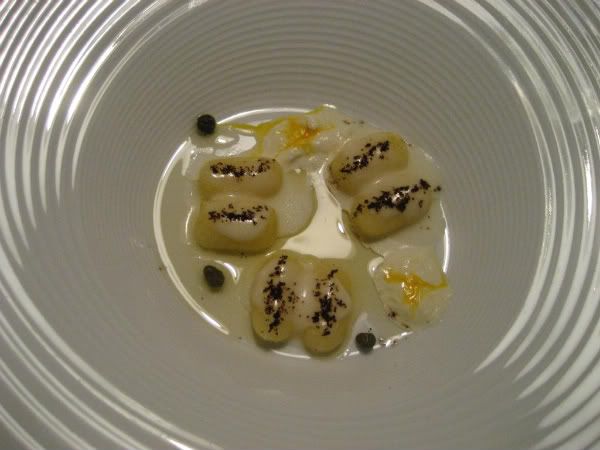 Gnocchis of polenta with coffee and saffron yuba - Similar to the spherical olives, the outside of the "gnocchis" didn't serve much or a purpose other then to hold all of the polenta inside together. Nice and clean tasting after the sea anemone.
Suckling pig tail - Another one of my favorite dishes. The pig tails were crispy, and served alongside a ham consume. What could be bad here?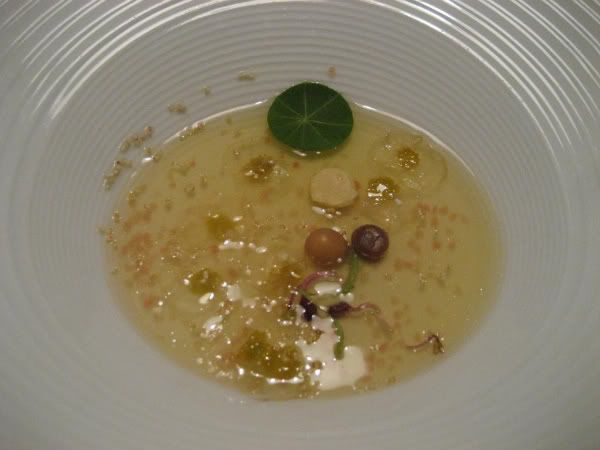 Water lily - A transition course as we headed towards dessert. Very floral and a nice way to start to clean the palate.
Omelette surprise 2003 - The surprise was a skim milk/yogurt mixture, which honestly isn't the best surprise in the world. But still, it was nice to have another transition course heading into dessert.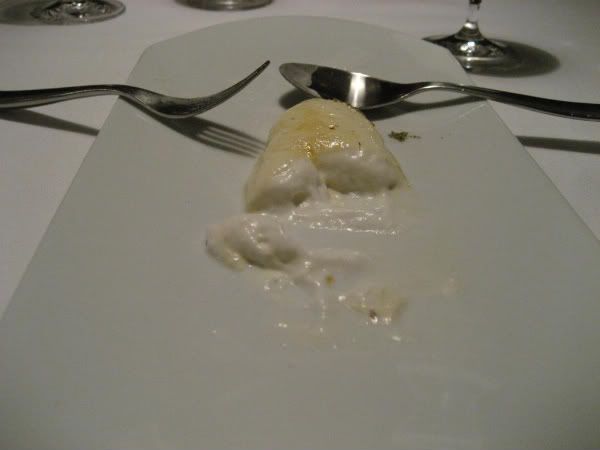 Omelette surprise 2003 (interior)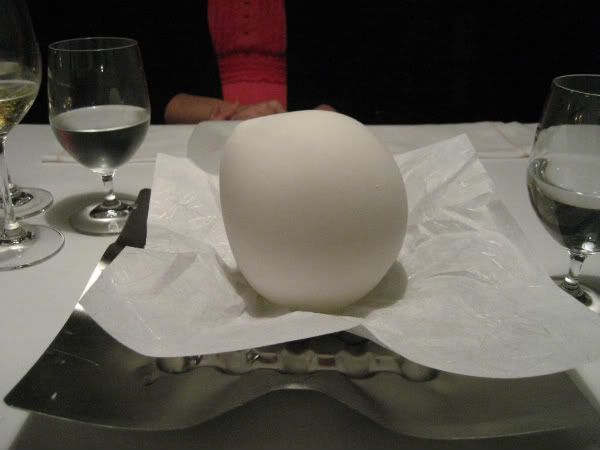 Coco - A big, hollow sphere made from white chocolate. After being placed on the table, it was sprinkled with curry powder and then broken up. I'm not a huge curry fan, and I found this borderline inedible.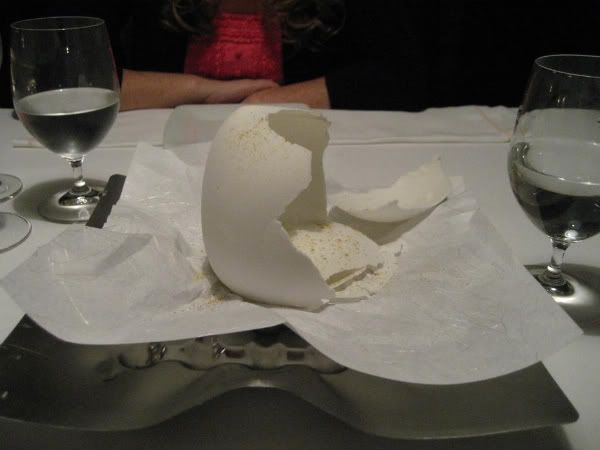 Coco (cracked open)
Amber - Another dish similar to the spherical olives, but this time made from honey.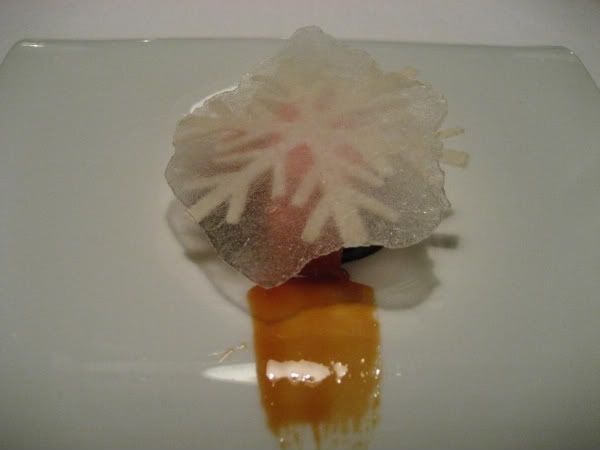 Ices - Under the layer of ice show above was a mixture of mainly watermelon and fruit-flavored yogurt. Sweet and cold, this was a very satisfying dessert.
Tea service, el Bulli style - My wife, needing something to settle her stomach innocently ordered tea. What came out was the table of plants shown above. One of the staff came out to clip individual leafs off of each plant and place them in a French press along with honey and spices. Needless to say, after witnessing this, I had to order a tea of my own.
Morphings... - Our waiter came out and placed a huge box of chocolates on our table. The box contained 19 individual types of chocolate (I believe that most, or all, were meant to recall previous course). Our waiter told me that they make over 500 individual pieces of chocolate each day to keep the boxes stocked.
Morphings II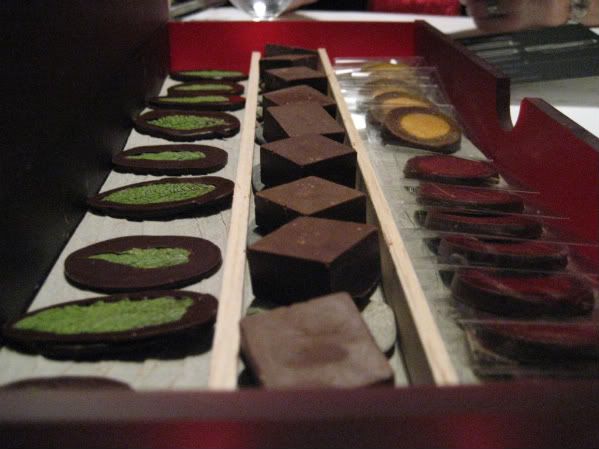 Morphings III
el Bulli is considered by many to be the #1 restaurant in the world. It is likely the hardest reservation to get. Did the restaurant live up to all of the hype? In a word...yes. I would say this was probably the greatest high-end meal of my life. The flavors were bold, the ingredients were of unbelievable high quality, the plating and serving pieces were gorgeous, and the service was friendly and refined (I would actually rate the service as comparable to Alinea). Not every dish blew me away, and some were clear misses, but this is one of those meals that should be viewed as a whole. As a whole, I can't think of any high-end meal that I've had that could approach this one in terms of overall taste, presentation, and just the general ability to make the diner really think about what they're eating.
This was a great experience, and I'm glad I decided to send that email back in October.