LTH,
Lines, numbers, being shuffled to, eventually, sit with strangers all in the name of a torta, even a wood-fired Bayless torta, has kept me from Xoco, so with trepidation I succumbed to the bride's
suggestion
of an early Saturday lunch at Xoco. After all, it was only fair as she accompanied me to
Tierra Caliente
a few weeks ago, which she loved.
One bite of rich juicy goat barbacoa, a Saturday special, loaded on a perfectly crisp wood toasted torta, with creamy avocado highlighted by onion/cilantro reminded me no matter the venue, no matter crowds, hype or incessant tweets, at the core Rick Bayless and team care deeply about what goes on the plate.
Goat Barbacoa - Oaxacan pasilla, tomatillo salsa, avocado, onions, cilantro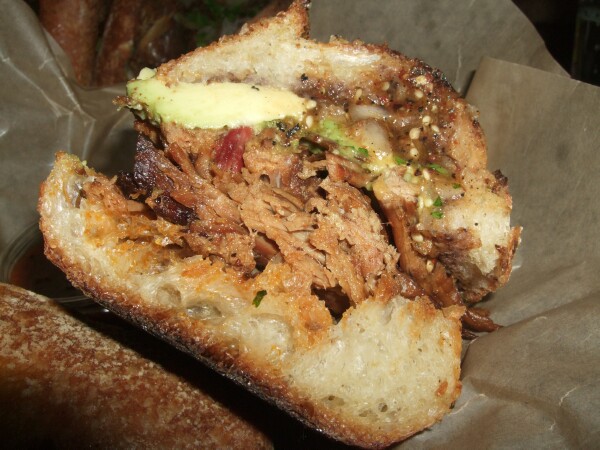 The bride's Ahogada, the best version I've tasted, was enhanced by the vertical presentation which, as noted by ReneG upthread, allows one to control the amount of spicy arbol tomato broth.
Ahogada golden pork carnitas, black beans, tomato broth, spicy arbol chile sauce, pickled onions.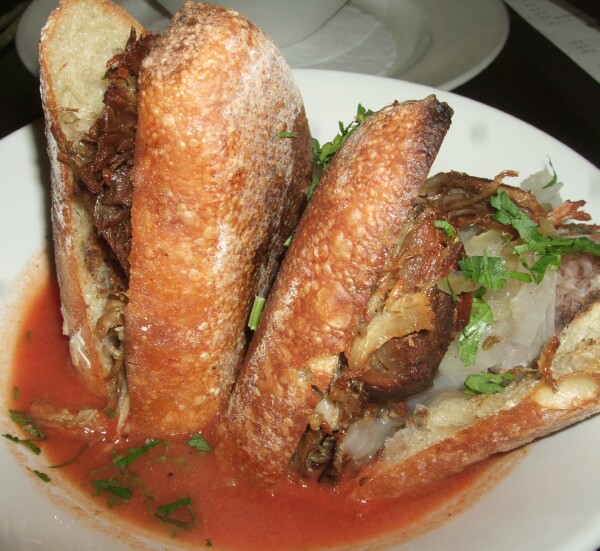 David Hammond wrote:
As tongue-in-cheekily reported in Grub Street, the whole world stopped to take a breath when Bayless tweeted yesterday that they're offering soft-serve with unpredictable toppings at Xoco:
http://chicago.grubstreet.com/2010/02/b ... t-ser.html
Having grown up, and grown larger, on
Kopp's
frozen custard I found myself somewhat nonplussed by Xoco's. Nothing distinctively 'Mexican' and a bit looser/softer than I prefer, pasilla brownie bits morphing from chewy to mushy in short order. Expensive for a small cup, regardless of pristine provenance.
Xoco, 2.20.10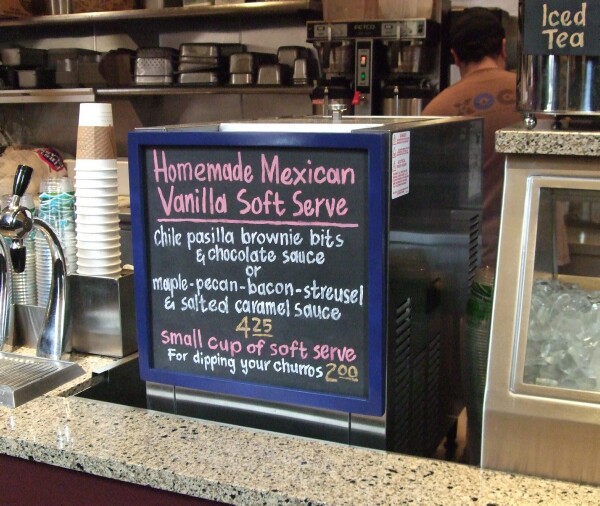 Churros, on the other hand, were terrific, crisp with subtle richness hinting at lard, sugar crystals adding sweet crunchy textural goodness.
Churros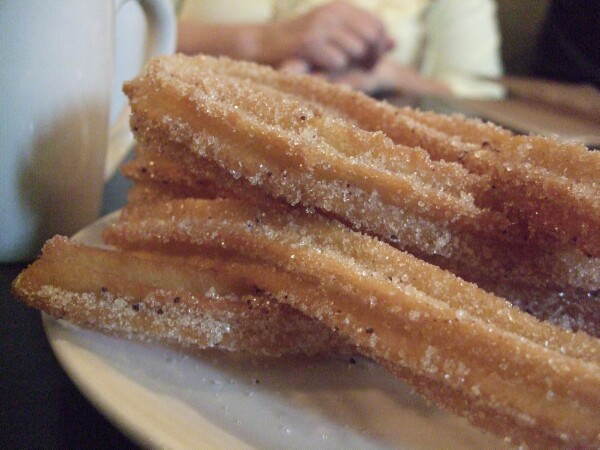 Thought the Aztec (Mexican coco beans, chile, allspice) terrible, one sip and I set it aside. There was an strong/odd vinegar tang I found completely off putting. I did like the gratis carbonated water, along with plain, offered fountain style, a nice touch.
All in all an enjoyable lunch, I'll be back, though at off hours as the line was out the door with over an hour wait when we left.
Enjoy,
Gary
_________________
Sauce on the side, always, implied, axiomatic..........never a doubt, BBQ sauce without.
Low & Slow