Correction
Thanks for the info polster. Even though we had been talking about Kahn's all week, your post caused us to pull the trigger this evening.
(Sorry Lancelac. We got there around 4:40-4:45)
Just enjoyed Goat chanp for the first time in 5-6-7 years.
Really fantastic char flavor with a thick coating of spice paste. Just as I remembered.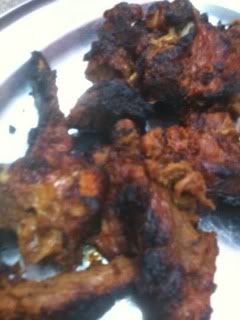 It was only the two of us and I really over ordered:
Chicken boti
1/2 Broasted chicken
goat chanps
Chicken biryani
Aloo goba
Onion naan
Paratha with ground lamb
Everything was seasoned to perfection and my taste buds are still singing.