My wife and I went the La France for lunch yesterday. It's a fun little place and with the exception of one misqueue, we liked it.
First off, as has been noted, this place is small. We got there about 11:30 and got a table, but by the time we left after 1pm, there were a few people waiting for tables. Below are photos of the storefront, the chef/owner (never got his name) and the "back of house", which is on the opposite side of a counter from the "front of house". By the way, as you'll notice from the timeframe I mentioned, it takes a while to eat here because everything is cooked to order, including the crepes, by one guy who is also directing the wait staff. No worries though, as he makes it a fun experience by engaging everyone with comments and thoughts about food on a regular basis.
Store front
The chef/owner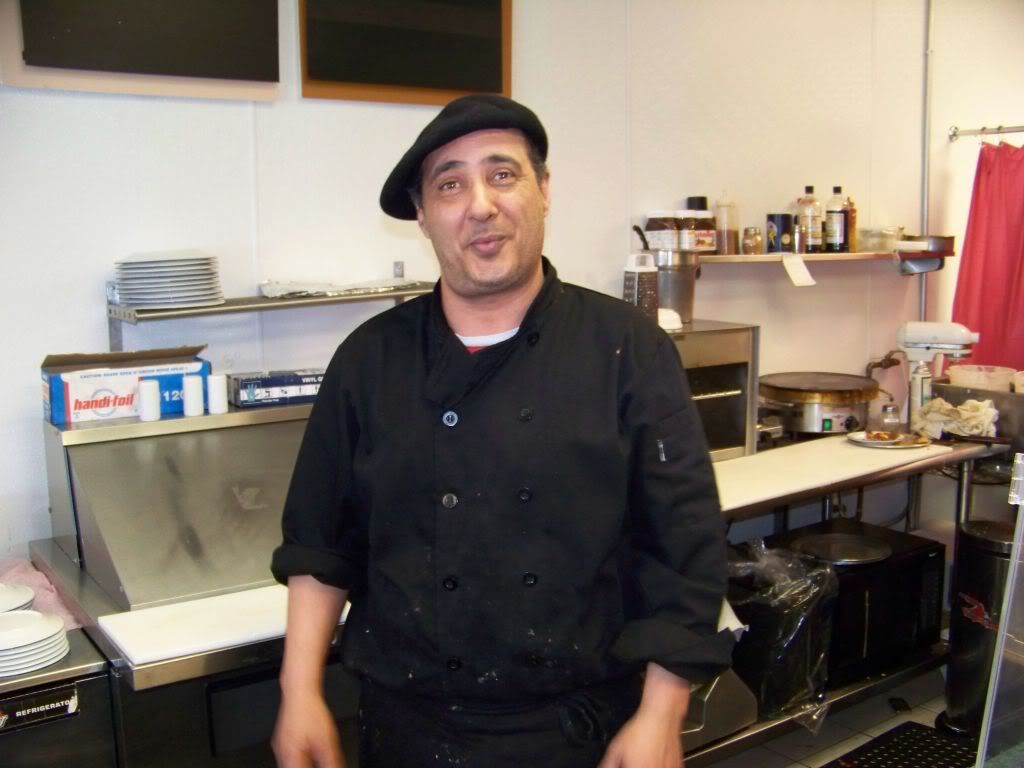 The "back of house" and kitchen
For my lunch, I ordered the poached egg crepe, adding wild mushrooms for a slight extra charge. The crepe was filled with roasted red peppers and topped with two perfectly-runny poached eggs and whole sauteed cepes. Whole sprigs of thyme is on every savory crepe, which the chef recommends stripping onto the crepe and eating instead of just having it as a garnish. This was a very nice dish.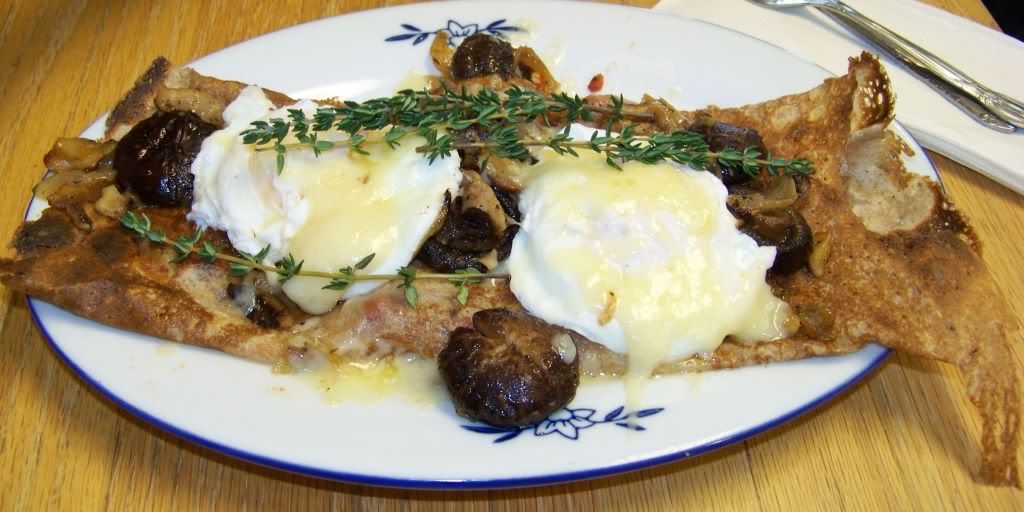 My wife ordered the ratatouille crepe, which I think was a special. She had them add some gruyere cheese, which is also a slight up-charge. The crepe was filled with the roasted peppers and topped with roasted veggies. She loved it.
For dessert, I ordered the "Crepe La France", which is a sweet vanilla crepe with powdered sugar and a vanilla creme. I also had them add some chocolate sauce, which was a slight additional charge (I think Dicksond mentioned the cost of customization). The crepe was really good.
My wife's dessert was the Crepe Nutella. This is where the misqueue occurred. We're used to the crepes filled with Nutella that you get at the street vendors in France. The Crepe Nutella at La France isn't filled with Nutella, but instead has the melted Nutella drizzled inside and outside the crepe. It tastes very good but is a bit of a disappointment when you're expecting a blast of Nutella in your mouth.
Overall, I liked the food a lot. I don't tend to go to crepe places much because I think they're a bit pricey for the quantity of food you get, and this one is no exception as our total was $31.00 + tip. However, I think this is an excellent crepe restaurant that is made a lot of fun by the outward personality of the chef. It's a cool little place.
La France Cafe & Crepe
939 S. Main St. (corner of Main and Wilson)
Lombard, IL. 60148
630-613-9511
http://www.lafrancecafe.com