Mike G wrote:
but in the meantime, your odds of going there and it being open have improved since earlier in the work.
Yep, Cafe Salamera has reopened with a new chef. The chef, whose name I did not catch, is a retired culinary instructor and, from all outward appearances, is enthusiastic and talented. As Mike mentioned, the chef was telling us of his plans to have Peruvian style goat and beans on Sunday.
We tried a few specials from the daily board.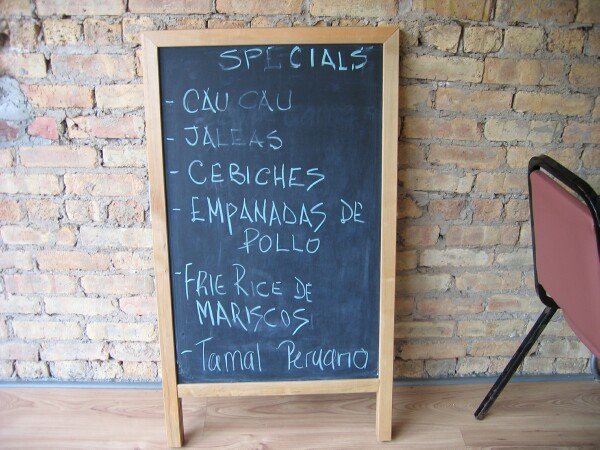 Tamal Peruano, which had a hint of chili in the masa.
Shrimp Empanada, Cancha in foreground.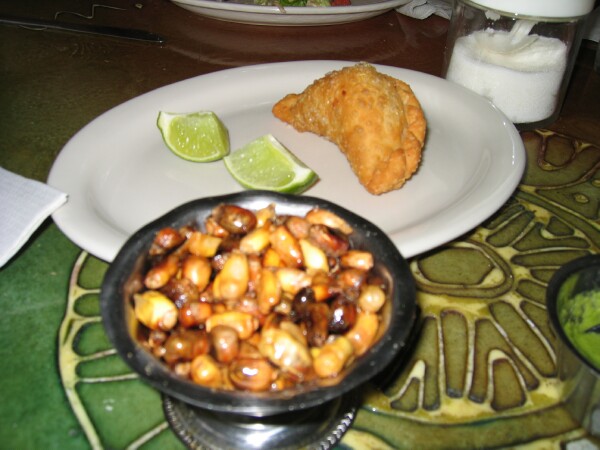 Jibarito, which was quite good, though I prefer the crisper plantain, more garlic, less mayo style of Borinquen.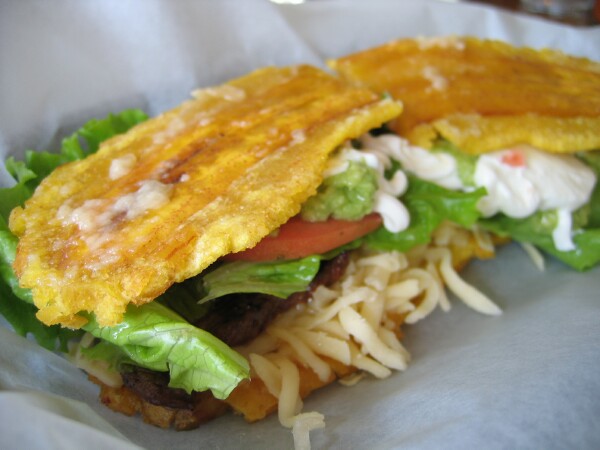 Chicha Morada, which they did not have the last time we were there, was enjoyable, tasting surprisingly, as Steve Z said, like Jamaica (Hibiscus) Agua Fresca, though it's main ingredient is purple corn.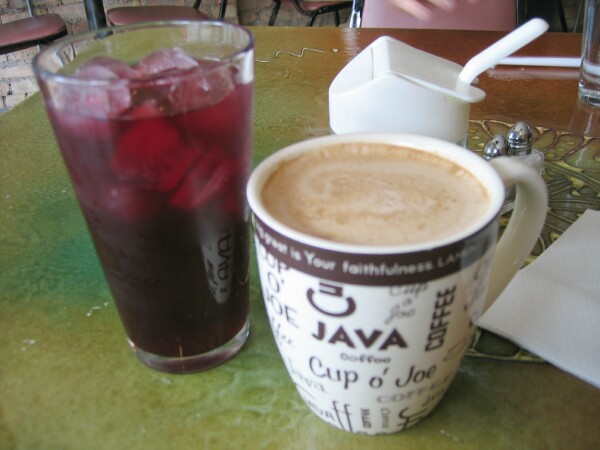 The only slight down note was Cafe Salamera's terrific Chicharron con camotes (fried pork sandwich w/sweet potato) was, unlike last week's version when it contained beautiful chunks of pork belly, see picture above. Today's version was made with lean pork loin. Norka said there were a few complaints, from non Peruvians, that the pork was too fatty/greasy. Norka said she is going back to the Peruvian way of a fattier cut, pork belly/shoulder etc., and I, for one, am glad.
Chicharron con camotes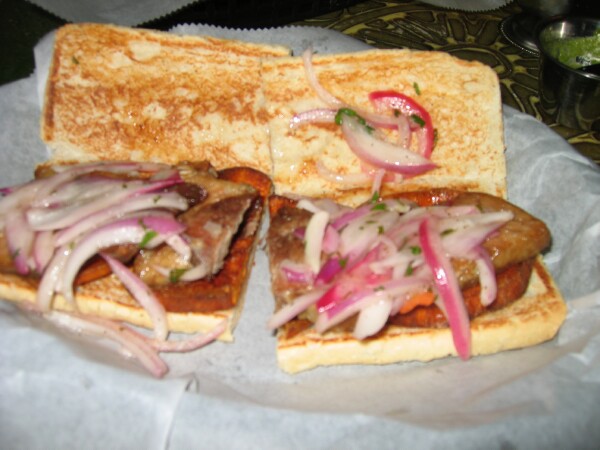 We also shared a Salamera and ceviche, both pictured above, which were equally as good, in other words very good, as last week.
While eating we had the pleasure of running into Amata and Sophie Coe Prize winner Antonious. Steve and Mike, who had been having a heated discussion as to whether the shrimp empanada was house-made, home-made, kitchen-made, studio apartment-made, immediately engaged Antonious in discussion and off-they-went.
Lunch was very good, but, as has been said, this is a restaurant teetering on the edge. Chicago voting rules apply, Go Early, Go Often.
Enjoy,
Gary
Cafe Salamera
6653 N. Clark St
Chicago, IL
773-764-7210
Borinquen Restaurant
1720 N. California Ave
Chicago, IL
773-227-6038
_________________
Sauce on the side, always, implied, axiomatic..........never a doubt, BBQ sauce without.
Low & Slow