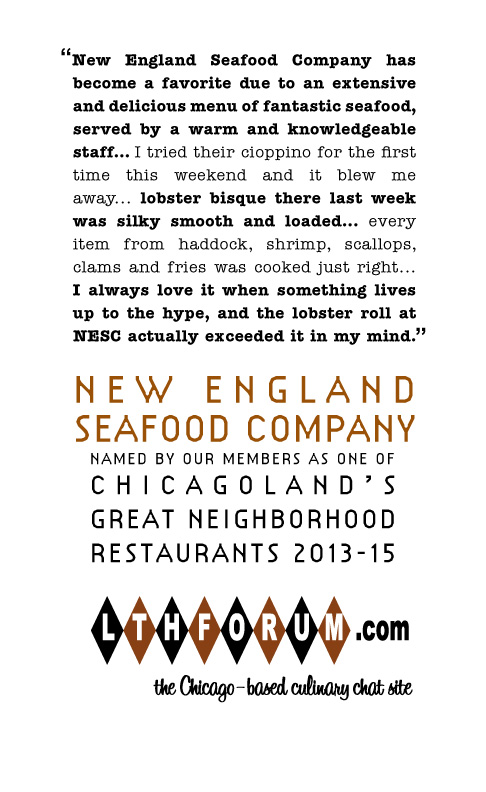 New England Seafood Company has become a board and personal favorite due to an extensive and delicious menu of fantastic seafood, served by a warm and knowledgeable staff. NESC fills a niche in a city without a lot of quality seafood-focused restaurants, outside of a few high end spots. They offer a number of delicious and satisfying dishes, from the bountiful fry baskets (LOVE the clams!) to the outstanding clam chowder to the nearly naked lobster roll (beloved by the no-mayo-on-my-roll crowd!) in an atmosphere that is no-frills but comfortable and inviting. The retail seafood selection is pristinely fresh, well-priced and provides some gems (Faroe Island Salmon, Bay Scallops, Soft Shell Clams, etc.) that can be hard to find, making NESC both a Great Neighborhood Restaurant AND Resource.
Here are a few quotes from the board:
jesteinf..."I tried their cioppino for the first time this weekend and it blew me away. As good as any version I've had in San Francisco. They were also shucking oysters to order this weekend, but I'm not sure that's a regular thing. We had some Cape Bretons that had just arrived. They were extremely well shucked, full of liquor and zero bits of shell."
jfibro..."I have to echo the lobster roll love. Just had my first from New England Seafood Co, and it really did shine. Beautifully cooked chunks of sweet lobster, minimally dressed with just a touch of seasoning on a delicious grill marked bun. It's the closest I've come to a perfect version in the Midwest."
ecs..."The swordfish that I grilled tonight was fabulous and I believe excellent quality as I just did a quick marinade in olive oil, garlic, lemon juice, lemon zest and rosemary. The fish was nice and moist and very flavorful. I will definitely be back both for the seafood shop and to try their cooking. I plan to give NESC lots more love!"
Alessio20..."Wow. I always love it when something lives up to the hype, and the lobster roll at NESC actually exceeded it in my mind. There's not much I can add to what's already been said--I simply can't imagine finding a better lobster roll in Chicago, and I have no inclination to look any further."
Pie Love..."I love this place too. I usually get fish at the counter and have always gotten good advice, friendly service, and (most important) fresh fish"
Cathy2..."every item from haddock, shrimp, scallops, clams and fries was cooked just right. Loved it all, though I will probably go for a full order of clams next time. Yet the mussels at the next table look terrific as well. Yeah, I was getting a severe case of swivel-head checking out all the food going to other tables."
milz50..."Friggin amazeballs"*
The rest of the love is shared here:
http://www.lthforum.com/bb/viewtopic.php?f=14&t=35212&hilit=new+england+seafood+company
And so, I nominate the very worthy New England Seafood Company to join the ranks of our Great Neighborhood Restaurants/Resources!
*i have no idea if milz50 actually likes NESC or has even been there...his quote was in reference to the episode of Check Please featuring NESC whose effusive reviewers included this delightfully expressive remark about the place--but yes, all three reviewers, loved their meals there!!
"Knowledge is knowing a tomato is a fruit; wisdom is not putting it in a fruit salad." Miles Kington