Beef-A-Thon V
Dickson, George R, Steve Z, Pigmon, Flip, G Wiv.
9/24/2005
LTH,
I was only able to stay for two legs of Beef-A-Thon V, Chickie's and Freddy's.
Chickie's
Chickie's is your standard Italian Beef Joint done well, no, check that, done very well, and is one of my personal favorites in Chicago. Spotless, including the picnic table area and attached parking lot, a friendly owner, who seems to be in attendance 100% of the time Chickie's is open, often along with his wife, and excellent Italian Beef. Nice portion of thin sliced good quality meat, rich beefy flavored gravy, maybe the best gravy in Chicago, and thin sliced jalapeno giardiniera.
Chickie's Italian Beef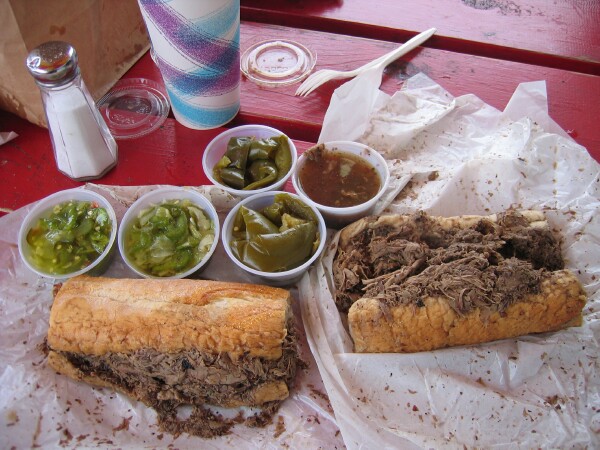 I really enjoy Chickie's jalapeno giardiniera, though I could see how traditionalists might feel it's a bit of a side step. Carm's does a jalapeno giardiniera as well, but minced as opposed to sliced.
Chickie's Jalapeno Giardiniera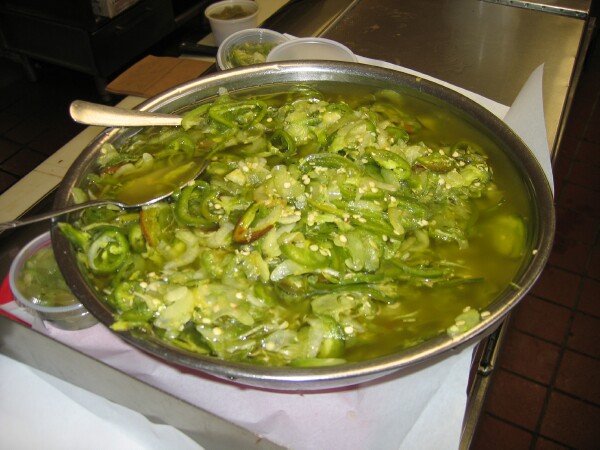 Chickie's house made sweet pepper verges on very good, but is run off course by a slight note of bitterness in the skin. Fries are terrific, ask for them crisp. Though our first batch of fries was slightly underdone, which was attributable to us being the first customers of the morning. They made up a fresh batch, no charge, no hassle.
Chickie's Fries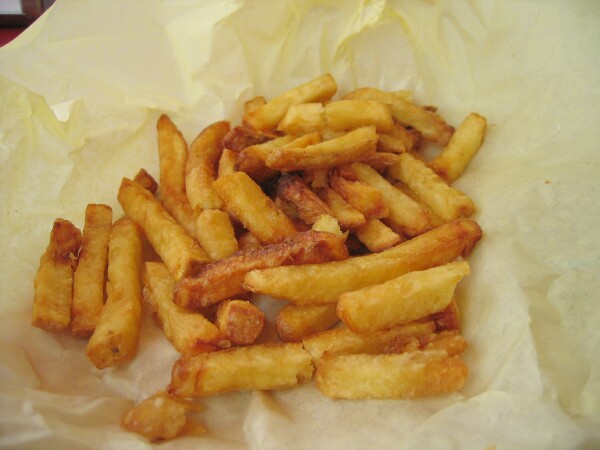 George R divvying up Italian Beef at Chickie's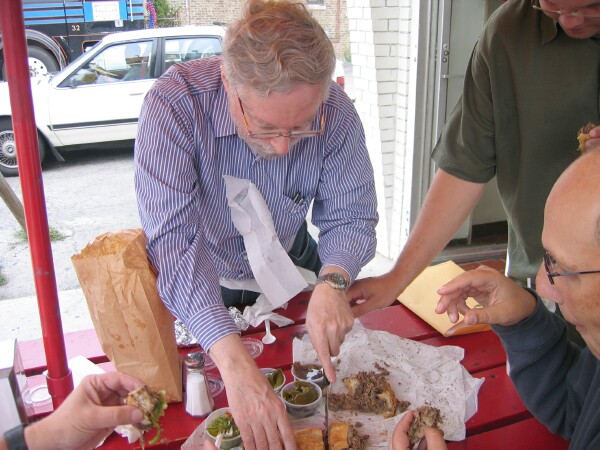 As an interesting aside, Pigmon said El Barzon, a block south of Chickie's on Pulaski, was excellent for carne en su jugo. He picked up an order for Trixie Pea.
Freddy's
Being as Freddy's is West of Harlem I got slightly turned around on the way there from Chickie's, though no harm, no foul as the wait for our Beef-A-Thon order was quite lengthy. The beef, thinly sliced, but not overly so, was good, not a bell ringer, but certainly within range. Bread was heartier than the standard Gonella or Turrano, a nice change of pace.
Freddy's Italian Beef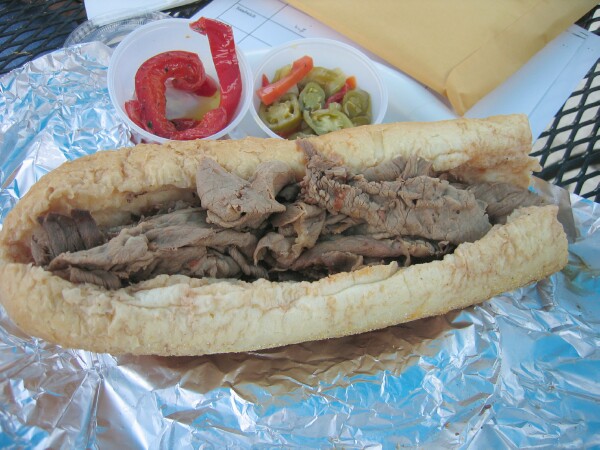 Gravy had a hint of tomato, good beef flavor with noticeable oregano, but was overly oily/greasy.
Freddy's Italian Beef Gravy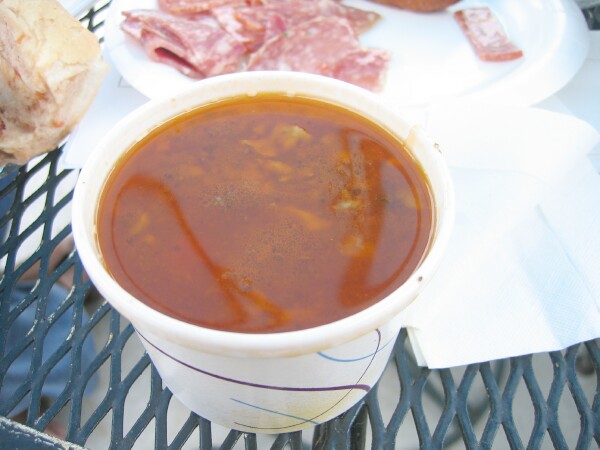 Giardiniera was fine, straight out of a jar, though nice flavor, but the real winner were the house roasted red sweet peppers, though the peppers could have used a bit of char to take them over the top.
Freddy's Sweet Pepper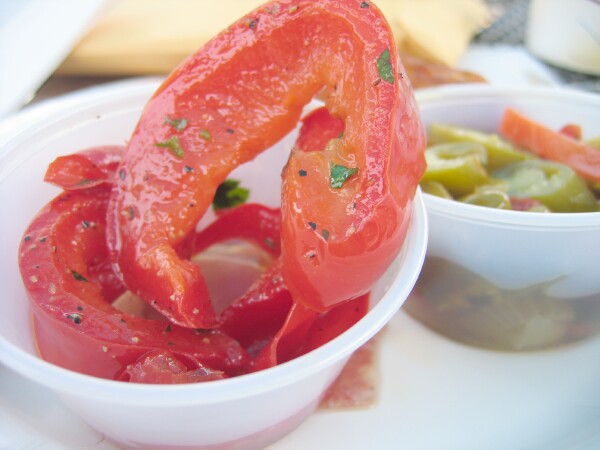 Sausage was nondescript, a baked link that had, seemingly, been held a while. Flavor was ok, with a distinctive fennel hit, but had a slightly odd aftertaste.
Freddy's Italian Sausage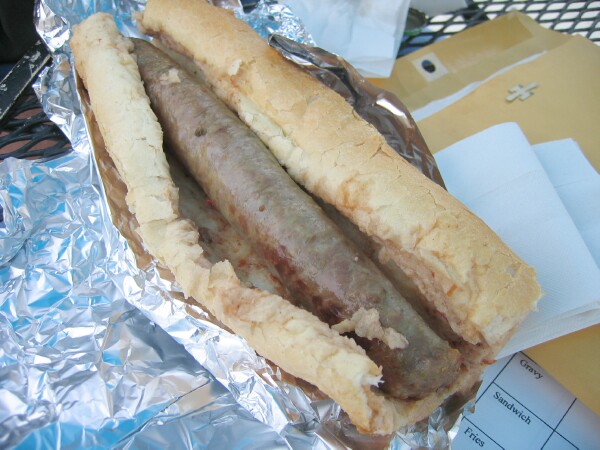 Pistachio gelato was rich, with good pistachio flavor, but would have benefited from pistachio pieces both for additional flavor and texture.
Freddy's Pistachio Gelato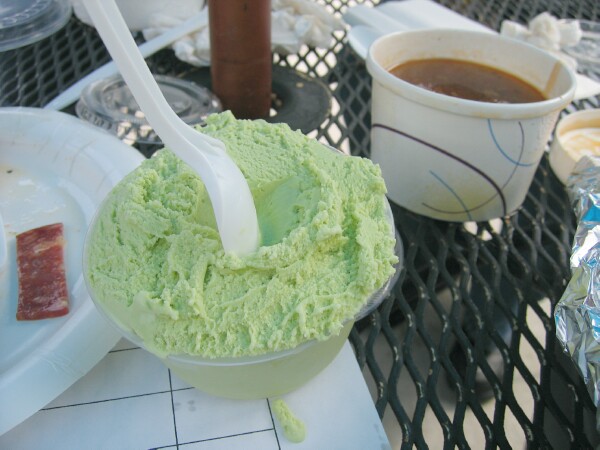 We also had an 'interesting' San Pellegrino soda, Chinotto. Intensely bitter, evocative of Campari, Chinotto is, obviously, an acquired taste, and one I'm not likely to acquire anytime soon.
San Pellegrino Chinotto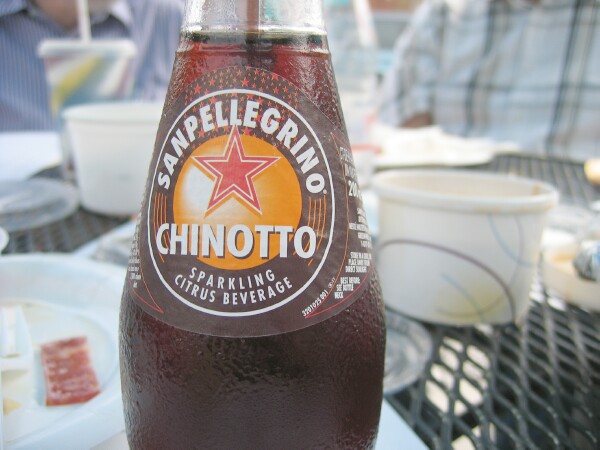 All in all Freddy's is an interesting, compact, Italian grocery/Italian Deli that, while many sing it's praise, I've never been able to warm up to, though the house made bread, and sausage, is quite good. Though in a one to one taste off with Riviera's soprassata, I happened to have both in the house, Freddy's soprassata seemed undistinguished.
Thanks again to George R and Dickson for leading the Beef-A-Thon way, it was a fun, interesting, though, for me, slightly abbreviated, afternoon in the company of LTHers. Looking forward to Beef-A-Thon VI.
Enjoy,
Gary