G Wiv wrote:
Sorry to hear that. For years Edgebrook Diner was my go-to breakfast place.
Pressed for time, but wanting to stop for breakfast before dropping someone off at O'Hare, I gave Edgebrook Diner another go and was glad I did. Four months have passed since the new owners took over and they seem in the groove.
Good solid diner breakfast, eggs, toast, sausage, has browns and oj for my friend, 1/2 order of biscuits and gravy for me. Coffee was fine, service attentive, price reasonable. Though, if pressed for objective critique, hash browns needed another few minutes on the grill to crisp and the biscuit portion of my B & G was more steamed roll than biscuit. Gravy had a decent portion of sausage and nice peppery bite.
Biscuits and Gravy (5.13.07)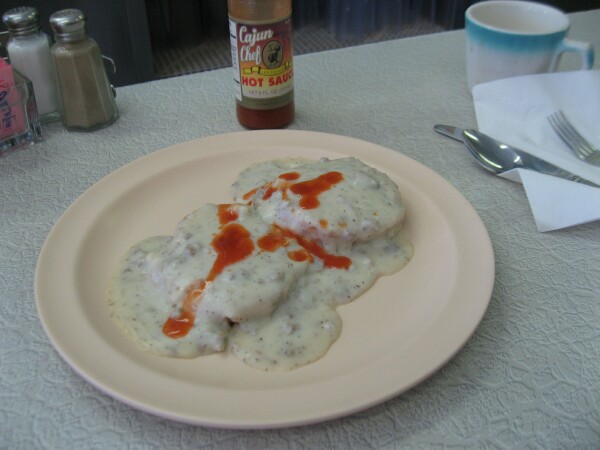 Edgebrook Diner may no longer be a Destination Diner, but it's a
better than most
option for those in the neighborhood and hungry.
Oh, geeesh, I almost forgot the best part, French Toast with chocolate ice cream!! Yep, at the end of the counter the
best parents in the world
had let their kids order pancakes and french toast w/scoops of chocolate ice cream. Why have I never thought of that.
French Toast w/Chocolate Ice Cream (5.13.07)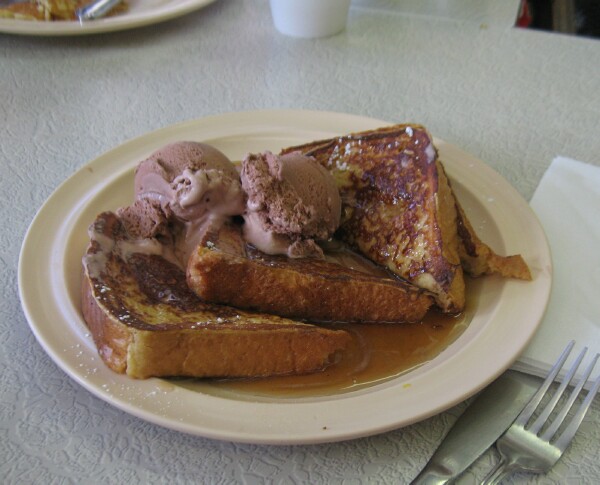 Enjoy,
Gary
_________________
Sauce on the side, always, implied, axiomatic..........never a doubt, BBQ sauce without.
Low & Slow