LTH,
Wiener and Still Champion strives to live up the Still Champion aspect of its name, to this effect Gus, the owner, is constantly innovating, experimenting and generally pressing the fried foods envelope. Last week I attended an informal tasting of LTHers, press and regulars to try out new W & SC potential menu delectables.
Brown sugar glazed habanero dusted bacon, fatty bacon crisp with a moist delectable glaze, sweet punching up to fruity habanero heat. Yin/yang, point/counter point. My Homer Simpson like dream is to be in a lush forest where the trees yield brown sugar glazed bacon instead of leaves, fruit, nuts or other non essentials.
Brown Sugar Glazed Habanero Dusted Bacon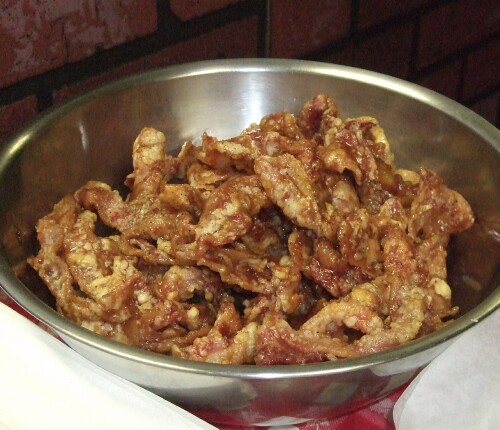 Wiener and Still Champion Bacon Cam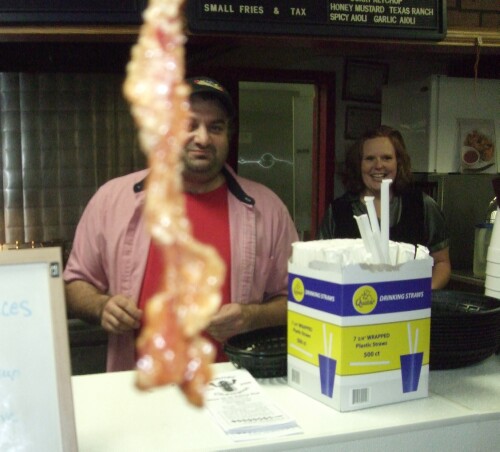 Gus does a hell of a corn dog, lightly crunchy lightly sweet batter, juicy dog, hand dipped moments before you order. Lovely as the W & SC corn dog is, Gus went a step further and dipped a 10-inch Polish which, with batter, rounds out to an even 12-inches. Twelve inches of wiener might seem like bragging to most, but Gus, or should I say Ed Fisher, has the goods. The Big Dipper is named after LTHer Gleam, aka Ed Fisher.
The Ed Fisher, 10-inch Hand Dipped Polish Sausage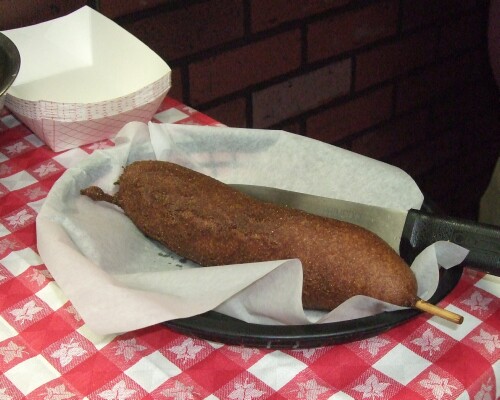 Shown with two Deep Fried Chili Balls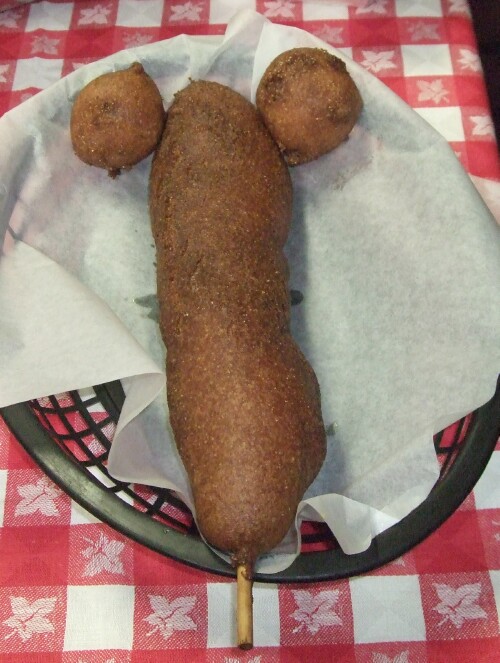 Chuck Sudo has a nice piece on the tasting on
Chicagoist
as does Andrew Huff on
Gapers Block
I can just see strolling up to the counter and ordering a pound of Brown sugar/habanero bacon with a side of country fried gyro and a double Ed Fisher. Or, should I say, strolling up to the counter and leaving in an ambulance straight to the hospital for a date with destiny or, at the least, an appointment with my cardiologist.
Enjoy,
Gary
_________________
Sauce on the side, always, implied, axiomatic..........never a doubt, BBQ sauce without.
Low & Slow