HI,
Quote:
Michael Turback, author of More Than a Month of Sundaes, lists 365 purveyors in all 50 states. He calls them the "cream of the crop," notable for their "versatility, creative achievement, construction technique, and respect for tradition."
This is an interesting list of Illinois Sundaes:
Copacabana
The White Cottage
102 Lebanon Ave.
Belleville
(618) 234-1120

Pineapple Sundae
Homer's Homemade Gourmet Ice Cream
1237 Green Bay Road
Wilmette, IL 60090
(847) 251-0477

Dusty Road
Whitey's Ice Cream
2525 41st St.
Moline, IL 61265
(309) 762-2175

War of the Worlds
Zephyr Ice Cream Restaurant
1767 W. Wilson Ave.
Chicago
(773) 728-6070

C'est Si Bon
Lagomarcino Confectionery
1422 5th Ave.
Moline
(309) 764-1814

Sour Cherry Sundae
Kopper Kitchen Restaurant and Ice Cream Parlor
601 W. St. Charles Rd.
Elmhurst
(630) 834-2118

Adam's Hawaiian Heaven
The Brown Cow
7314 W. Madison St.
Forest Park
(708) 366-7970

Girl Scout Cookie Sundae
Capannari Ice Cream
10 S. Pine
Mount Prospect
(847) 392-2277

Fudge with the Works (RIP)
George's Restaurant and Ice Cream Parlor
3222-24 W. Foster Ave.
Chicago
(773) 478-7707

S'More Sundae
Bobtail Soda Fountain
2951 N. Broadway
Chicago
(773) 880-7372

Banana Splice
Scooter's Frozen Custard
1658 W. Belmont Ave.
Chicago
(773) 244-6415

Turtle Super Sundae
Evanston Creamery
1301 Chicago
Evanston
(847) 328-3113

Caramel Apple Sundae
Bobby's Frozen Custard
Route 159
Maryville (618) 345-3002

Maple Leaf Rag
Dr. Jazz Soda Fountain & Grille
230 West St. Louis Street
Lebanon
(618) 537-2200

Hot Fudge Turtle
Petersen's Ice Cream
1100 Chicago Ave
Oak Park
(708) 386-6131

Hot Fudge Sundae
Mitchell's Candies & Ice Cream
18211 Dixie Hwy.
Homewood
(708) 799-3835

Turtle Sundae
Cunis Candies
1030 E. 162nd St.
South Holland
(708) 596-2440

Downers Delight
Every Day's a Sundae
990 Warren Ave.
Downers Grove
(630) 810-9155

Terrapin Sundae
Margie's
1960 N. Western Ave.
Chicago
(773) 384-1035

Evanston Express Sundae
Hartigan's Ice Cream Shoppe
2909 Central St.
Evanston
(847) 491-1232
Reading through this list, there were more places I was unaware of than known to me. Of those known to me, I was very pleased to find my family's favorite 'War of the Worlds' at Zephyr's made the list.
Others I know via LTHforum such as:
Cunis Candie's also recognized as a Great Neighborhood Restaurant pick:
Photo by
Mike G
Mitchell's Candies and Ice Cream
Photo by
Mike G
Margies
Photo by
G Wiv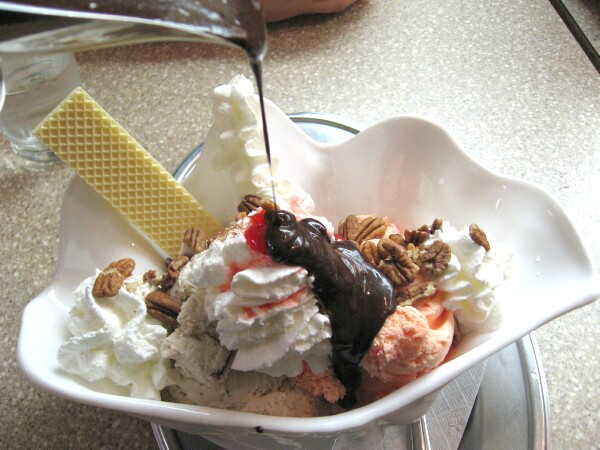 Last Sunday after lunch, I decided to try a new place for their sundae. My first destination was a bleak one because the restaurant had changed hands and gone in a very different direction, so strike this place off the list:
Fudge with the Works (RIP)
George's Restaurant and Ice Cream Parlor
3222-24 W. Foster Ave.
Chicago
(773) 478-7707
Gosh didn't the name 'Fudge with the Works' sound so promising. Sniff!
I then headed north to Evanston to try Hartigan's Evanston Express. This is a 3-scoop sundae with vanilla ice cream imported from Cedarburg, Wisconsin. The owner's used to be 31-Flavors franchise owners who went independent. They carefully selected ice creams by taste testing a number before settling on a dairy from Cedarburg.
What I don't understand, a rant I am likely to repeat often, is why they are so carefull with all their ingredient selections then settle for cheap low fat whipping cream from a can. It dimishes their effort at a moment when it should be their crowning glory. I'm sorry I just don't get it.
Beyond my whipping cream piccadillo, this was a very pleasant Sundae.
Evanston Express Sundae
Hartigan's Ice Cream Shoppe
2909 Central St.
Evanston
(847) 491-1232
***
I hope we can contribute to this list with either new locations or visiting the suggested locations with your feedback.
Regards,
_________________
Cathy2
"You'll be remembered long after you're dead if you make good gravy, mashed potatoes and biscuits." -- Nathalie Dupree
Facebook
,
Twitter
,
Greater Midwest Foodways
,
Road Food 2012: Podcast