LTH,
I have a confession to make, I love crisp, especially crispy/starchy such as french fries, tater tots, fried polenta, risotto cakes, tostones and hasbrowns, maybe especially hash browns. My two favorite places for hash browns, at the moment, I can be fickle, being Edgebrook Diner and The Diner Grill. As I mentioned, I am fickle, my favorite is typically the one I had last, but the hash browns at Diner Grill earlier this week, as RST is wont to say, made me weep for joy at their sheer beauty.
It was noon, and I was feeling a bit peckish, so I went with ribeye steak, 3-eggs, and hash browns with onions, extra crisp if you will, and extra crisp they were. Colors ranging from radiant gold to dark brown with flecks of perfectly caramelized onion interspersed. Not a single layer, as is Edgebrook's style, but small craggy mountains of crisp potatoes, a veritable landscape of potato perfection.
The ribeye was very good, not Morton's quality, but on the high end of the scale for a 24-hour diner, and the eggs were over easy perfection. No one has a better hand with eggs than an experienced grill man at a busy diner. My suggestion is next time you are in the mood for potato perfection go to The Diner, extra crisp hash browns with onion. Hummm, no, maybe go to Edgebrook Diner for extra crisp hash browns with both onion and giardiniera.
Speaking of crisp potatoes, I would be remiss in the extreme if I didn't mention the Tater Men, as JSM refers to them, at Resi's. I stopped at Resi's last weekend with Peter Daane, after the Saint Andrew's BBQ, and, given JSM's strong recommendation, could not resist. John, you were right, oh so very right, the Tater Men (potato pancakes) at Resi's are fantastic. Crisp, though I would order them extra crisp next time, with a deep rich potato flavor accented by onion.
Tater men at Resi's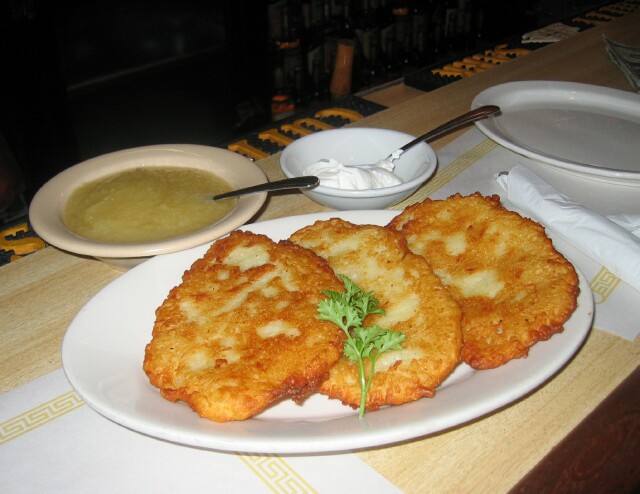 Add sour cream, applesauce, friendly atmosphere, great beer, pretty bartenderess, outdoor beer garden and, well hell, Resi's is just about the perfect place to have a beer.
I, since this is going long anyway, should mention the hash browns Ellen and I had at Morton's last evening, where we celebrated our wedding anniversary. Pure crisp potato perfection, really grand. Ellen originally suggested baked potato, where I suggested hash browns, we negotiated and ended up with hash browns with baked potato trimmings, i.e. sour cream, whipped butter and crisp bacon. I have to hand it to Ellen, this was a great idea, not all that heart healthy, but very delicious.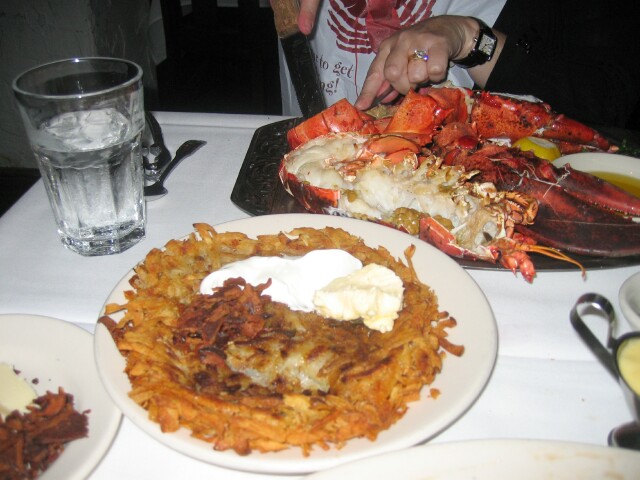 I will post about our dinner at Morton's, short version, original Mortons at 1050 N State, accept no substitutes.
Enjoy,
Gary
Diner Grill
1635 W Irving Park Rd
Chicago, IL 60613
773-248-2030
24/7
Edgebrook Coffee Shop and Diner
6322 N Central Ave
Chicago, IL 60646
773-792-1433
M-F 6:30am to 3pm
Saturday 6:30am to 2pm
Closed Sunday
Resi's Bierstube
2034 W. Irving Park
Chicago, IL
773-472-1749
Morton's
1050 N. State St
Chicago, IL 60610
312-266-4820
Last edited by
G Wiv
on September 4th, 2004, 11:32 am, edited 2 times in total.