The elder Brother Sung has a big birthday this weekend, so we decided to take in an early celebration with an omakase at Katsu thursday night. This was our third visit to the venerable establishment, and our first try with the omakase. We were told that this was actually a kaiseki, which to my understanding is a more traditional presentation that highlights the presentation of highly seasonal ingredients. I think it's safe to say that Katsu blew us away, and, to share G Wiv's sentiments, we have now officially become Katsu's bitches. This was a gastro-pimpslap.
I should preface this post by admitting that I am not especially well-versed in traditional Japanese cuisine, so I must apologize in advance for any gross errors in identifying the various courses. I did my best to jot down notes as we were eating in order to keep things straight.
Our first course was designed to highlight the flavors of the fall. Clockwise from the top right we had poached monkfish liver, layered with sliced mountain yam, then there is grilled Shishamo fish with a belly full of roe, and grilled japanese eggplant in bonito broth with bonito flakes. The monkfish, which was described to us as "the foie gras of the sea", was rich yet delicate, and the mountain yam lent a very satisfying almost raw-eggwhite-ish gooey consistency that we really enjoyed. The Shishamo was practically bursting with roe - it was a real treat to bite into (see the cross section photo below - the whole fish was about 80% roe). I think my favorite from this course - and one of my favs for the whole night - was the eggplant, which was just perfectly executed: grilled till just tender without being mushy at all, with a very rich, earthy eggplant flavor that was enhanced by the bonito broth. Beautiful.
Cross-section of the Shishamo belly bursting with roe...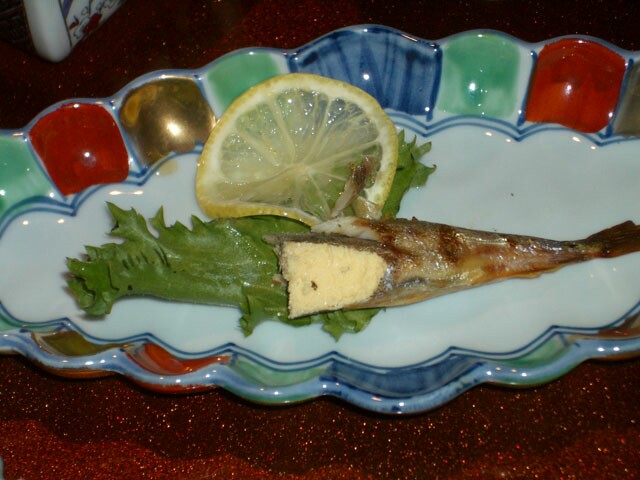 The next course was a very nice tuna tartare, which Mrs. Katsu explained came from a part of the belly that was so rich and tender that Katsu had to literally scrape the meat off, as it couldn't be filleted. It was topped with sliced scallions and a quail egg, and served with a side of soy sauce and wasabi that we could mix in to suit our tastes. Very rich, very tasty.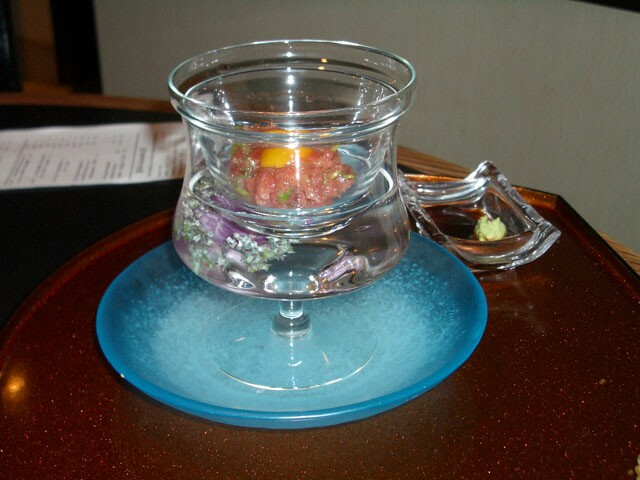 The third course was a beautiful plate of sashimi that i was unfortunately unable to photograph to my satisfaction. Succulant uni, Bluefin tuna, fluke with ponzu tobiko, Alaskan king salmon with salmon roe, and yellowtail from tsukiji market in Tokyo were all stellar, but my favorite by far was the sea urchin(I believe she said it was Matsushita uni, I could be mistaken), which was perhaps the most melt-in-your-mouth piece of uni I have ever tasted.
Fourth we enjoyed Katsu's Matsutake mushroom soup, served with ginko nuts, shrimp and chicken in a beautiful teapot. The broth had a wonderful rich mushroom aroma, and the flavor was so subtle and comforting I could see myself downing pot after pot of it on a cold autumn day. I'm definitely ordering this the next time I go to Katsu.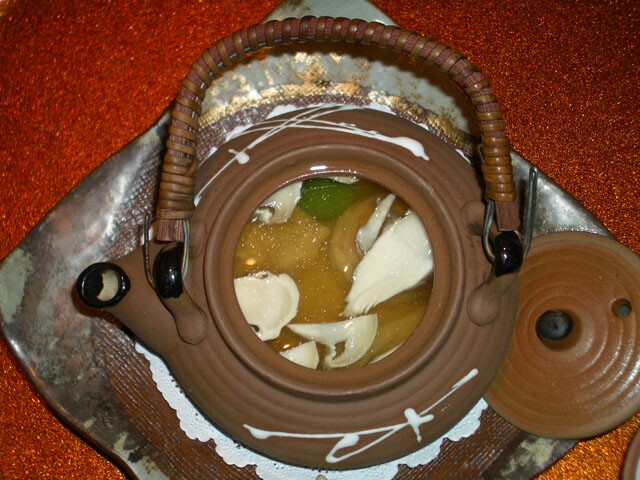 The next course was a tempura offering of enoki mushroom, oyster mushroom, shiso leaf, and nori wrapped around a pate of uni and whitefish. The enoki mushroom was fantastic, perfectly crisp exterior with tender, chewy flesh inside. The nori wrapped pate i found most interesting because it reminded me of the Shishamo fish from the first course, as the briny pate would burst from nori wrapper upon biting into it.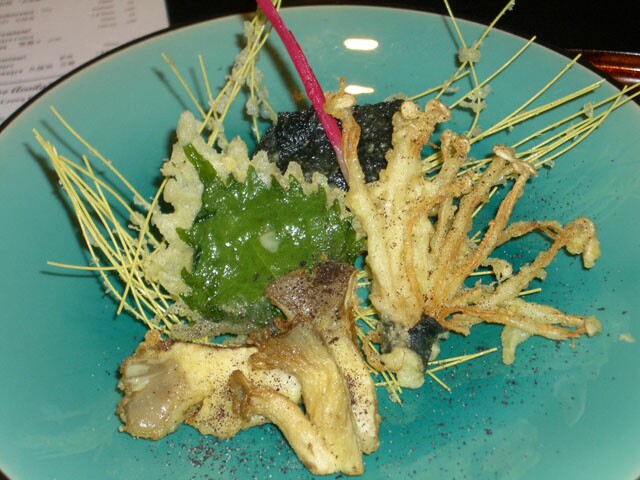 The tempura was followed by grilled scallop and kiwi sunomono, topped with surf clam and a miso-vinaigrette. Really beautiful dish, very well balanced. The scallop was lightly grilled and sliced so you had alternating bites of the seared exterior and the rare, almost gelatenous interior. The kiwi added more acidity than sweetness, and offered a really nice textural contrast to the scallop.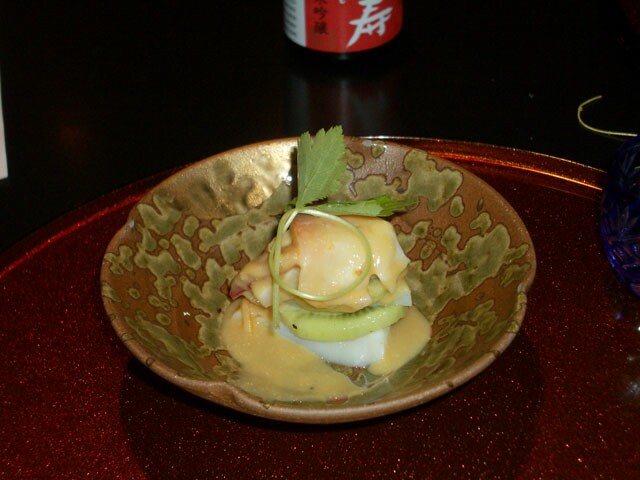 Nice grillmarks!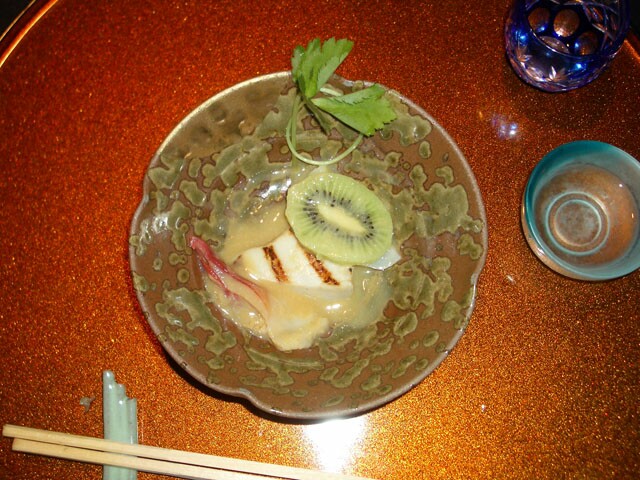 Next we had miso soup with fried and fresh tofu. Very nice soup, unfortunately it did not photograph well. This was followed by the saikyo marinated duck, served with japanese pumpkin, ginko nuts, roasted chestnut, and grilled matsutake mushrooms.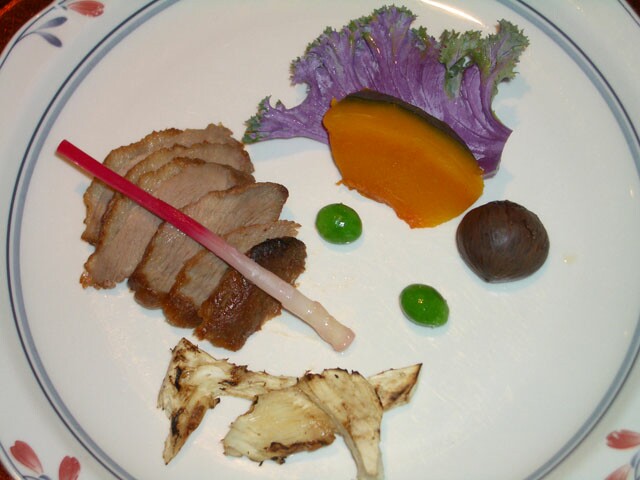 The ninth course was sushi: a generous Katsu-cut of superwhite tuna, another sublime piece of uni, and a very plump amaebi.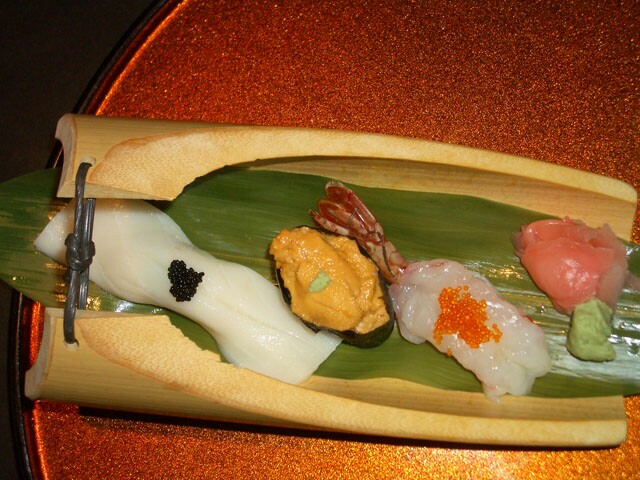 While there is no doubt the food and presentation exceeded our expectations, I think what made the experience truly special was the attention we received from both Katsu and Mrs. Katsu. While he was in the kitchen preparing our meal, she was very enthusiastic in describing every course to us, and very patient and helpful with any questions we had. I really felt that we were guests there rather than customers, and that's something I've noticed every time I've been there. Needless to say we are eagerly anticipating our next meal at Katsu.
Cheers,
the Brothers Sung