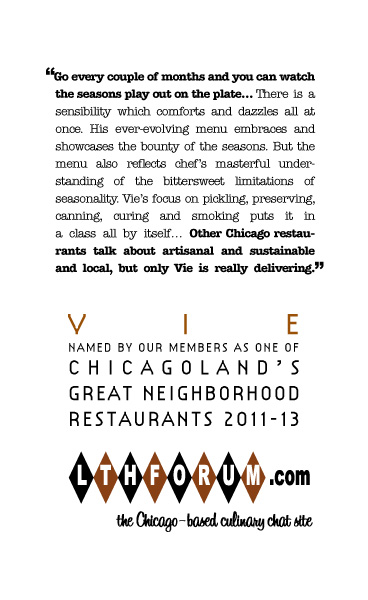 Sure, I spend a little time thinking about what to nominate as this approaches. Last year, I had a hard time thinking of a place to nominate, and Mike's comments that maybe there really weren't enough deserving spots seemed like they might have a grain of truth to them. But this year I can think of 10, easy, so I guess maybe that was just a brief down cycle.
I don't want to waste superlatives on a place whose food is all the superlative you need. Go every couple of months and you can watch the seasons play out on the plate. And like any great artist, Paul's touch is almost invisible, it just seems like the ingredients shine on their own, so full of flavor, naturally bursting with it.
But of course his touch is there in all of it - the selection of the ingredients, the decision on how to prepare, combine, season, the exquisite technique.
Great - yeah I think I covered that.
Neighborhood - Western Springs? Well, because of all the family roots. The whole thing is a family operation in a way that no other place I know of at this level is. Father-in-law manages, they live just over by there, wife and kids come by at times. Yup, the neighborhood thing is covered.
And as for the restaurant, I have been lucky enough to see this one from its beginning, a little gawky and uncoordinated at first, but now a silky smooth operation, doing just about everything right every time.
Damned good, even great, pretty much makes the whole can haute be GNR-worthy question beside the point,
Vie
.
Vie
4471 Lawn Ave.
Western Springs, IL 60558
708-246-2082