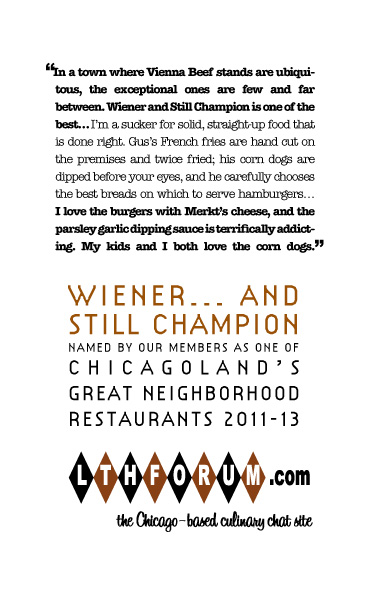 Full disclosure: 1. Gus, the owner, is a member of the forum and a frequent visitor to the Evanston Lunch Group and other LTH events. 2. Gus is always on the lookout for a good idea - using (with my hearty permission) a recipe I posted after last year's picnic, now on the menu as both a fry sauce and the marinade for the much-anticipated Flatiron Steak sandwich. One of the things I love about WASC is Gus's willingness to think outside the box; from his excellent Falafel burger to the assortment of dipping sauces, he's pushing the dog stand envelope - IMHO, pushing it in the right direction.
That being said, I'm a sucker for solid, straight-up food that is done right. Gus has an excellent assortment of the basics: fries, natural casing hot dogs, thick juicy burgers, and corn dogs, all made with care you don't often see at a dog stand. His french fries are hand-cut on the premises and twice-fried; his corn-dogs are dipped before your eyes, and he carefully chooses the best breads on which to serve hamburgers. Apparently LTHers aren't the only ones who think highly of WASC: Gus's
french fries
were honored in a recent taste-off on
Citysearch
and his locationally challenged stand has appeared on the
Hungry Hound
.
Of course, nobody
here
is going to take the media's word for it! Those of us LTHrs who frequent WASC have a lot to say as well; it's appeared in the
Best Thing You've Eaten Lately
thread. Other threads to check out include
Fess up...Who did it
Wiener and Still Champion: Corn Dogs
GP60004's Wiener and Still Champion
Wiener and Still Champion
802 Dempster, Evanston
Tel: (847) 869-0100