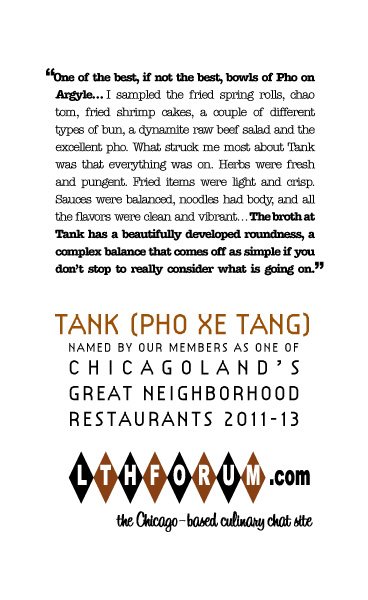 Hi,
A friend and I love soup noodles. We've been known to detour via Argyle Street on our '5 minute' drive home from exercise class in Highland Park. Ultimately it is a two hour detour. Does it make sense? No! Does love always make sense? No.
For quite a long time, our standard order was the Tank Special Pho, Goi Cuon or Spring roll (shrimp, pork and vegetables rolled in rice paper served with peanut sauce) and Cha Gio or Egg rolls served with fish sauce.
Lately, I've expanded the favorites to Banh Xeo: Vietnamese crispy pancake with bean sprouts, shrimp, pork, served with mint, lettuce, cucumber and fish sauce. As the days get hotter, a bowl of soup seems a bit much, so I have steamed rice noodles such as Bun Bo Nuong Tam Cha Gio, which is steamed rice noodle served with marinated beef, shrimp, egg roll, cucumber, sweet and sour sauce, lettuce and bean sprouts with fish sauce on the side. I'd expand further but my notated menu has gone missing.
I will often look at what other customer's are eating when I stroll in, then have the waiter identify it so I can order it. It's allowed me to try some dishes I could not always understand from the description. I've also simply taken the waiter's suggestion advising him to find something new to try!
There is quite a long history with Tank both on LTHforum and the other board. There have been reports on
Bahn Mi
Stir-fried squid with lemon grass and hot pepper
Breakfast of champions
Pho articulated
Other soups:
here
and
here
I can be found in Tank Noodle on Argyle and Broadway from time to time. In preparation for the LTHforum calendar, I was there 3 out of 4 days with Erik M trying different menu items to photograph.

A few weeks later, I was there with some other friends. I was carefully reading the menu trying to puzzle out what I ordered last time that I really liked. The waiter came smiling up to the table with my Coke to advise last time I had ordered #XX, do I want it again? I was absolutely thrilled he remembered because I really was trying to remember that exact item and more than pleased that he cared to remember.

Later he told me there was a menu item he thought I might enjoy next time. He brought the menu with the description, gave me a business card with the item number noted and, intimating it takes 30 minutes to cook, to call on my way so they could begin preparation. That is warm the cockles of your heart service, something you cannot buy.

You can be certain my tip met or exceeded the level of service. I left with a smile and wave, which was returned. Exceptional when you consider my meal cost less than $10.
What you want anywhere you go, a place with a bit of heart and
a sense of humor
.
I do recommend Tank Noodle as deserving of the Great Neighborhood Restaurant nod.
Tank Noodle
4953 N. Broadway St., Chicago
(773) 878-2253
_________________
Cathy2
"You'll be remembered long after you're dead if you make good gravy, mashed potatoes and biscuits." -- Nathalie Dupree
Facebook
,
Twitter
,
Greater Midwest Foodways
,
Road Food 2012: Podcast