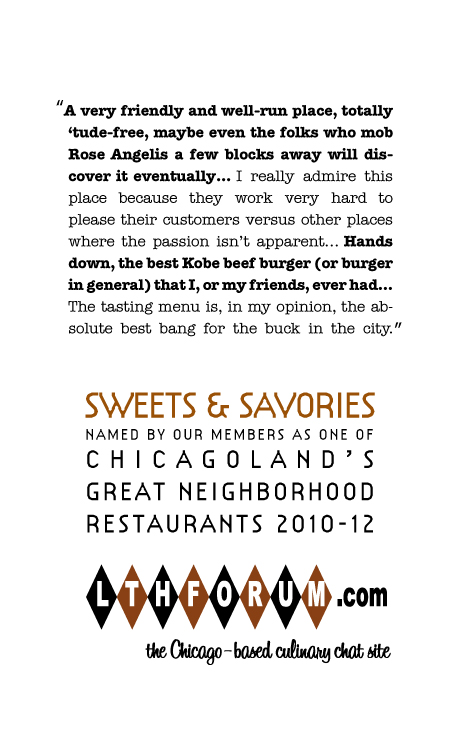 Certificate as awarded to Sweets and Savories following this nomination.
I don't post much on this forum, but I think GNR is a great program.
I would like to nominate Sweets and Savories as a GNR this time around.
For those unfamiliar with Sweets and Savories, the food is French inspired, served in a cozy and friendly environment. But what really sets Sweets and Savories apart from from the herd is their outstanding tasting menu.
7 courses, $50. What else needs to be said. What do you get for $50? How about some foie gras? How about some perfectly prepared meat and seafood dishes? How about more desserts than your table could possibly eat? The $50 tasting menu is, in my opinion, the absolute best bang for the buck in the city.
Perhaps tasting menus aren't your thing. Maybe you're a burger and fries kind of guy/girl. Well, Sweets and Savories would be happy to hook you up with a Kobe beef burger, topped with foie and truffle mayo. Enjoy your fries cooked in duck fat with that.
Finally, let's say you're in the mood to splurge. Right now, Sweets and Savories is offering a white truffle tasting menu that includes 9 courses with wine pairings for $150. Pictures can be found here:
http://forums.egullet.org/index.php?showtopic=76033&view=findpost&p=1063848
Finally, the last few times I've been there, the place has been practically empty. I hate to say it, but they need the help. Heck, they don't even have a website.
So again, for your consideration, Sweets and Savories.
Sweets & Savories
1534 W. Fullerton Ave.
773-281-6778