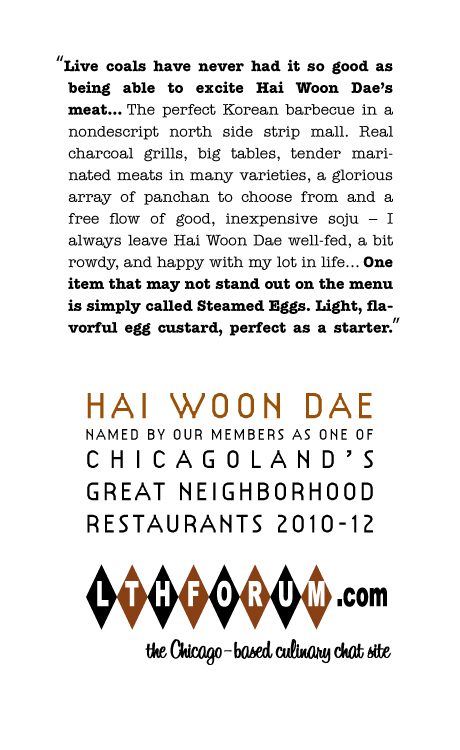 I noticed that San Soo Gab San has been nominated in the Korean BBQ category (not that there are really any defined categories). I like San Soo Gab San a lot. But even better, I like Hae Woon Dae.
I probably haven't been to Hae Woon Dae quite as often as other LTHers, but it does have a long track record with people on the board. I don't think I need to go into more detail than you'll find in these links:
http://lthforum.com/bb/viewtopic.php?t=888
http://www.lthforum.com/bb/viewtopic.ph ... 015270e404
http://www.lthforum.com/bb/viewtopic.ph ... 14f0ca9548
Now, throwing this out there as my nomination, I have to add two caveats:
I believe I'm the only member who's been shot down twice on GNR nominations.
In a private e-mail, dicksond listed as one of the primary objectives of this round of GNR awards was to keep my record of consistently getting shot down in tact. (Of course, his tongue was firmly planted in his cheek as he typed it.)
So, with my deepest apologies to the management at Hai Woon Dae, I respectfully nominate them so that they, too can get shot down.
(not that I'm bitter)
Hae Woon Dae
6240 N California
Chicago, IL 60659
edited to note that I mis-spelled the name; at least as it's listed o ntheir menu