By Erin Fagan (efa23)

Aside from my ardent declarations of love for bacon, I usually keep my eating habits private. I don't run around telling people what I will and won't eat as a matter of courtesy. If you invite me to dinner, I'll eat just about anything you put in front of me. So when I finally do get to choose what I would like to eat and ask for a vegetarian meal, some of my associates are often puzzled. "When did you become a vegetarian?" is a common question I hear. I usually have to correct people. "I'm not a vegetarian; I'm a flexitarian." Inevitably, this revelation is met by a puzzled expression. So I explain.
My Journey
The way I thought about food changed when I read The Omnivore's Dilemma: A History of Four Meals by Michael Pollan. This book made me seriously consider the meals I was putting on our table. At the time, I was doing some research into evolutionary biology and developing a desire to start a new way of living in my 30s.
My ah-ha moment came when I read the portion of the book dedicated to Western diseases – diabetes, heart disease, cancer. My aunt and grandmother were both diagnosed with Type 2 Diabetes. Both my grandfathers died of cancer. My best friend's father and my uncle (by marriage) both underwent triple bypasses. After watching them struggle with these diseases and realizing that I wanted to get healthy and fit, it made sense that I should give this new way of eating a try. It struck a chord in me, the idea that the food we consume should be "real" food and meat consumption should be secondary to vitamin-packed vegetables.
I finished the book and promptly announced I would no longer be eating meat with every meal. None of my friends thought I would have the gumption to stick with it, but I have made it this far and seen nothing but improvements in the caliber of my food and the quality of my life. In adopting this lifestyle, I have become a student of cooking with vegetables, and I try to shop locally and seasonally.
Flex
The difficult thing for most people to understand about being a flexitarian is that there are no hard and fast rules to the lifestyle. According to the Merriam-Webster Dictionary, in 1998 a genius wordsmith  combined the term flexible with vegetarian to produce a word that represents exactly what it sounds like. There is no rule for how much or how often a flexitarian eats meat: the basic tenets of a flexitarian life are to base meals around vegetables and unprocessed foods, eating meat only on occasion. The beauty of this lifestyle, for me, actually comes from the fact that there are no strict rules.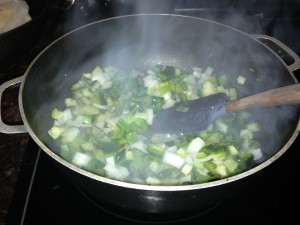 During the week I try to avoid eating meat, and I strive to limit myself to one meal with meat a day on weekends (counting Friday night, that makes three meals a week that involve meat for me). I try to "save" meat for special occasions: dining with my friends each week, breaking out my special meatloaf recipe, or adding a side of chorizo to breakfast. My "meat meals" come almost exclusively from restaurants. I can't complain about a vegetarian Wednesday night dinner knowing that on Friday night I'm going to have the bone-in Kona crusted sirloin with shallot butter at Capital Grille.
I don't indulge people that are strict vegetarians in the ethical debate of meat-means-murder (mainly because I enjoy a good burger from time to time). The murder debate is a matter of prerogative from what I can tell. Still, I feel that there are many advantages to following a plant-based diet low in processed food and meat. One of the things that gives me the biggest pause before eating meat involves quality of the meat itself and the dangers of eating meat from factory farm animals. I also believe that raising animals for slaughter perpetuates a cycle of waste produced through slash-and-burn agriculture, and I'm a nature lover. Studies have also shown a link between eating meat and illnesses like Alzheimer's Disease.
I believe that flexitarianism is a healthy lifestyle, physically and morally. Pollan said in a 2011 issue of New York Times Magazine, "There's research to suggest that vegetarians and vegans are generally healthier than the rest of us; however 'flexitarians' – carnivores who eat meat once or twice a week – are just as healthy." If that's true, flexitarians are just as healthy as strict vegetarians, and we still get to enjoy a juicy pork chop from time to time!
The Challenges in Buying Local
Nothing says Sunday in summer to me like a day at the Logan Square Farmer's Market. But farmers' markets aren't easy to find in winter. So, with a little help from my friends, I've found alternatives.
Door to Door Organics is my CSA (Community Supported Agriculture), supporting local farmers and growers and delivering goods right to my residence. The products are a little pricey, but I can pick and choose what size basket I get and what's in it. My other go-to solution is the Dill Pickle Food Co-op. Sometimes I will go to the Logan Square Indoor Winter's Farmers Market on cold-weather Sundays, though I find that selection can be hit or miss. During the off-season, I have two other regular sources of produce: the local Dominick's, within walking distance from my house, usually (and perhaps surprisingly to some) has a display up front dedicated to locally grown produce; Mariano's Fresh Market provides a similar service.
There are still difficulties in shopping locally and seasonally. I often entertain the idea of relocating to a warmer climate so I can have a larger variety of produce year-round – but then I remember how fantastic living in Chicago is. While I have to buy non-local, non-organic, minimally-processed food on occasion, I still sleep easier at night knowing that I am at least making an effort to support local food businesses when possible.
Nothing is perfect, and living in a city with four seasons means a little mental give-and-take is in order. If I am having a dinner party in February and want to use a dish that calls for peaches, I will try to find a fruit I can substitute instead; if I can't find one, I stick with what organic produce is available and move on.
Flexitarian Cooking At Home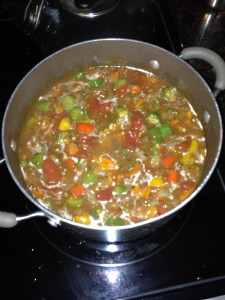 I have always loved cooking. I find it to be a relaxing, enjoyable process, and I'm more than happy putting a meal on the table for the love of my life. Cooking flexitarian dishes is just another way for me to flex my kitchen skills.
Limiting my meat intake allows me to experiment with and appreciate the decadence of using only vegetables for cooking. When I prepare to convert a meat meal into a vegetarian dish, I consider two main factors: texture and taste. If the taste is good but the texture is off, or vice versa, the whole meal can be a mess.
Diced eggplant, while a delicious substitute for ground meat, will never cut it in a meal that calls for larger chunks of chicken or beef. Zucchini, one of my favorite vegetables, gets soft when cooked too long – and so can portabella mushrooms. But peppers hold up nicely as long as you leave the skin on and don't cook them all day; beans, too, hold their shape well, but their more metallic taste can sometimes overwhelm a more delicate dish (I use dried beans when I can, but sometimes I'm putting together meals on the fly and use canned instead). Potatoes, on the other hand, have a mild flavor and can work really well in place of meat in many dishes, and this starchy food holds up well in heavy sauces such as chilis.
Flash-cooking/roasting or grilling certain vegetables is sometimes a great way to maintain texture. And because vegetables release water when cooked, I often cut back on the amount of liquid in recipes that I convert.
In general, I've noticed that as long as I pay attention to texture, the taste introduced by adding new vegetables to a dish can go over well and even make a recipe more exciting. Flavoring a dish can be a more forgiving process with the right blend of spices and sauces.
Here, I've taken my chicken enchiladas and made black bean verde enchiladas; in place of chicken, I used tomatillos, poblanos, and onion as the filling. My meaty gumbo recipe includes andouille, shrimp, and chicken; my new vegetarian gumbo is enhanced by the addition of bell peppers and an increase in okra. Sometimes I make a Lebanese garlic sauce which I serve here over sautéed kale and grilled eggplant; I garnished this time with stuffed pattypan squash (see top image).
Like many home cooks, I view cooking as a series of experiments. I study a recipe to see what I like and what I don't, then consider some what-ifs: What if I took out the tarragon and used dill? What if I took out the beef and used lentils? If I try something once and it doesn't work right, I try to fiddle with it until it does.
Chicago Flexitarian Eats
Life as a flexitarian in Chicago is surprisingly easy, thankfully. When I don't have time to cook from scratch, a few stores around my home help save time and effort. For example, I go to Pasta Puttana to pick up fresh, homemade noodles without spending hours in the kitchen using my mixer. Other than shopping at local businesses, I try to stock up on kitchen essentials for cooking in a pinch. For example, I usually keep a homemade vegetable broth on hand to sub for meat broths, but I also use Better Than Bouillon Organic Vegetable Stock Base in a pinch.
And eating out is never a problem when I can pick from places like The Chicago Diner and Green Zebra. Many restaurants offer a cornucopia of tasty meat-free options, and you can even find vegan booths at street fairs across the city. Some of my favorite places to grab a meatless meal include Feed, Piccolo Sogno and Carbón.
I live in the East Town/Ukrainian Village neighborhood, which is blessed with an abundance of quasi-hipsters, taco joints, and delicious vegetarian food. The first six months of my new flexitarian life, I ate at Cleo's every other week. This place has one of the top veggie burgers in the city (and I recommend getting a side of barbeque sauce with this one). The goat cheese and spinach pizza is also a favorite of mine.
As a flexitarian, I don't worry about broths and flavorings that have meat ingredients when I visit restaurants. To me, there are far more important things to deal with in life than worrying about whether the minestrone at the lunch counter has a beef base. In eating out, I am far more accepting of others' recipe choices.
Meat Appreciation
The key to being flexitarian, for me, is not thinking about how much I will miss eating meat, but where and when I will have my next amazing meat meal. And I do love meat – my personal weakness is pork. Pork belly, bacon, pork cheeks – almost anything featuring pig makes a dish sound better to me.
But the thing is, for me, meat becomes so much more enjoyable when it is something to look forward to, and isn't just a commonplace part of every day.
About Erin Fagan: By day, Erin works as an editor for an educational company in the River North area, and by night she dreams of moonlighting as a chef. Plainly put, Erin loves food. When she isn't cooking food, reading about food, talking about food, or eating food, she's probably thinking about her next kitchen creation or fantasizing about her next dining experience. Erin lives in Ukrainian Village with her boyfriend, Bill, and their dog, Frank. Bill is an amazing cook, so he gives her lots of kitchen competition. Her biggest food challenge is trying to remove gluten from her recipes since she recently discovered she has gluten allergy.