By Alan Lake (Jazzfood)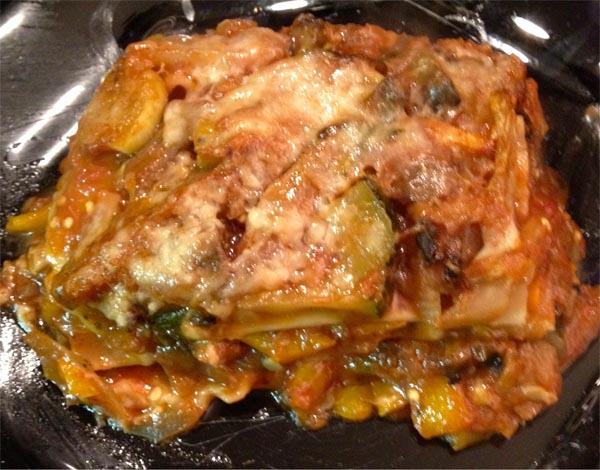 Ingredients:
1 large eggplant, cubed
2 lbs. mushrooms, sliced
1 green bell pepper, sliced
2 red bell peppers, sliced
2 yellow peppers, sliced
1 large onion, sliced
2 large zucchini, sliced
2 yellow squash, sliced
1 fennel bulb, sliced
3 garlic cloves, sliced thin
12 oz. crushed tomatoes with juice
1 bunch basil
16 slices of Provolone cheese
2 oz. Parmesan cheese
1 lb. lasagna noodles
Method: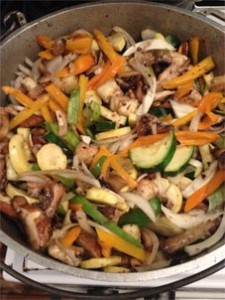 1. In a large pot, mound all vegetables and pour in 1 cup of olive oil and salt and pepper; toss.
2. Cook down until all vegetables are soft.
3. Add crushed tomatoes and basil and simmer 10 minutes.
4. Adjust seasonings.
5. In the meantime, cook lasagna noodles in salted and oiled water to al dente, drain and shock in cold water.
6. Add 2 oz. of the pasta water to the vegetables.
7. Oil casserole dish lightly with olive oil.
8. Spread 1 1/2 cups of the vegetable mixture on bottom.
9. Layer with lasagna noodles.
10. Spread 2 cups of vegetables over noodles.
11. Place eight slices of Provolone over vegetables.
12. Repeat the layers ending with vegetables.
13. Sprinkle with Parmesan.
14. Bake in 400-degree oven for 30 minutes or until lightly browned.
Back to Home Cookin' Part I: Alan Lake (Jazzfood)
Alan Lake a.k.a. "Jazzfood" a.k.a. "The Garlic Chef" has been a globetrotting professional chef for three decades and has won numerous awards, professional competitions and distinctions. He's also the author of The Garlic Manifesto, a book about the history of garlic going back to 10,000-year-old Neolithic caves that contains facts, fiction, folklore, artwork, recipes, professional insights, quotes etc. – think Mark Kurlansky's Salt or Cod, but a bit more personal. He's been a musician since he was a child and coined the term "Jazzfood" to describe his cooking style as "solid technique based upon tasteful improvisational abilities." He views his food as he does his music and writing and has been known to bust a pout if any of them are subpar in any way.