By Katje Sabin (mamagotcha)
In May of 2012, the above photo of an ear of corn featuring astonishingly psychedelic colors made the rounds on the Internet. "NOT PHOTOSHOPPED!" blared the blogs. Being a rainbow aficionado myself, I briefly toyed with the idea of tracking down the seeds of this marvelous grain so I could grow it, but I didn't yet have a dedicated garden space. Besides, it wasn't yet commercially available.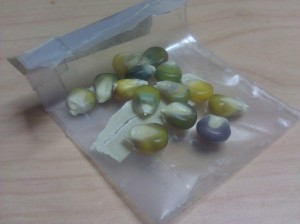 Later that year, I dug out three little 4'x4′ garden boxes in my backyard, with permission from my landlord, and started dreaming about what to grow in it. The tiny amount of the fabulous corn seed available for the year was already sold out from the only company legitimately selling it, but I decided to take my chances with an eBay seller. Finally I had my hands on a tiny Ziploc baggie filled with a few dozen nondescript nuggets of what looked like run-of-the-mill Indian corn.
The whole episode had a slightly…ahem…seedy feel to it. I really had no idea where this corn had come from. The seller was new, and I wondered whether I'd let myself be ripped off, but there were no more seeds to be found and I decided to take the gamble. I planted them in May of 2013 and crossed my fingers.