Note from Alan Lake: The ambrosia recipe is from Ava's mother, and the pound cake recipe is from Miss Mildred Boston. When asked if Ava's mom would mind me combining the two desserts, Ava said, "She'd think you were gilding the lily, but go right ahead."
Ambrosia
Ingredients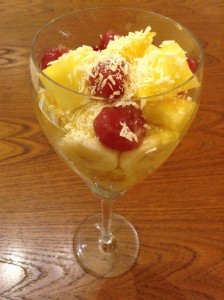 4 navel oranges, peeled
1 pineapple
3 ripe bananas
1/2 cup unsweetened coconut
5 oz. of maraschino cherries
Method
1. Cut oranges into 8 sections; make sure the membrane is removed.
2. Slice bananas thinly.
3. Dice pineapple.
4. Start by placing oranges at the bottom of a glass. Alternate by adding a layer of bananas and then a layer of pineapple.
5. Mix in maraschino cherries and top with coconut.
Miss Boston's Pound Cake, a.k.a. Mr. Good Cake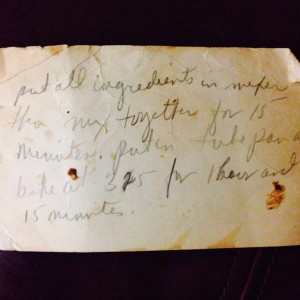 Ingredients
6 eggs
½ lb. butter
¼ cup Crisco shortening
2 cups  flour
1 cup self-rising flour
1 cup buttermilk
3 cups sugar
1 t. vanilla extract
1 t. lemon extract
Method
1. Preheat oven to 325° Fahrenheit.
2. Mix all ingredients together for 10-15 minutes. Pour batter into a greased and floured tube pan. Bake for 75 minutes.