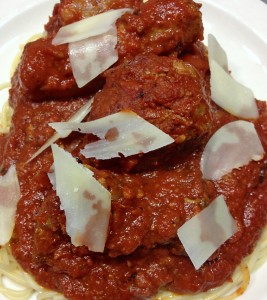 "Guys love my red sauce, my Sunday Gravy. It gets cooked in the oven all day with neck bones, meatballs and Italian sausage. Some garlic bread and a salad and you're good to go. The recipe comes from Frankie Traficanti, this old guy that owned a nursery I bought my trees from when I was landscaping. If you call central casting and ask for an 80-year-old Italian dude, they send Frankie. We became friends and would cook and drink Chianti together at his place."
Frankie T's Sunday Gravy
(Yields about a gallon and a half)
Ingredients
1-1/2 lbs. neck bones
1 lb. Italian sausage
Meatballs – Frankie T's recipe to follow
Five 28-oz. cans crushed tomatoes
Three 6-oz. cans tomato paste
1/2 cup good olive oil
1 large bulb (not cloves) of garlic, chopped (approximately 6 oz.)
2 Tbs. dry basil, or 1 bunch fresh basil, roughly torn
1 Tbs. dry oregano, or 1/2 bunch fresh oregano, chopped
1 Tbs. salt
1 Tbs. black pepper
2 Tbs. sugar
1 cup Chianti*
Fresh grated parmesan for garnish
*This step is omitted at the firehouse, as wine is frowned upon, but at home . . . salute!
Method
1. Preheat oven to 300 degrees.
2. Brown neck bones in large skillet with enough olive oil to coat pan. Reserve and repeat with Italian sausage and then, the meatballs.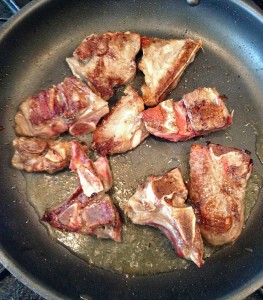 3. Deglaze pan with Chianti, reduce by 1/2 and pour over reserved meats.
4. Sauté garlic in remaining oil over medium-high flame until golden brown, stirring throughout. Do not burn.
5. Add the tomato paste, basil and oregano and mix well. Reserve.
6. In a large, heavy-bottomed stockpot, combine crushed tomatoes with reserved meats and their juices, mixing well. Bring to boil, remove from stovetop and place in oven for 3 hours, stirring often to prevent burning on the bottom of the stockpot.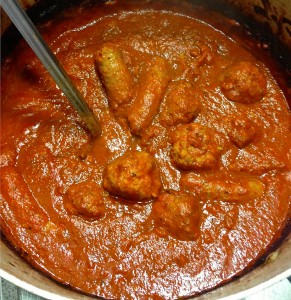 7. Adjust seasonings as you see fit.
Frankie T's Meatballs
(Recipe yields 20 golfball-size meatballs.)
Ingredients
1 lb. ground pork
1 lb. ground beef
2 tsp. garlic, minced
2 tsp. salt
2 tsp. black pepper
2/3 cup grated parmesan cheese
2/3 cup seasoned breadcrumbs
2 Tbs. flat leaf parsley, chopped, washed
1 egg
1/2 cup milk
1 1/2 Tbs. olive oil
Method
1. Combine garlic, bread crumbs, parmesan cheese, salt and pepper. Reserve.
2. Mix beef, pork, parsley, eggs and milk lightly by hand and combine with the above. Form into balls.
3. Heat oil in a large skillet over medium-high heat. Brown meatballs on all sides and add to Sunday Gravy stockpot.
 Mangia!