by Katje Sabin (mamagotcha)
A Writer's Education in Prejudice, Organic Gardening, and the True Meaning of Community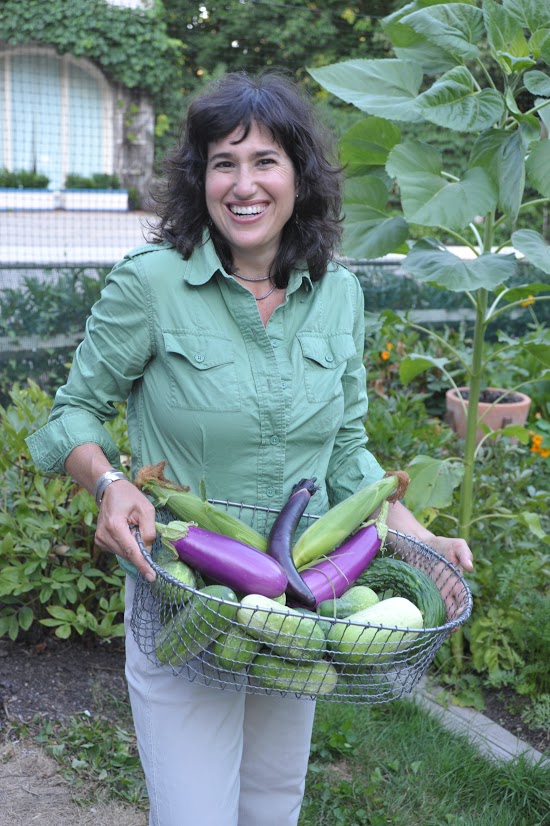 I know this doesn't reflect well on me, but . . . I did not want to like Jeanne Nolan.
Hmm, let me back up a little bit. . . .
About six months ago, I moved from my house with a yard to an apartment on the north side of Chicago. I was fortunate enough to land two blocks away from an organic community garden that had an open plot. It was mid-June, a little late to start a garden in the Midwest, but I managed to eke out some kale, a couple of jalapenos, and a few cherry tomatoes before Halloween arrived to close us down with the first sleet of the season.
Our 46-plot garden was undergoing some serious organizational upheaval among its members (a few of whom had been with the garden continuously since it opened in 1982). Through a flurry of emails, meetings, and phone calls, I accidentally found myself installed as the new garden coordinator, and was unceremoniously thrust into the bustling and burgeoning world of Chicago's urban community gardening movement.
I am happy to report that the Howard Area Community Garden is now moving into the 2015 growing season with a full roster of members, new bridges rebuilt with local community nonprofits, numerous grants and donations in the pipeline, and the removal of a large dead elm that has been dropping widow-makers on the garden for years (shout out to Bartlett Tree Experts, who did the huge job pro bono), all with a very inexperienced, naive, yet earnest coordinator at the helm.
However, I did learn an awful lot right off the bat. I discovered that almost a third of our members do not have access to email; a handful don't even have a phone. Half a dozen do not speak any English. My brilliant plans of launching a Facebook page and online forum to update our gardeners about short-term opportunities like donated compost or plants came to a screeching halt as I got thoroughly schooled in the realities of working-class Chicagoans who garden not as a hobby or for health reasons, but as a survival tactic: to put food on their tables that otherwise would not be accessible to them.
It was in the middle of this education that I was handed a copy of Jeanne Nolan's book, From the Ground Up: A Food Grower's Education in Life, Love, and the Movement That's Changing the Nation. The cover features a row of high-rise buildings as a background to garden stakes filled with a garden's bounty, and I made the immediate but erroneous assumption that it was about community gardens like mine.
I plowed through Nolan's autobiographical book, which opens with a glowing forward by Alice Waters (of Chez Panisse and The Edible Schoolyard fame), and chronicles the adventures of a young idealistic teenaged Jeanne, who turned her back on her wealthy North Shore family and promising academic future to run away to a commune-cum-cult in Southern California. She spent the next 17 years under the spell of Zendik Farm, but finally got the impetus to sever the abusive relationship when the founders took aim at the bond between her and her young daughter. Her parents gave her and her baby a home, while she gradually got up to speed with the modern world and discovered a career that sprouted from her years of experience growing chemical-free produce at Zendik: professional organic gardener. Now she runs The Organic Gardener, a company that designs, installs, and maintains 150 organic gardens throughout the Chicago area, including the Lincoln Park Zoo Edible Gardens.
I had set the wheels in motion for an interview with Jeanne before I finished the book, but I found as I went along that the members of the community gardens I work with, families who sometimes cannot afford the $15 annual plot fee, didn't have much in common with Jeanne's upper-class family or well-heeled clientele. As the number of remaining pages dwindled, I got more and more unhappy. What could I take from her story to bring to my hardscrabble sustenance gardeners? Coming from my struggling middle-class background, could I even speak her language? Would my grubby eight-year-old boots and home haircut make her judge me as someone not worthy of her time?  My bitterness grew with my assumptions, and by the time came for the interview, I had worked myself up into a righteous dudgeon.
What I was foolishly doing, though, was judging HER before I'd even met her. I am here to report that I have eaten a healthy serving of humble pie seasoned with crow. While Jeanne's clients and mine do not overlap much socioeconomically, the pleasure and delight of growing things in a sustainable, healthy, and ecologically responsible manner are in no way limited to one class of people, and five minutes with her was enough to prove her commitment to making good food available universally, and to turn my attitude around completely.
I drove up to Jeanne's home on a bitterly cold February morning, with my notebook at the ready and a huge chip on my shoulder. Jeanne, a petite brunette with a shy smile, invited me in and served me a steaming cup of tea. Her adorable Schipperke dog, Quiver, and friendly tabby cat, Shadow, punctuated our conversation with demands for attention as we settled into the cozy living room of her old stone coach house for a visit.
We started by discussing how her interest in gardening had germinated. Jeanne had been assigned to work in the commune's gardens when she first arrived at Zendik in 1987, which fit with her goals of living lightly on the planet and avoiding the "death culture" of modern America. "I wanted to find another way to live. I decided that I wanted to learn to grown my own food. I tried to grow a garlic plant once, but I didn't get anywhere. I had the desire but I didn't know anything about it. The women who taught me to farm had been doing it for a long time, 15 or 20 years before I met them. Today, I don't buy vegetables for eight months of the year. This time of year [midwinter] it's so expensive to buy food, but it's so easy when the garden is in full swing."
Jeanne founded The Organic Gardener in 2005, the year after she returned to the Chicago area, and also started to work with Green City Market founder Abby Mandel on the Lincoln Park Zoo Edible Gardens. Her company creates organic gardens for private individuals, businesses, restaurants, and synagogues all over the Chicago area, including the demonstration garden at Old Orchard Mall in Skokie and a garden that supplies the employee cafe kitchen at Takeda Pharmaceuticals in Deerfield.
She's been featured in many newspaper and magazine articles for her efforts, and recently was inducted as a member of Les Dames d'Escoffier, an invitation-only philanthropic society of professional women who are leaders in the food world.
"Most gardens, we visit once a week, or every other week. At Old Orchard's garden, we're there twice a week, and at the zoo, three times," she said. "We have 12 full-time people year-round, and at the peak of the season, we'll have 25 people working for us. Our headquarters are in Highland Park, where we have a greenhouse and plant storage."
She is especially excited about the upcoming season at the zoo's garden. "I want to invite [your readers] to visit the Lincoln Park Zoo Edible Garden. This year's theme is 'A Walk Through Time.' You'll see crops growing that you can buy today at Green City Market, then you go back in time and see crops from the past: unique beans; ancient grains like amaranth and quinoa; squash and beans and corn growing together as the Three Sisters from Native American traditions; African crops brought over during the slave trade like yams; potatoes that traveled from South America to Europe and then to North America."
What happens to the food at the public demonstration gardens she manages? At Old Orchard Mall, she said the produce is all donated to a local food pantry. At the zoo, the people who visit the garden usually wind up eating it. "That's what we are all about," she said. "We want people to have an experience in the garden, and part of that is tasting food while it's fresh."
She explained that her company's clientele "runs the gamut," from billionaires to corporations to afterschool programs in impoverished areas. I asked her to elaborate on some of those stories about serving underprivileged populations. "We designed the community garden at La Casa Norte's homeless shelter for young boys," she said. "And we've spent seven years with the Pederson-McCormick Boys and Girls Club afterschool program. The majority of those kids don't eat dinner with their families. Some don't even have refrigerators. These kids get to grow and cook their own food."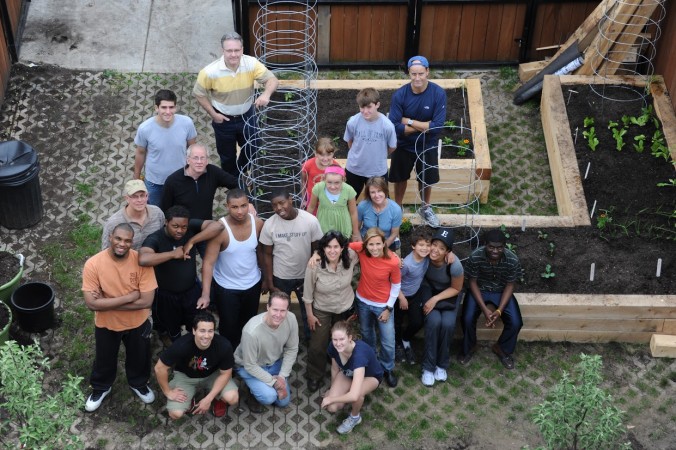 She is clearly passionate about connecting children with the source of their food. "Whenever we work with schools, I feel like we are not only working to educate the kids, but also the teachers and administrators. It's a positive focal point for the community that brings to the forefront some timely questions: What ARE our kids eating? What are they learning in science? How can an informal setting benefit kids? And it adds an interesting dimension to the school day."
"We work with Safe Haven, a school for kids with behavior issues. They've really embraced the garden and greenhouse. The teachers care for educationally challenged kids, and they have to find creative ways to engage these kids. The garden is the perfect place for kids who do better when they can be active. It calms, centers, and engages them. It's a task with purpose."
What does she think spurred the increasing demand for organic gardening? At Zendik Farm, the books they turned to for inspiration and knowledge about sustainable food production were written by the counterculture all-stars: Wendell Berry, Wes Jackson, and Ruth Stout, as well as the alternative gardener's essential bible, Rodale's Encyclopedia of Organic Gardening. But since then, other popular writers and educators have pushed the word "organic" from the fringe towards the mainstream. "There has been a huge profound shift," she said. "We have some real thought leaders to thank for that, people who have helped to change the awareness of food. Michael Pollan is not the brown-rice-tofu type, but he promotes the same values. So do Alice Waters and Jamie Oliver."
It turned out that, even though it wasn't a central theme in her book, Jeanne does indeed have a lot of connection with, and admiration for, urban community gardens. "I went to a slow food conference in Italy last October," she said, "and met a young guy doing community gardens with underserved people in St. Louis. People are changing the way communities interact with food all over."
"I've had the chance to teach many community gardeners around Chicago. I teach a lot of classes for Openlands, [a nonprofit group that] facilitates the creation and success of a lot of different community gardens in the city. I love doing it," she said. "They really care and want to make a difference. Most community gardens are of the no-chemical mindset. I get asked, 'Is it easier to grow with chemicals?'" She laughed. "I have no idea! I've never done it!"
In her book, she wrote, "Over a five-year period, the number of Chicagoans living in food deserts dropped by 39 percent. But the large percentage of citizens who were still affected was stunning: Chicago's food deserts currently span no less than 55 square miles, an area that is home to nearly 400,000 residents, a quarter of whom are children. The more I learned about the food-desert problem, the more I wondered whether the benefits of gardening could be true for anyone if they were not true for everyone."
Some of the prominent Chicago-area urban gardening activists she cites as influential include Ken Dunn of the City Farm, Harry Rhodes from Growing Home, and Will Allen and his daughter Erika Allen from Growing Power. "They have strong voices," she said. "These are people running successful food production operations on abandoned city land. The momentum of the urban gardening movement is JUST getting going. The technical knowledge of how to grow food in places like parking lots is known. We know how to implement these systems. The one great challenge is how to make it economically viable."
Some inner city gardens are finding creative ways to fund their projects, she said. "They are selling food to high-end restaurants. It's a win-win. The restaurants get the top-quality food, and [the gardeners] make the same food available in food deserts. These gardens are employing the underserved population who need jobs, young people with a social justice conscience who want to make a difference."
She is excited to see universities offering degrees and certification programs in sustainable agriculture and urban farming. The Chicago Botanic Garden supports Windy City Harvest (a sustainable small-space education project), and her company has hired many Windy City Harvest graduates.
In her book, she writes: "Failures and mistakes are an inevitable part of the gardening process. But wonderfully, that's how it's supposed to be. Things want to grow, I've discovered. You just need to learn how to stop getting in the way."
She is so right. Once I managed to get past my prejudices and assumptions about Jeanne Nolan, it was abundantly clear that she is an incredibly passionate and powerful voice for gardeners from all walks of life. Once I got my preconceived notions out of the way, it was a pleasure and an inspiration to learn from her.
"I'm hopeful and positive about it all," she said. "When I was 18, the thought 'I want to grow organic food and eat healthy' was viewed as really whacko. Now it's considered mainstream. Now you ask anyone and they know about organics. The landscape of our cities is changing. People WANT to grow their own food."
"Growing food is something you can do in a city. You don't need a lot of money to do it. There are so many ways to go about it. Growing food is the most accessible action anyone can take," she said.
"It just feels so right, in the face of so much that is wrong."