Boo Chim Kei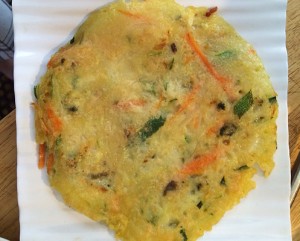 This savory Korean seafood pancake is simple to make, great for parties and pairs well with alcoholic beverages like makgeolli or shoju.  For whatever reason, it's considered food well-fit for a rainy day.
Ingredients
2 cups Korean pancake mix, aka buchimgaru, available at Korean markets or online
2 1/4 cup water
1 cup carrot, julienned
1 cup zucchini, washed, then massaged with coarse salt and julienned
1 cup onion, julienned
1 large jalapeño, seeded and sliced (optional)
12 oz. assorted cleaned seafood such as shrimp, clams, mussels or squid, chopped
canola oil
Method
1. Make batter with pancake mix and water, mix well, reserve.
2. Heat 1 tablespoon of oil in an 8-inch nonstick skillet until oil shimmers. Add 1/4 of the vegetables and sauté until barely softened, about 1 minute.
3. Add 1/4 of the seafood, scatter evenly around the pan and sauté for another minute or so.
4. Pour 1/2 cup of the batter into the hot pan, tilting it to spread evenly through the mixture.
5. Cook over high heat until the bottom is brown and crisp, about 3 minutes.
6. Flip the pancake and cook until the other side is set, around 1 minute more.
7. Slide pancake out of pan and reserve.
8. Repeat. Yields 4 pancakes.
Serve with
Dipping Sauce – mix together:
3 Tbs. soy
1 tsp. minced garlic
1 tsp. chopped scallion
1 tsp. sesame oil
1 tsp. toasted sesame seeds
1/4 tsp. black pepper