Two Mexican restaurants have opened in Evanston — one recently new, the other brand new. Zentli — "Mexican Street Food" opened several weeks ago, from the people behind Skokie's pan-Latin Libertad. Fonda is from the George Trois Group, known for Winnetka's Aboyer and George Trois. Management at Fonda was particularly generous with a tour of the facilities, including the improved kitchen, and the Cantina, soon to open in the former Cellar space around the corner.
Neither restaurant was quite as affordable as some of the many restaurant along Clark St. in Rogers Park. At Zentli, we had one cocktail each. At Fonda, we had one drink each plus a bottle of wine (among the less expensive on their list). Including the 20% tip, the bill at Fonda was slightly more than twice the bill at Zentli (approximately $200 at Fonda vs. $100 at Zentli for two people). However, none of the individual items on either menu seemed to be priced exorbitantly. Maybe it was just a function of ordering, especially the cocktails.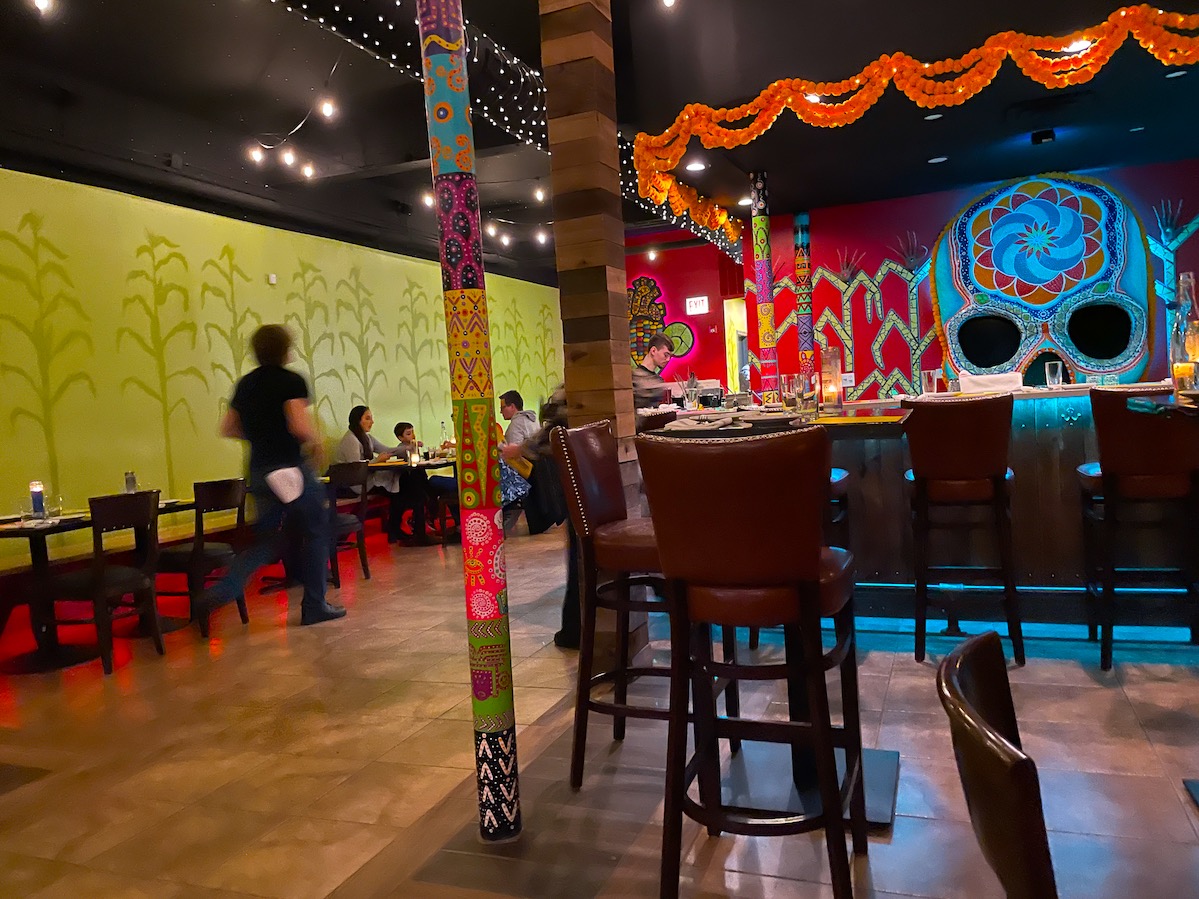 The interior at Zentli is the more elaborate of the two. Reservations can be made for "corn," (now called "low top") "mural," or "high top." Shown : corn/low top and bar.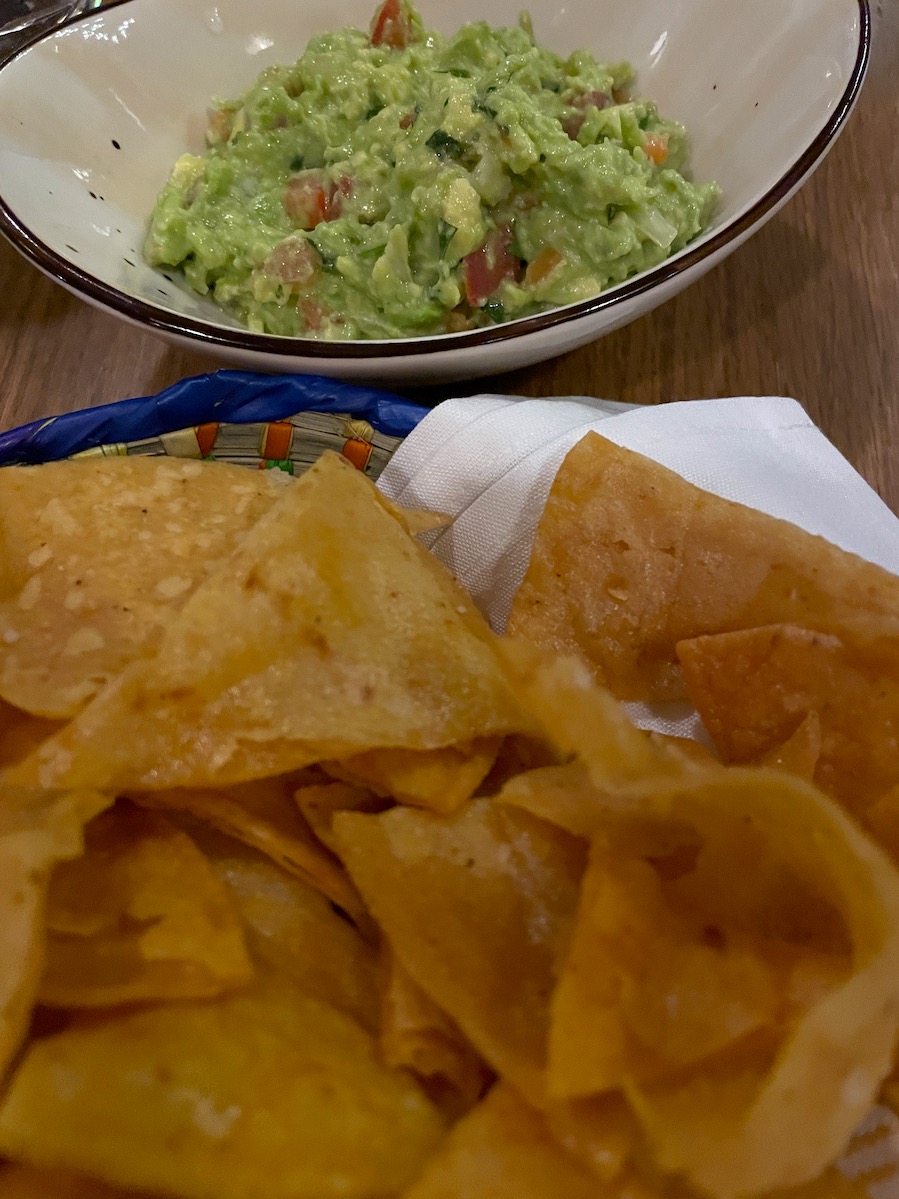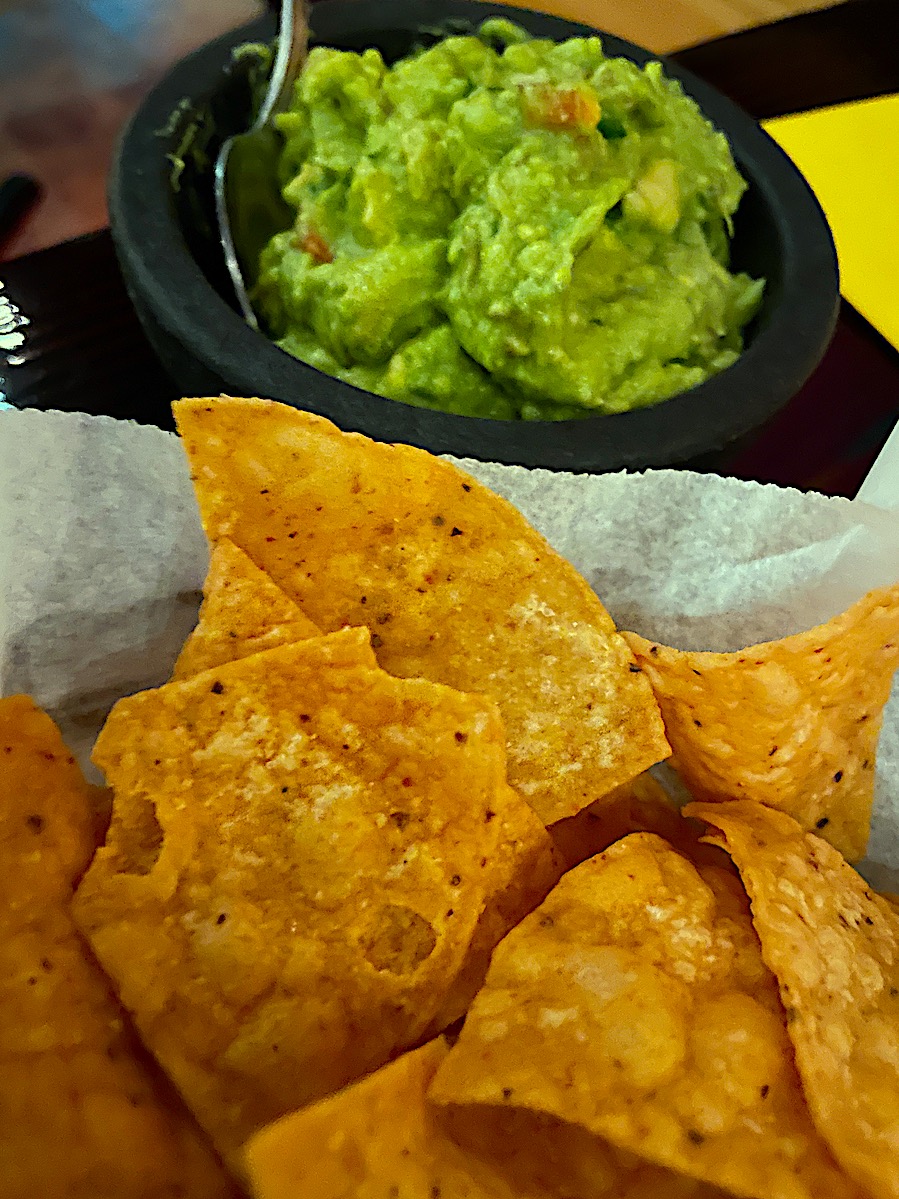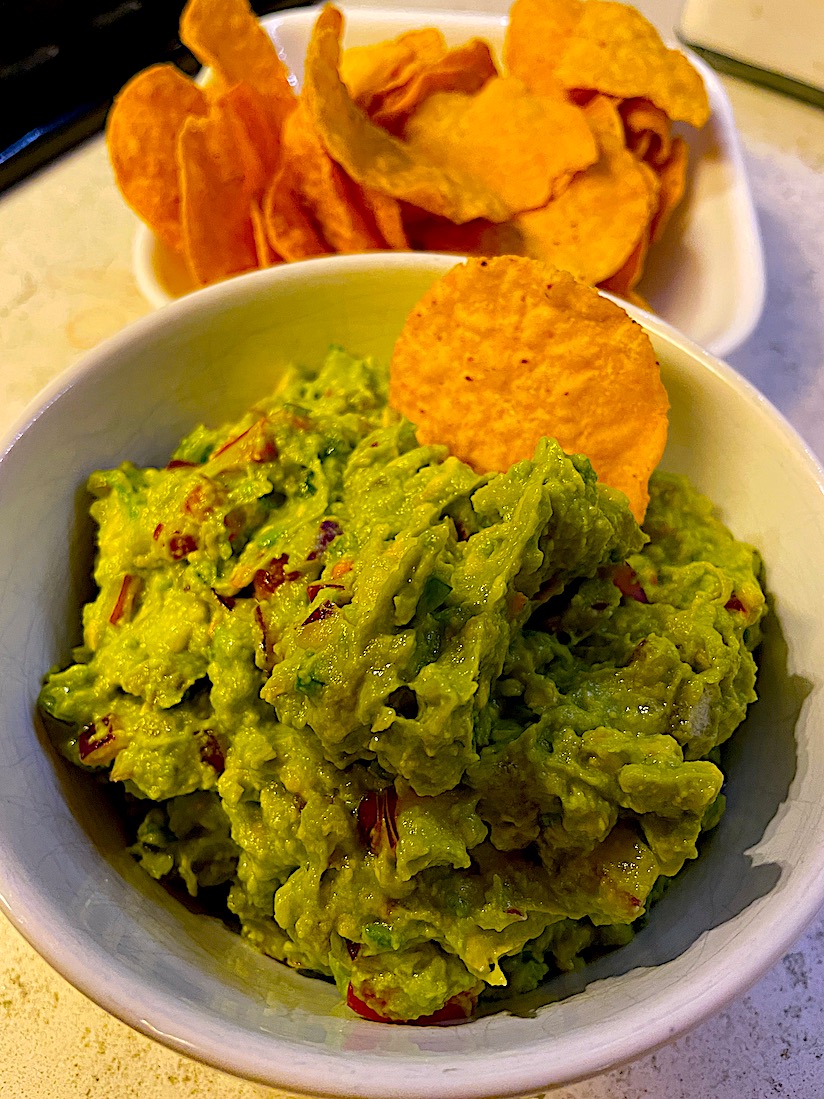 We had
guacamole and chips
at each place, plus one homemade a day later. Fonda (top) had freshly-fried, delicate chips — a major plus over the others. I'm not sure about Zentli's chips (second). The homemade guac had packaged chips. All were good, with Zentli's slightly on the chunkier side (which was good).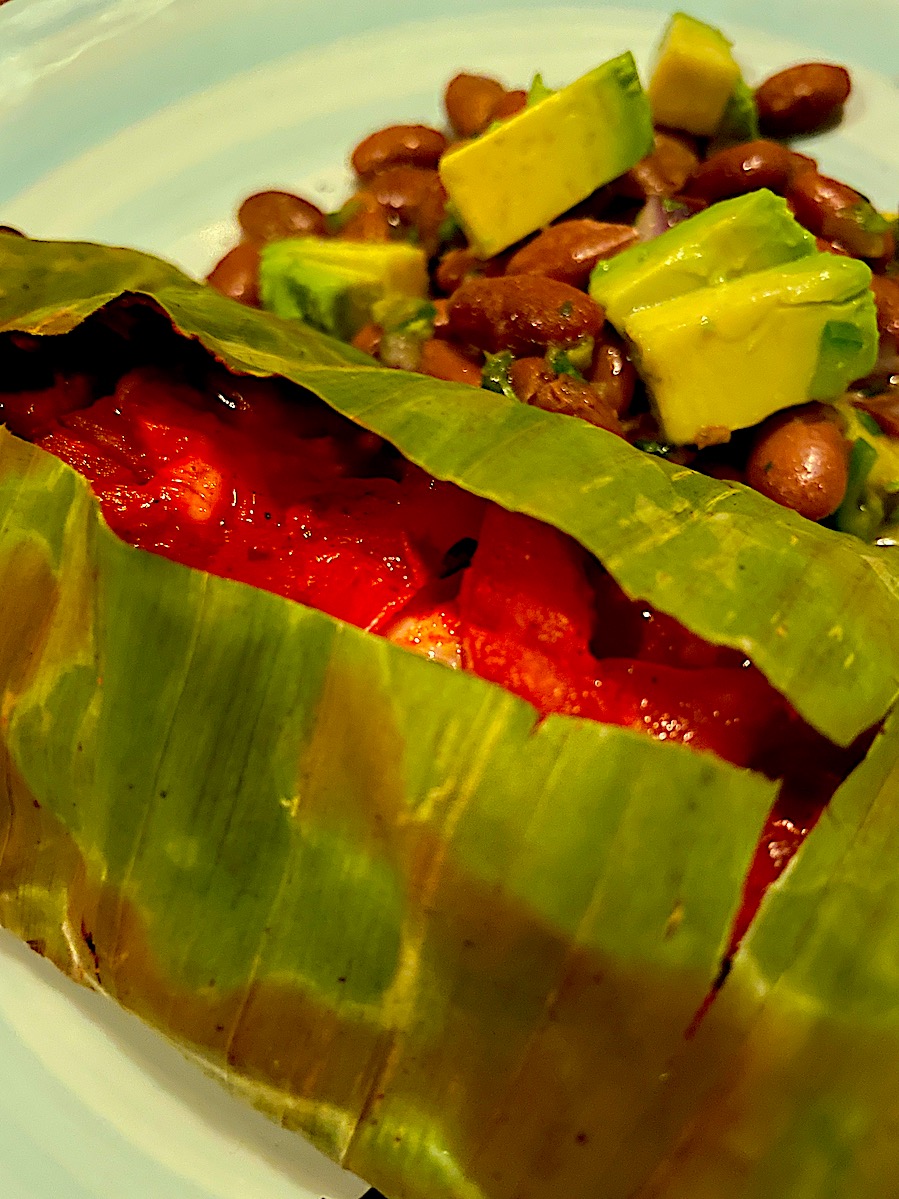 Pescado Pibil
from Fonda — the fish used was new to the menu last Thursday night, their second night open. Adobe-glazed Black Sea Bass wrapped in banana leaves.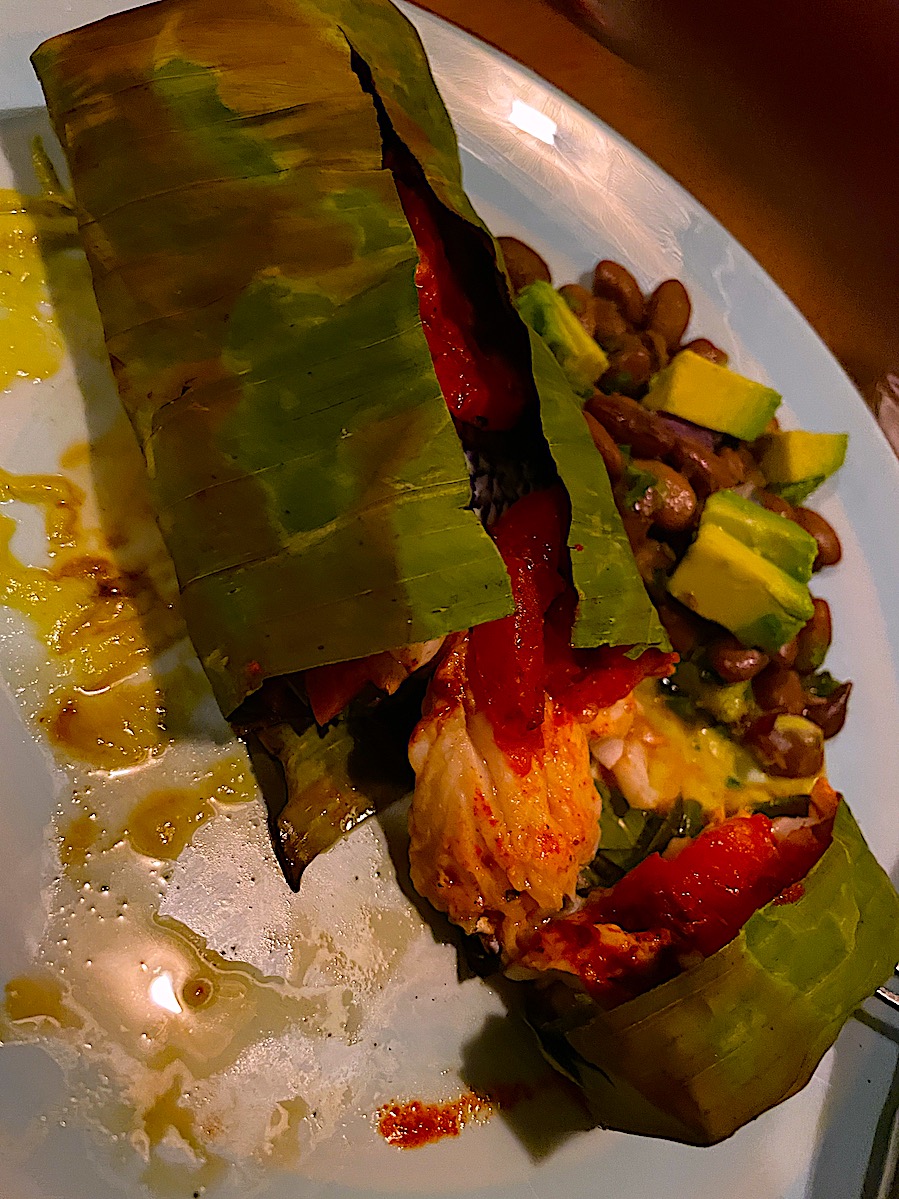 Opening the Pescado Pibil, the tomatillo salsa with pickled red onion spilled out. It all went well with the beans and avocado. A nicely balanced, flavorful dish.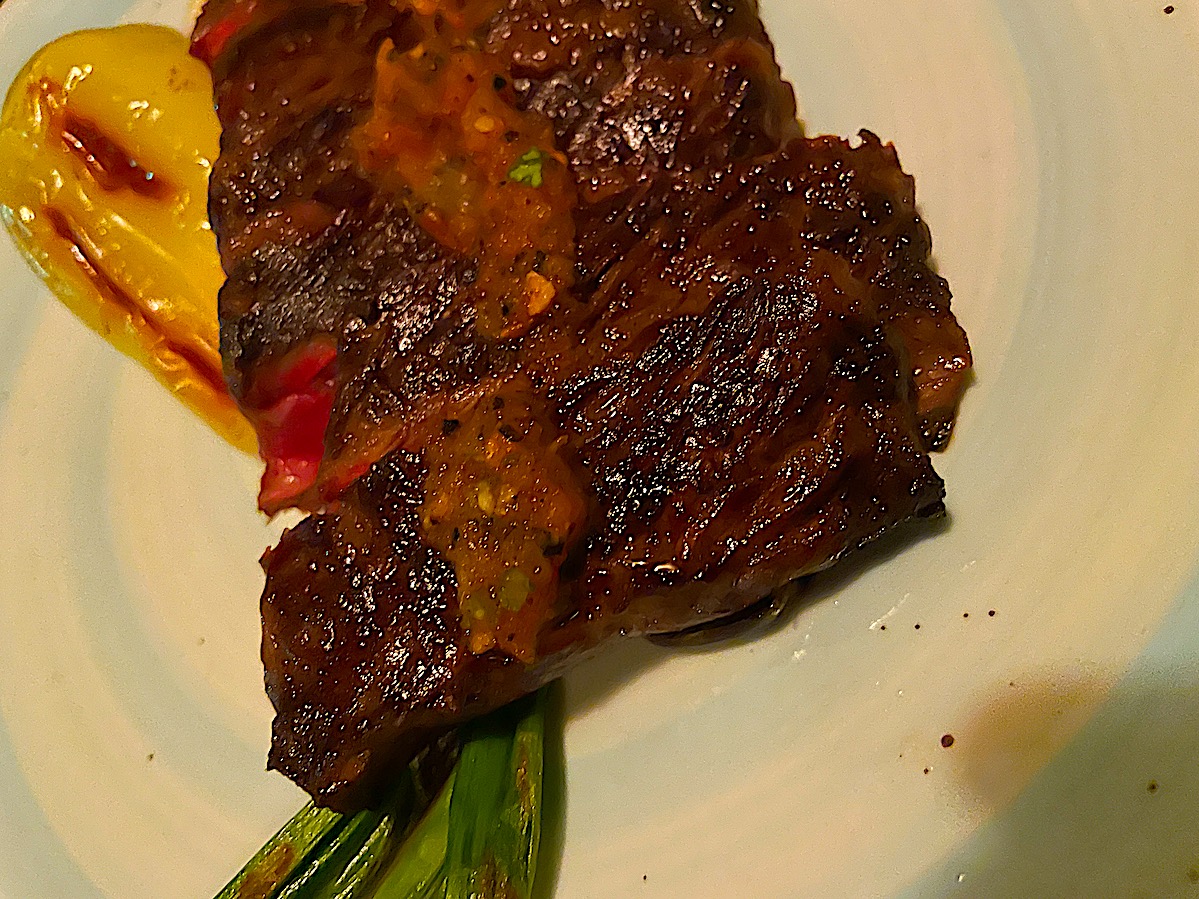 Carne Asada
was a great example of a skirt steak-forward dish at Fonda, with spring onions (is it spring yet?), Queso Oaxaca Stuffed Caribe Pepper, Red Rice, and a Salsa Martajada.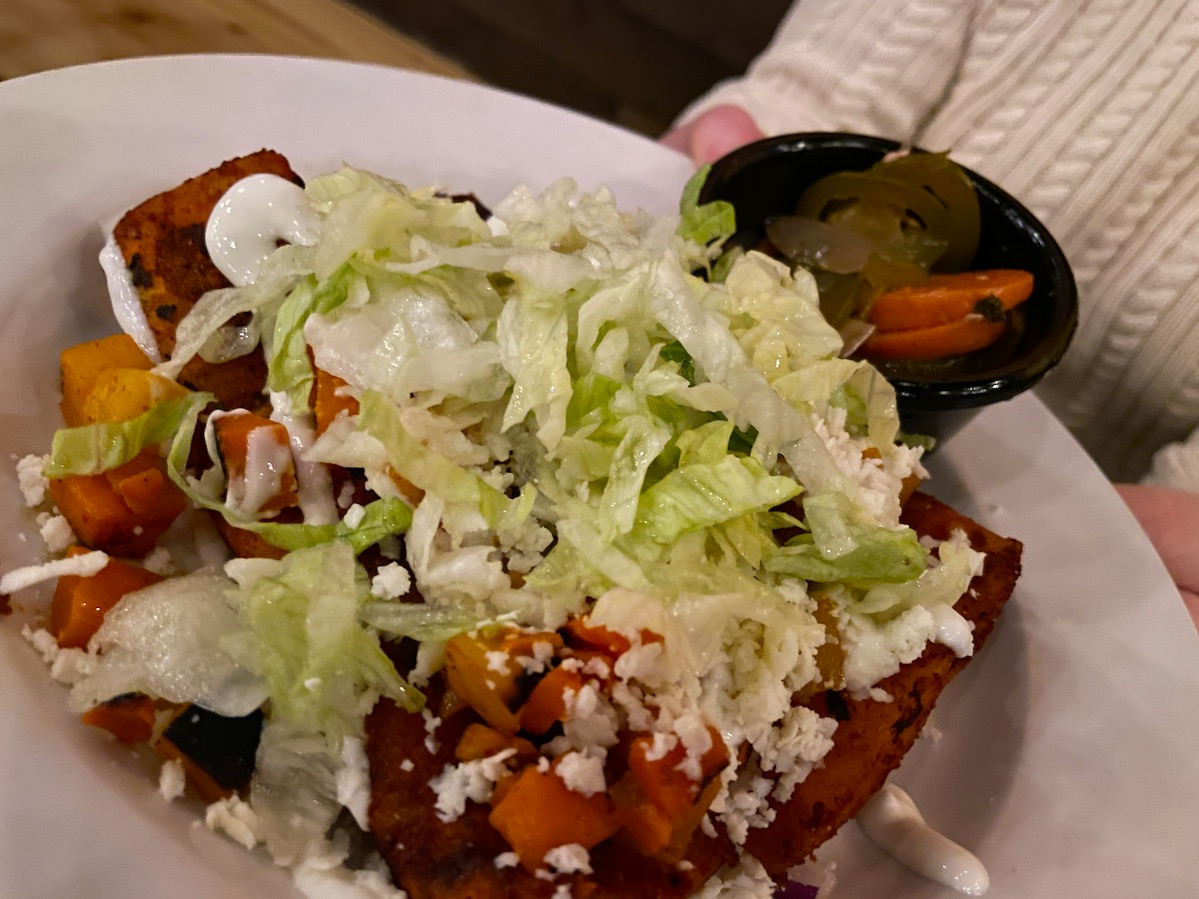 I wasn't given permission to try Zentli's
Enchiladas Plazeras
, which were tough to see under the lettuce. The menu describes it as 3 corn tortillas, salsa guajillo, potatoes, carrots, lettuce, crema & queso fresco con cebolla filled with cheese + onion. I was told it was very good.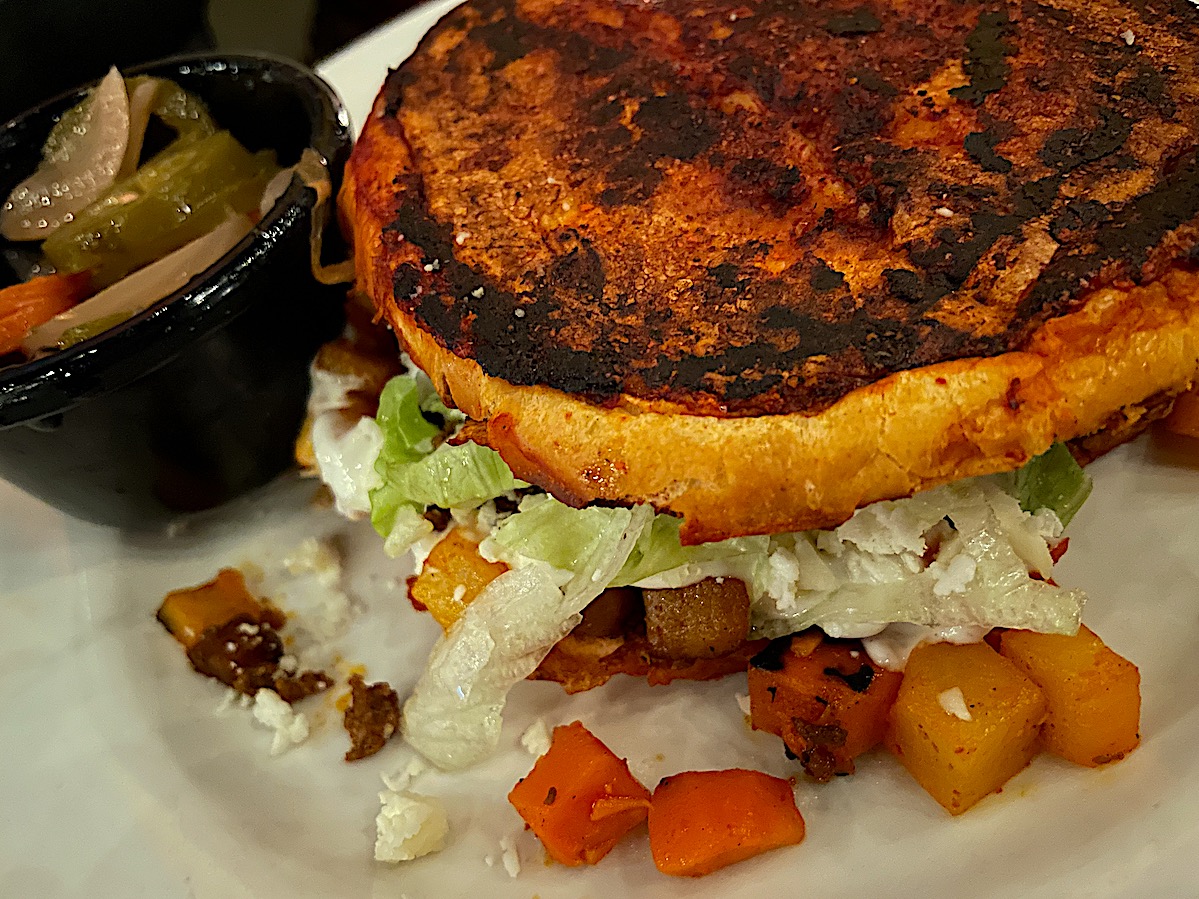 The
Pambazo
at Zentli is essentially a sandwich. A salsa guajillo-soaked bolillo grilled crispy, with chorizo, picadillo and potatoes, escabeche, queso fresco, shredded lettuce & crema. Tasty, but almost impossible to eat as a sandwich. Knife and fork worked a little better, but it was still awfully messy.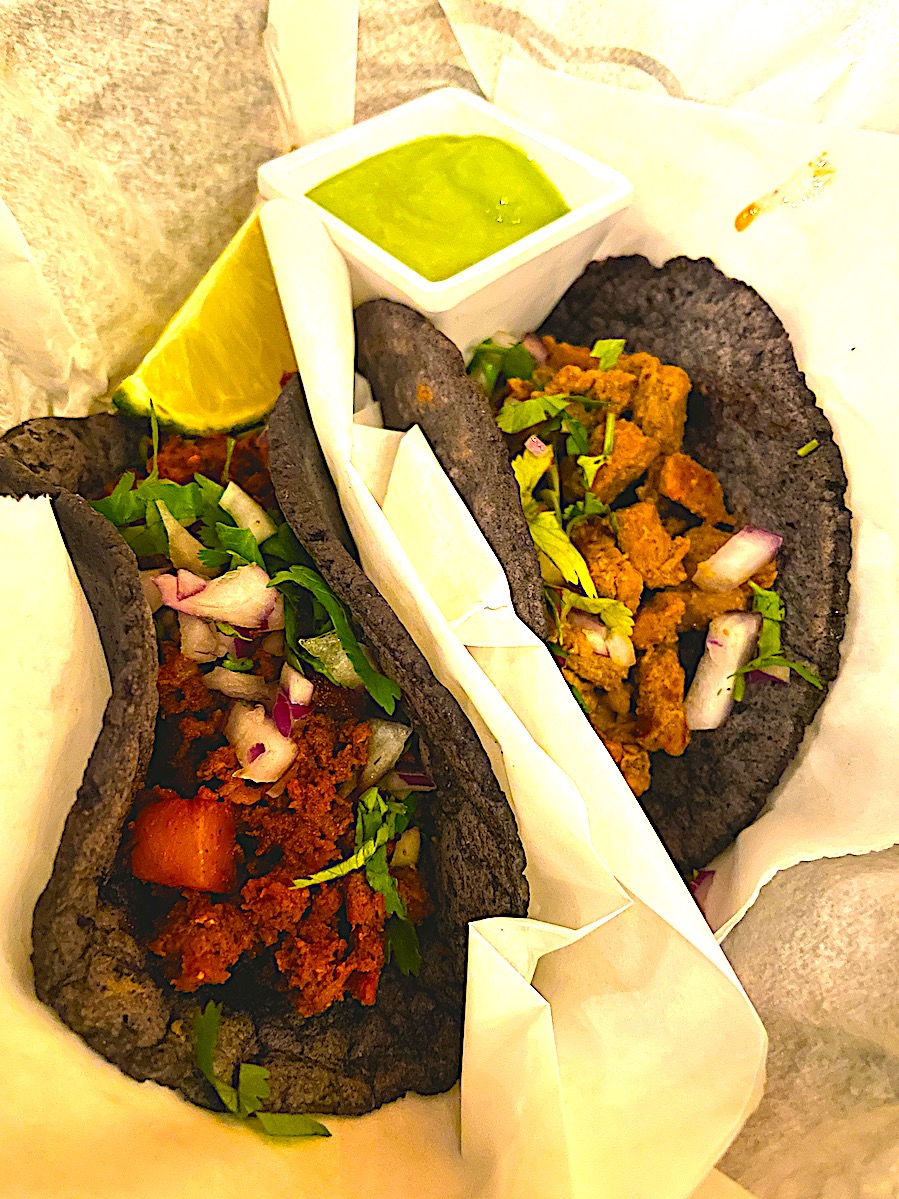 The
tacos
(Al Pastor, left, Tinga de Pollo, right) were both made with blue corn tortillas, which actually looked a bit grayish. Although the menu lists the Tinga de Pollo as coming with sour cream, the green sauce, possibly sour cream-based, was a bit on the spicy side for such a sensitive gentleman as myself.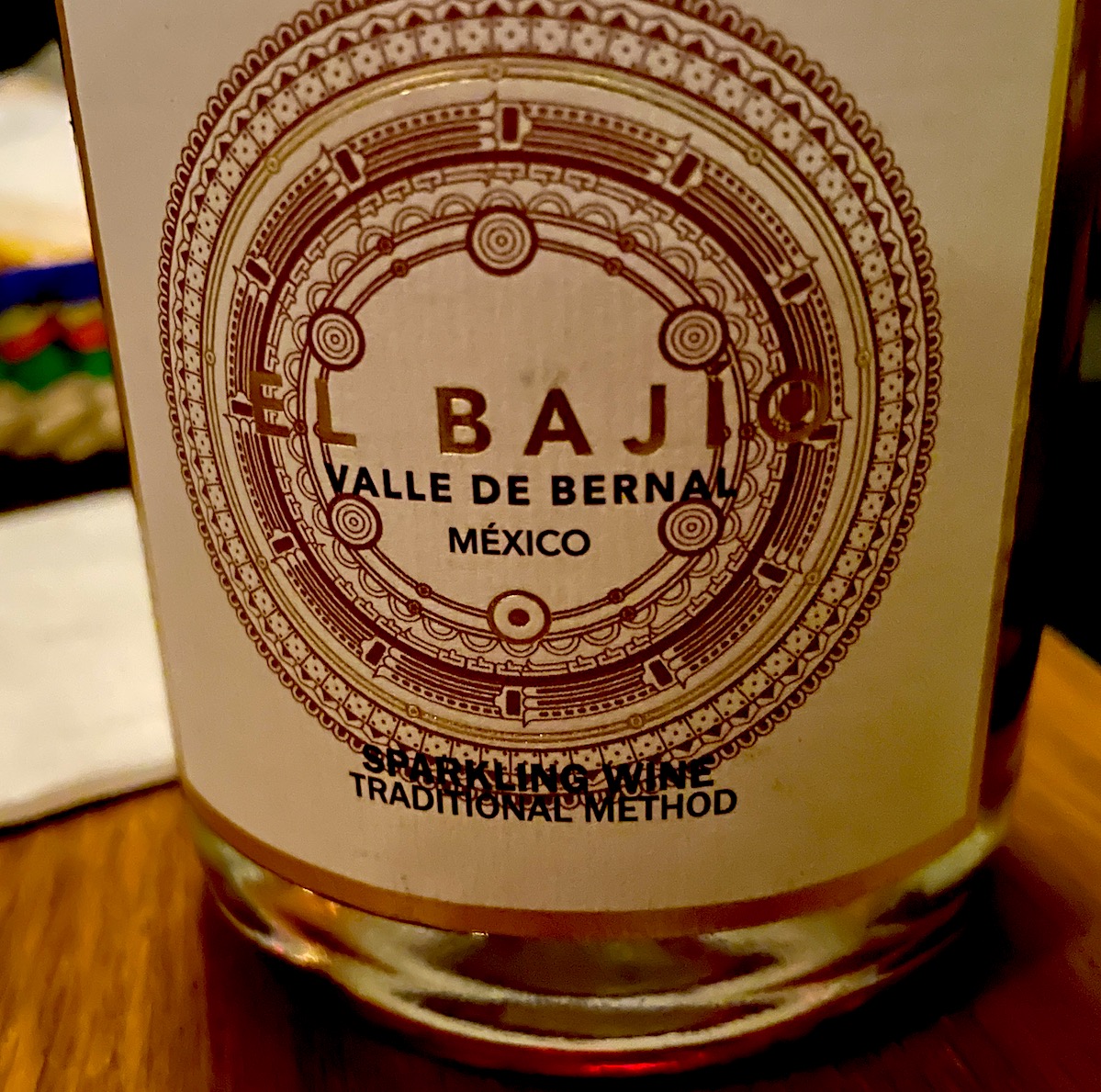 A
Mexican Rosé Methode Champenoise
, at $60, was the thing that pushed the bill at Fonda over the top, although it was comparable to the prices of many of their other bottles of wine.
Even though both restaurants are within a comfortable walking distance from our home, I'm not sure we'll be going back soon. As a comparison to a more old-school Mexican restaurant, we're looking forward to
the Evanston Lunch Group™ visit to Rocky's Taco March 14.
Zentli
1813 Dempster,
Evanston, IL 60201
Fonda
1735 Benson Avenue

Evanston, IL 60201