LTH,
Ellen and I had the pleasure of accompanying MAG, Thor and Thor's Personal Assistant to
ABT Electronics
in their search for the perfect stove, though I am of the opinion MAG could easily prepare the best meal most of us have ever had with a book of matches and a broken coffee cup.
After being dazzled by plasma tv's, high output stoves and gas grills the size of small cars we decided sustenance, in the form of King Crab at
Bob Chinn's
was in order. Now I realize some are of the opinion Bob Chinn's is to crowded, too casual for the price, too this, too that, me, I love the King Crab, adore the absolutely pristine sashimi and have a bit of love/hate going on with the garlic rolls. Tonight was love, mainly due to dunking in the surprisingly good Clam's Casino pan juice.
We started out with very good, and reasonably priced, oysters and an order of mixed sashimi. I especially liked the scallop on the half shell, but, everything was delicious, with the ahi being just about perfect, both flavor and temperature wise. I often think sashimi is served too cold.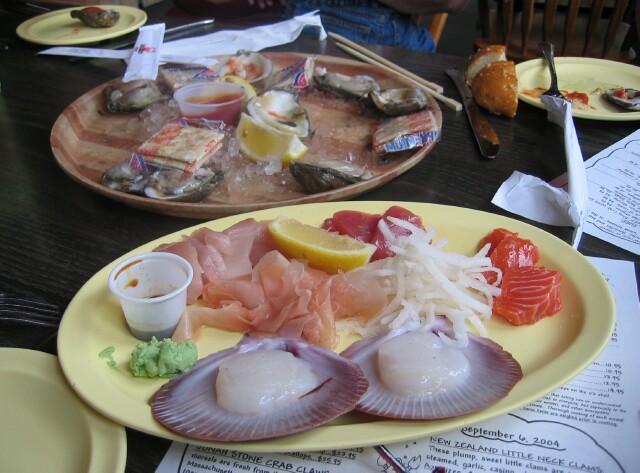 We also ordered straight ahi sashimi, but somehow there was a mix up and we got two orders of ahi, both delicious, one of which we were not charged for.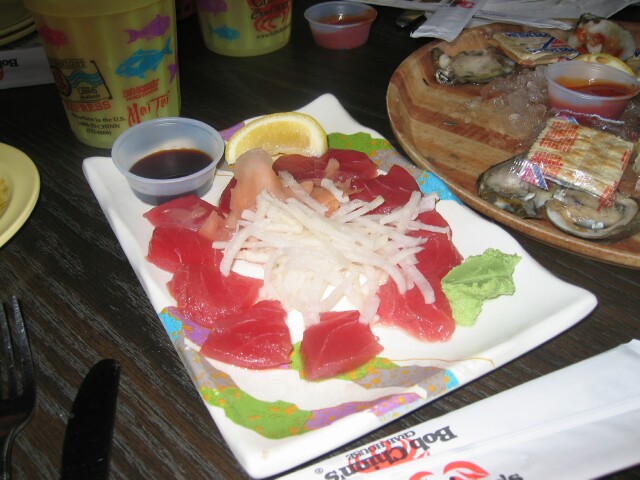 The clams casino were excellent, rich with a nice hit of bacon, what's not to like. They must have been good, I forgot to take a picture of them.
We also opted for eggrolls, quite good, made with real crab, not krab.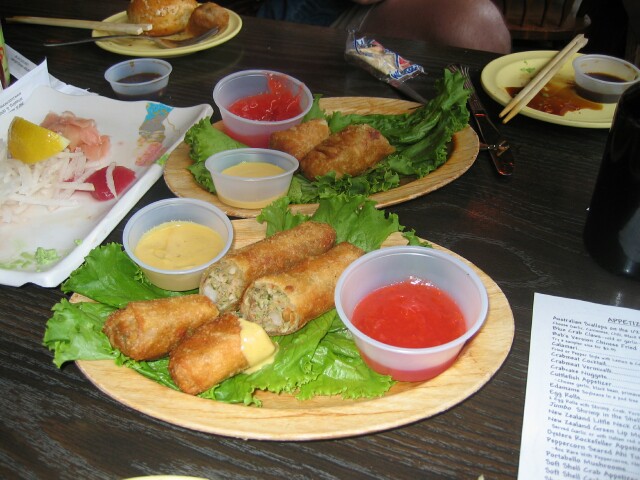 The star of the show, aside from Thor, who enjoyed a bottle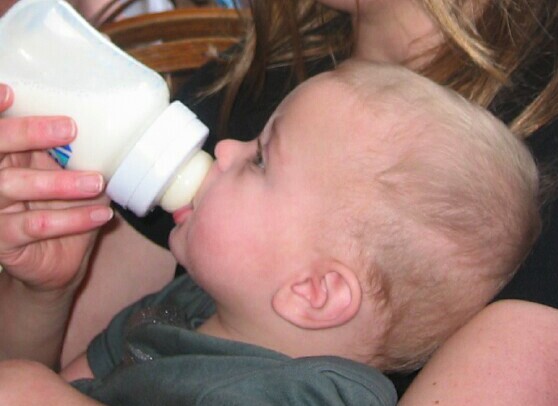 was the King Crab, tasting of the sea, fresh, meaty, pure crab flavor. I prefer steaming, I've found simple with fresh seafood is the best way to go.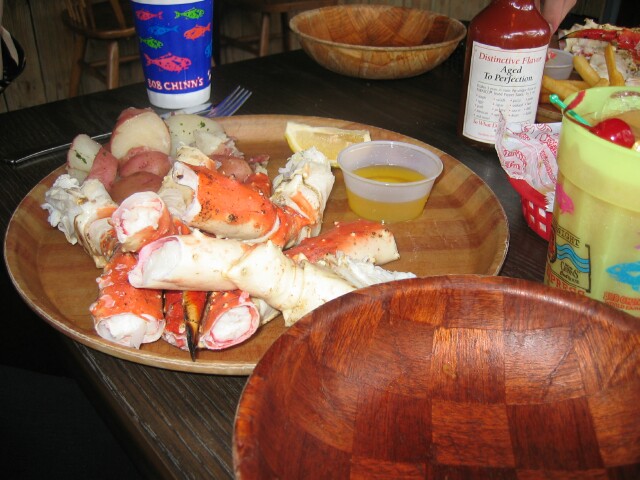 MAG went with Kona crab, light, delicate with good flavor, but possibly best suited as, at least to my taste, an ingredient, as opposed to standing alone.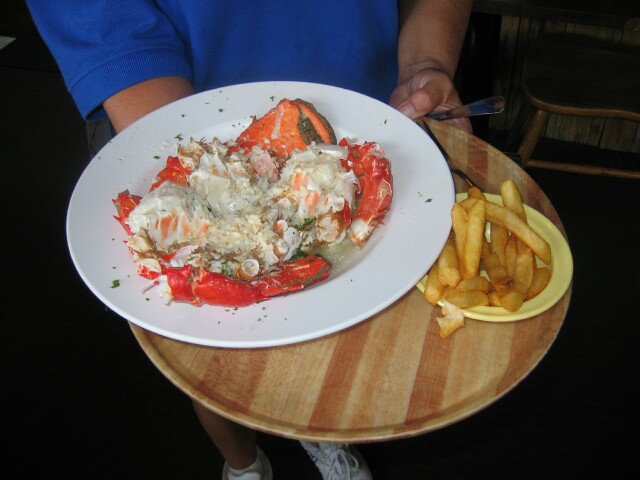 We were also, briefly, served Jonah crab, though our server realized it was an error as soon as she put it on the table and brought the Kona. I will say the Jonah looked quite good.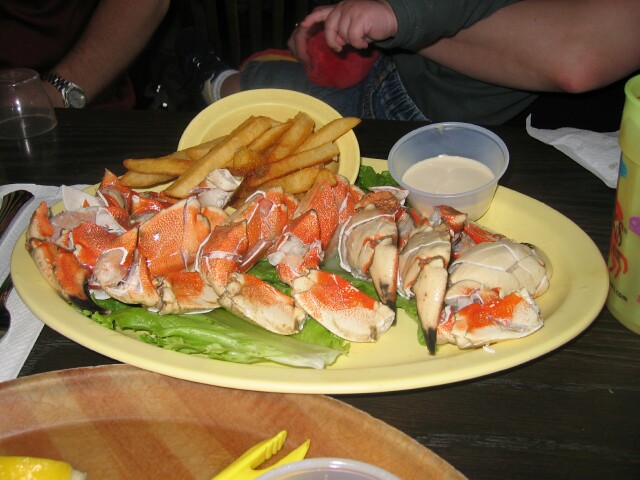 We did not have dessert at the restaurant as MAG had brought over a plum tart.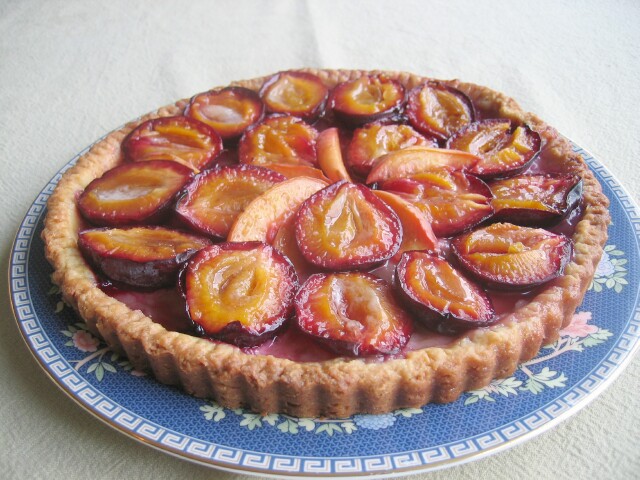 Not only plum tart but homemade lemon verbena ice cream, Thor and Thor's Personal Assistant are two very lucky guys. I feel a gush about the plum tart and lemon verbena ice cream coming on, suffice to say it was a flavor combination made in heaven.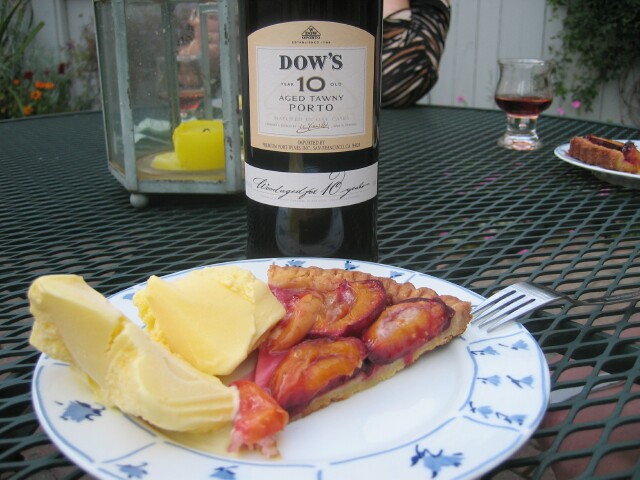 All in all a very pleasant way spend one of the last days of summer.
Enjoy,
Gary
Bob Chinn's Crabhouse
393 S. Milwaukee Ave
Wheeling IL 60090
847-520-3633