Popped in for lunch today. Carne Asada was BUTTER. Lacked any charry bits, but it was tender as all get out, and strong beefy flavor. BUTTER. Bowl of roasted chiles caught me off guard. First one I bit into was searing hot. Pastor was still best in area, imo, tho, the trompo looked like it had only been cooking for a few minutes. Tha pastor I got was a tad on the dripping wet side as opposed to nicely done with charred bits. On offer today was "tacos de Montalyano." I had no idea what it was, so natch, I had to have one. I asked the guy at the counter who pointed too his belly, and moved his finger up and down while saying "goat." I'm game. I asked if it was a specific part, and he said no. From what I gathered, as he was listing off gut names, was that it was just a big ol conglomeration o guts, and I was right. Gut enthusiasts, you may wanna check these out.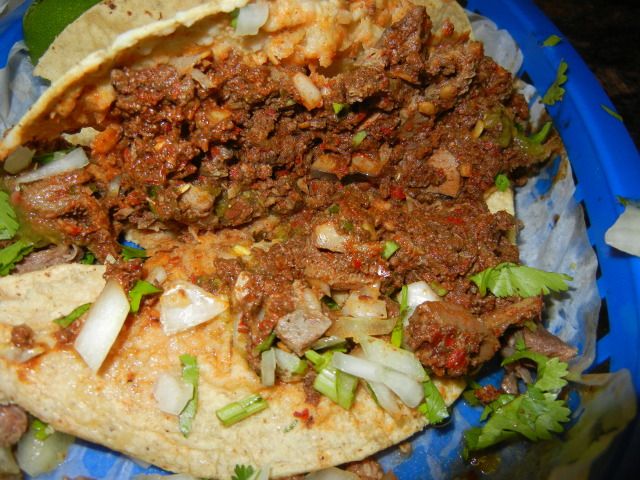 Gut non-enthusiasts, run far, far, away.
One bite was all I could handle.
There were several different textures going on in one bite. Crunchy, rubbery, creamy, smooth parts, parts with bumps...The texture didn't kill me, but the flavor did. Strong, gamey, livery, organy. Those who squeam at offal DEFINITELY need not apply here. I made the joke of "Why aren't these free?" and both of the counter guys busted out laughing. Apparently, there are quite a few ppl, he said, that really like these. He then went on to surmise that I was not one of them.
No biggie. Glad I tried it.
We cannot be friends if you do not know the difference between Mayo and Miracle Whip.